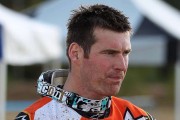 On 7 September the FIM's longest running off road motorcycle competition will begin in Košice, Slovakia. Marking the ninetieth edition of the FIM International Six Days Enduro (ISDE) more than five hundred and fifty competitors from over thirty-five different nations will take to the start line of the weeklong race.

Ten years on since the ISDE last visited Slovakia, Great Britain's David Knight – KTM is one rider who will arrive in the paddock with fond memories of the Slovakian terrain.
Competing as a member of the Great Britain FIM World Trophy team, back in 2005 Knight claimed the overall individual victory at the end of a challenging week's racing. Outright winner of the race, the three-time FIM Enduro World Champion regards that magical week in Považská Bystrica as one the highlights of his illustrious professional racing career.
"It really is a wonderful feeling to return to race the ISDE in Slovakia," told Knight. "The ISDE is an event I'm very passionate about and one I hold close to my heart. So to have my name on the list of race winners is a great privilege and is up there amongst one of my best achievements ever."
"Winning a race like the ISDE is an incredible feeling. It's such a difficult week of racing – you have to be perfect for six days – and in a sport like enduro where anything can happen that's a tough thing to do. That's why my victory is one of the greatest memories of my career. Of course my three world titles are incredibly special, but the ISDE is something different, something very special indeed and one not too many can say they've won."
As one of the most experienced members of the British team, Knight knows that this year's race in Košice will be extremely competitive. France – with a hat trick of wins will be pushing hard to make it four-in-a-row, while the USA, Australia and Spain along with Britain, Finland and Germany will be fighting hard to stop them. Knowing that Slovakia is likely to deliver some wet, muddy and demanding terrain Knight's hoping his vast experience will help put him and Great Britain into the mix for top honours.
"At this time of year weather conditions in Slovakia can be very unpredictable so we could be in for a wet race," continued Knight. "Like my teammates, I've always enjoyed riding in the mud and if it's wet I know I can fight for a good result."
"Obviously I'm now ten years older and my body is not what it was but if the conditions suit I know I can still do good. And at the ISDE it's experience that really counts. For me, top five in my class will be incredible, but as long as I give it my best and enjoy the race then I'll be more than happy."
The 2015 ISDE takes place in Košice, Slovakia from 7 to 12 September.
Follow the ISDE live – Download the FREE app – click here for full details.