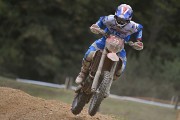 At the end of the first day of competition at the ninetieth edition of the FIM International Six Days Enduro (ISDE) in Kosice, Slovakia the USA have taken the early lead in the World Trophy team competition. Helped by an outright winning performance by Kailub Russell – KTM the six rider team that also features Thad Duvall – Husqvarna, Mike Brown – Husqvarna, Taylor Robert – KTM, Ryan Sipes – Husqvarna and Gary Sutherlin – KTM placed one-minute and fourteen seconds ahead of Australia. France – last year's World Trophy team winners – placed third after Mathias Bellino – Husqvarna was hit with a one-minute penalty having accidentally started his bike prematurely on the start ramp.
Showing that they are ready to fight for the top spot in the World Trophy competition, team USA were lead by Kailub Russell. "It was a great day for myself and the US team, but there's still a lot of racing to be done," commented Russell. "I felt like I was at a bit of a disadvantage on some of the tests, being the first rider onto them. But the day went well and the team all rode really strong. The day wasn't too tough, but there were some technical hills. If we get a lot of rain things will get hard."
Following the top three World Trophy teams of USA, Australia and France, Spain enjoyed a good first day to finish fourth and just under one-minute behind France. Italy, Portugal, Great Britain and Finland round out the top eight. Great Britain's World Trophy team was reduced to five riders soon after the start when youngster Joe Wootton – Husqvarna was forced to retire. Making 'a simple mistake' the Husqvarna rider suffered a broken lower right leg.
Just as they did last year in Argentina, Australia has taken an early lead in the FIM Junior World Trophy competition. But unlike in 2014 when they topped day one by a little over thirty seconds, this time out in Slovakia the Australian squad sits three minutes ahead of their closest challengers. Sweden placed second with France third, USA fourth and Great Britain fifth in this category.
In the FIM Women's World Trophy team competition the Australian trio of Jessica Gardiner – Sherco, Jemma Wilson – Yamaha and Tyla Jones – Yamaha won the opening day. Expected to deliver a strong performance, the Australian team finished close to eight minutes ahead of second placed France. While the gap between the first and second placed nations was significant, third placed Sweden finished less than one-and-a-half minutes up on Finland in fourth. The USA and Slovakia rounded out the top six.
In the Enduro 1 class USA's Kailub Russell took the win, topping three of the day's six special tests. Runner-up was Great Britain's Jamie McCanney, seventeen seconds adrift whislt third was France's Marc Bourgeois. Matching his team-mates class-topping performance, American Ryan Sipes powered his Husqvarna to the top spot in Enduro 2 ahead of Australia's Daniel Milner and France's Loic Larrieu. Australian's Lachlan Stanford and Daniel Sanders secured the top two spots in the Enduro 3 class, separated by less than two seconds. Third fastest was Portugal's Luis Correia.
Day one of the ISDE in Slovakia was largely dry, with only a small amount of rain falling during competition. However, after the majority of the World Trophy and Junior World Trophy team riders returned their bikes to the Parc Ferme the heavens opened. Generally considered to have been not too difficult, things might well be very different on day two.
Day two of the ninetieth ISDE in Slovakia will take riders over the exact same course and special tests as used on day one, but perhaps in varied conditions.
Follow the ISDE live – Download the FREE app – click here for full details.