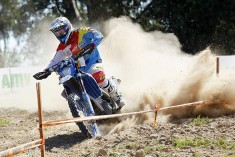 To close a season full of twists and turns after a month and a half break, the Maxxis Enduro World Championship concludes with the seventh and final round of the series in Requista (Aveyron), France.
With all titles yet to be decided, the Grand Prix AMV of France is set to deliver some spectacular and exciting action during the final two days of the 2015 season. In the senior ranks all eyes are focused on the battle for Enduro 1, Enduro 2, and Enduro 3 championship honours. Laia SANZ (S-KTM) is favourite to retain her Women's crown while both the Enduro Junior and FIM Youth Cup 125cc categories should go down to the wire.
This year it is Moto Sport Requista (Aveyron) that have been awarded the right, by the FIM and theFrench Motorcycle Federation (FFM), to organise the seventh and final round of the 2015 EWC. After a 15-year absence from Aveyron (Villefranche-de-Rouergue in 2000), the Maxxis FIM Enduro World Championship is back in an area that has plenty of to offer enduro sport. This Moto Club, which is super motivated and chaired by 25-year-old Kevin PAGES, is a key player in the Aveyronnaise Classic. They have also hosted a round of the French Enduro Championship in 2012 while organising at least 13 races of Midi-Pyrénées championship.
A technically challenging track of about 55 kms (ridden three times each day) will make the EWC stars and all visiting enthusiasts Enduro fans very happy. The paddock will be situated on the main street of the town. The Cross Test will be located at the Hospital-Bellegarde just four kilometres from Requista. The Enduro Test will be held two kilometres from Requista in a place called Serieux while the Xtreme Test and the final KTM Super Test of the season will take place in Requista.
Requista is located in Aveyron, in Midi-Pyrenees. This charming village of Monts du Réquistanais is home to around 2,300 inhabitants and is very close to the caves of Roquefort. Requista is located only 42 kilometres from Albi, 48 kilometres from Rodez and 120 kilometres of Toulouse.
REMES has never been so close!
In Enduro 1, the Grand Prix FunnelWeb Filter of Belgium saw the championship sway in favour of TM Racing's Eero REMES (SF). Securing a double win, REMES extended his lead to an important seven points over his closest challenger Christophe NAMBOTIN (F-KTM). Utilising the summer break, NAMBOTIN took time out to recover from his ongoing knee injury that has plagued him this year. Cleared to race again, although not yet returned to 100 per cent, the defending champion will start in France and give it his best shot to retain his crown. While the E1 title fight is sure to steal limelight, the battle for the final step of the podium is also wide open. Danny MCCANNEY (GB – Husqvarna) and Lorenzo SANTOLINO (E – Sherco) are separated by just four points in favour of the Husqvarna rider. Looking to shake things up, Marc BOURGEOIS (F – Yamaha) and Simone ALBERGONI (I – Kawasaki) are not far behind in fifth and sixth. Note the great debuts of 2015 ISDE sensation Daniel SANDERS (KTM) who will be managed by Fabio FARIOLI and will try to helpChristophe NAMBOTIN in his quest to the World crown. Manuel MONNI (I – TM), on his side, will try to give a hand to his teammate Eero REMES…
In Enduro 2, KTM's Antoine MEO is favourite to claim the title on home turf. With eight wins from 12 starts in the 2015 series, MEO holds a comfortable 37-point lead over Alex SALVINI (I-Honda) in second and can wrap up his fifth world crown on day one in France. With Pierre-Alexandre RENET (F – Husqvarna) absent in Requista, SALVINI can draw a sigh of relief as he looks to secure the runner-up result. But having beaten MEO to victory at the recent Italian Enduro Championship, the Honda rider is motivated to end his EWC campaign with another victory. Behind MEO and SALVINI, Loïc LARRIEU (F – Sherco) and Jaume BETRIU (E – Husqvarna) sit fourth and fifth respectively, and over 36 points behind RENET. The Sherco Moto Pulsion rider and the Spaniard are separated by only two points. France also marks the return of Johnny AUBERT (F – Beta) who will have the opportunity to get on the podium for the first time this season.
BELLINO Vs PHILLIPS – The Last Act!
The duel between Mathias BELLINO (F – Husqvarna) the Junior World Champion in 2012, and Matthew PHILLIPS (AUS – KTM) the Junior World Champion from 2013 and defending Enduro 3 World Champion, is one that will be watched closely. Twenty-four points ahead of the current E3 World Champion, Bellino will want to finish the job on day one. Then on day two, he can be free to enjoy the final day of the 2015 EWC series in front of his home crowd. But Phillips is determined not to allow that to happen. With 40 points up for grabs there's everything still to play for. Also, Matti SEISTOLA (SF – Sherco) and Aigar LEOK (EST – TM), both in the fight for the final podium, could become the spoiler in the mix between the two and throw the fight in favour of PHILLIPS. Luis CORREIA (P – Beta) and local riders Jérémy JOLY (F – KTM) and Antoine BASSET (F – KTM) – freshly crowned Six Days World Champions in Slovakia – are very capable of delivering a surprise result in Requista.
In the Juniors, Jamie MCCANNEY (GB – Husqvarna) seems destined to follow in his brother Danny's footsteps – who won the EJ crown 12 months ago. With a 37-point advantage over Giacomo REDONDI (I – Beta), the Manxman needs 13th place or better on day one to win the title, even ifRedondi wins. The sensation of 2015, Steve HOLCOMBE (GB – Beta) will go all out to steal the place of World Vice-Champion from REDONDI. Luis OLIVEIRA (P – Yamaha) and Kirian MIRABET (ESP – KTM) battle for the remainder of the top five while Jérémy CARPENTIER (F – Honda) bids to finish as the best French rider in the Junior class.
Will It Be PERSSON Or GARCIA?
In FIM Youth Cup 125cc, Mikael PERSSON (S – Yamaha) and Josep GARCIA (E – Husqvarna) are the riders to watch as they both aim to secure their first world title. Tied on 154 points each, SwedePERSSON – still able to drop his worst score – holds a slight advantage. Third place seems promised to Brit Jack EDMONDSON (KTM) while Luc MALIGES (F – KTM) will try to resist to the attacks ofLuca GARELLO (F – Yamaha) to keep his fourth place…
Finally, in the Enduro Women's class Laia SANZ (E – KTM) will probably have to wait until Sunday to celebrate her fourth consecutive World Championship title. Jane DANIELS (GB – Husqvarna) is guaranteed to finish as Vice-World Champion. Australians Jemma WILSON (Yamaha) and Jessica GARDINER (Sherco) go blow for blow for the third position. On the French side, Blandine DUFRENE (KTM) and Valerie ROCHE (Beta) will push for a podium result in front of their home crowd.
With all roads leading to Requista, the EWC is set for the final battle of 2015. Getting underway with the KTM Super Test on Friday, October 2nd at 19:00 in the heart of the Aveyron, don't miss the action.
Information:
–    Réquista (Department of Aveyron);
–    42 kms from Albi and 48 kms from Rodez;
–    Friday, October 2nd: KTM Super Test : 19h00;
–    Saturday 3rd and Sunday 4th October: Start: 9h00 and Finnish around 16h00 ;
–    Organizer: Requista Moto Sport;
–    Websites: www.enduro-abc.com and www.requistamotosport.fr;
–    Track: 55kms – 3 laps;
–    Free Access;
–    Airport: Rodez (48 kms) and Toulouse (120 kms)