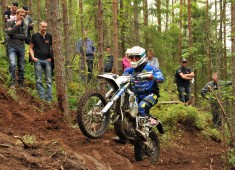 The final of the Enduro Championship will be held from October 30th to November 1st, 2015 in the German Rüdersdorf (in the east of Berlin).
The start is on Friday evening with a prologue on site. From 17:00 clock, the participants of the European Championship will compete there in pairs against each other.
The track for the two days is three rounds over 62 km with three different special stages. One of them is right on the paddock.
Start is Saturday at 8:00 clock and on Sunday from 7:30 clock already
Main focus is the fight for the title in the Overall standings: Fastest rider of all classes is yet the Brit Tom Sagar. But the defending champion Maurizio Micheluz was posted due to an injury in the last race and is now fit again.
We should not forget some German riders who will also be at the start and, of course, can calculate home-field advantage in the daily classification.
Her title in the Women's class ist fixed for the Finnish Sanna Kärkkäinen, but the KTM rider will still be in Germany at the start.
In addition to the usual displacement classes also a national team-ranking is extended this weekend.
The paddock, as well as start and finish, is located in the historic Museum Park Rüdersdorf where in earlier times limestone was extracted to build houses.
See the live-timing of the competion at: www.Zeitnahme-dataservice.de or as an App for your smartphone "Zeitnahme TM"
Find more informations, news, results directly at our homepage: http://european-enduro.com/