ROCKSTAR ENERGY HUSQVARNA'S QUINTANILLA STRONG FINISH TO DAKAR FIRST WEEK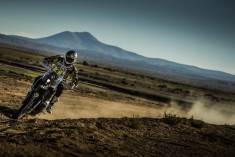 CHILEAN RIDER WRAPS UP OPENING WEEK IN OVERALL FOURTH; DAKAR REST DAY IN SALTA, ARGENTINA
Rockstar Energy Husqvarna's Pablo Quintanilla wrapped up his first week of the 2016 Dakar Rally with a promising fifth place in stage seven and is now overall fourth as the rally reaches its rest day in Salta, Argentina.
Saturday's stage seven was again made difficult as the El Niño effect again delivered heavy rain and regional flooding in the last part of the timed special, brought to a halt by organizers some 57km short of the original distance. With riders and teams experiencing difficulties in the long ride back to Salta, and with some riders' times to be adjusted for providing support to an injured competitor on Saturday, final results and standings were not available until the early hours of Sunday morning.
Quintanilla was one of the riders who stopped to offer assistance to KTM's Matthias Walkner after he crashed at the 15km mark and who had his final time adjusted accordingly. He later commented: "Today was hard. At the start of the special I came across Matthias [Walkner], who'd just fallen. I stayed with him until the helicopter came. It's tough to ease back into your pace after that, he's like a friend to me… The special was varied, with fast parts and mountainous sectors.'"
Speaking about his first week, Quintanilla commented: "My week was quite difficult because it was hard to find my rhythm on the mountainous terrain of the start to the rally. However, the priority was getting to the rest day without any mishaps, without any injuries and in the top 10. We did it, so I'm happy in this sense. Now is time to catch a breather before a tough second week with lots of navigation. It's a new phase. We know we can win or lose big time. We'll have to keep a cool head, focus on the road book and read it properly."
Sadly injuries in the previous stages to teammates Ruben Faria and Pela Renet have left Quintanilla as the only member of the factory trio. Faria briefly rejoined the team in Salta on the rest day before flying home to Portugal, saying he was not really sure what made him crash in stage six. "I'll have to look at my bike and the road book to know what happened. I was disappointed because this year I was feeling very well and strong. . When I crashed I wasn't pushing so much but the Dakar is like this," he said.
Spanish Husqvarna rider Txomin Arana continues to impress and closes out his first week in 11th overall in this competitive field. Czech privateer and Husqvarna rider Ondrej Klymciw was at overall 24th, a heroic effort as he is riding with a sprained ankle. Husqvarna-supported Italian Jacopo Cerutti is also holding up well on his debut Dakar ride and is in 27th place. Dutch Husqvarna rider Robert van Pelt Jnr. rounds off the top 30 in the overall list.
Riders and teams on Sunday serviced bikes and equipment, took stock of the first stage and made plans and formulated tactics for the second stage. Many riders are expecting the rally to be much more difficult and more tactical in the second half as they head back to the finish in Rosario on January 16.
Rockstar Energy Husqvarna team manager Daniel Trauner: "It was a difficult week with two crashes with Pela (Renet) and Ruben (Faria) but both are well and will recover soon. Of course it's a big disappointment, especially with Ruben who was performing really well in the last stages, and who had the opportunity to be in the top five in Rosario. We are really happy with Quintanilla. He has performed well and we hope he can keep his level of riding in stages 8,9 and 10. Then we'll see who has stayed on top and who will drop down. I hope Quintanilla will have 2-3 good days when he can attack and that he can be on the podium in Rosario."
Dakar Rally
Stage 7: Uyuni – Salta
Total distance 793km: timed special 353km (cut short because of storms)
Revised results as a result of overnight adjustments in times and penalties
Stage Results
1. Antoine Meo (FRA), KTM, two hours 27 minutes
2. Kevin Benavides (ARG), Honda +1.53
3. Paolo Goncalves (POR), Honda +1.56
4. Michael Metge (FRA), Honda, 1 minute 53 seconds
5. Toby Price (AUS), KTM, + 4:33
6. Pablo Quintanilla (CHI), Husqvarna + 4.52
7. Txomin Arana (ESP), Husqvarna + 5.03
..
25. Jacopo Cerutti (ITA), Husqvarna + 9.44
Overall Standings after Stage 7 – Halfway mark of the rally
Revised after overnight penalties and time adjustments
Overall Standings after Stage 7
Revised after overnight penalties and time adjustments
1, Goncalves 22 hours 52 minutes 30 seconds
2. Price + 03.12
3. Svitko + 09.24
4. Quintanilla +18.06