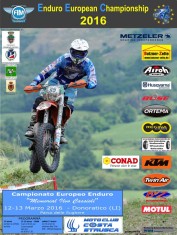 It is the season-opener of the Enduro European Championship (EEC) in the Tuscany: Motoclub "Costa Etrusca" starts on Saturday and Sunday, 12th and 13th of March, each day at 8:00 a.m. nearly 200 international riders to the first round of the championship.
You will find the Paddock directly at the mainroad "Via Vecchia Aurelia" at the highway-exit "Donoratico".
The presentation and opening ceremony will take place at "Cavallini Matto", the fun-park only a few hundred meters from the paddock.
The demanding and stony track will be about 55 km and has to be passed three times with three special-tests each lap.
To the long and fast cross-test on the grass it is only 600 meter from the paddock
The extrem-test will take place on natural ground at the edge of the wood, just 3 km by car.
About 9 km far away there is the various enduro-test: Through the woods there are steep up- and downhills, sharp turns around the trees and a lot of roots in the ground on the fight against the clock!
But in Donoratico you not will find only the sport: You will see the Tuscany from one of her best sides, with the mediteranian see on one hand, and the hills with the vineyards on the other. Including the special italien food and the pinewoods along the streets in the light of sunset.
More information and schedules, results and links, there are always up to date and right on the official website:
http://european-enduro.com/
2016:
12th/13th of March  Donoratico / Italien  – 
26th/27th of March  Brioude / Frankreich  –  http://www.motoclubbrioude.fr/
30th/31st of July Ogre / Lettland  –  http://www.lamsf.lv/
28th/29th of Oktober Harfsen / Nederland  –  http://mxharfsen.nl