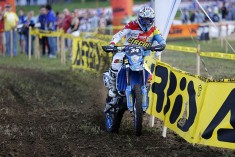 2015 World Champion, the Finn Eero REMES (TM) will be the man to beat in the Enduro 1 class. Mature and full of confidence, Luca CHERUBINI's rider is the big favorite.
Facing him, we have a pack of young guns and "rookies". Like the two Yamaha Miglio riders Jamie MCCANNEY (GB) and Mikael PERSSON (S) who's making the big jump from FIM Youth Cup 125cc to the E1 Class!
The other MCCANNEY, Daniel (GB) will be the best asset of the Rockstar Energy Husqvarna Racing team. He will team with Austrian rookie Pascal RAUSCHENECKER, coming from MX with big hopes.
Sherco Factory has some nice chances also with French Anthony BOISSIERE who finished on a high note in 2015 and Honda Red Moto is playing his young card with Alessandro BATTIG.
KTM Factory Racing is awaiting a lot from his rookie Nathan WATSON (GB) also a former MXGP with a lot of talent.
Can CERVANTES look for the title?
But Eero REMES biggest threat could be the four times World Champion Ivan CERVANTES (E – KTM). The Spanish icon is a specialist of this "small engine" category and he is still looking for a fifth World crown. But he is having a lot of injuries for two years now and he is just out from a first Dakar that is well-known to have a bad effect on the speed of the Enduro riders. At 34 years old, can he be back to the top? It will be one of the key of the season and a big stake in E1.