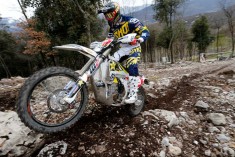 We know it! The Enduro 2 class should provide a lot of riders in the EnduroGP Top 10. And the fight for the E2 title will be the result of the tough battle for the EnduroGP one…
Alex SALVINI (I – Beta), Mathias BELLINO (F – Husqvarna), Christophe NAMBOTIN (F – KTM) and Matthew PHILLIPS (AUS – Sherco) seems to be the big four of this category and their fights all along the eight Grand Prix of the season should be awesome.
Mathias BELLINO (F – Husqvarna)
But we can't also forget the two riders of the brand new team manager Marc BOURGEOIS in the Outsider Yamaha Factory team. Helped by Yamaha Europe, the very fast Loïc LARRIEU (F) and the experienced Cristobal GUERRERO (E), in the handlebar of their brand new Yamaha 450 WR-F, can well play the spoilsport.
We will also see in action the fast US rider Taylor ROBERT (KTM). Born in Scottsdale (Arizona), he has the potential to shine in Europe even if he will have to adapt to GP's specificities.
Honda Red Moto aligns also a good and solid team with Oriol MENA (E) and the boiling Italian and former MXGP rider Davide GUARNERI.
Finally, Deny PHILLIPAERTS (I – Beta) will use his experience to join the Top 10 of the most talented category…