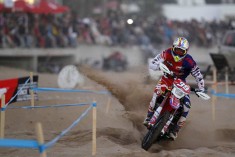 Agadir and his beach… Here is the spot of this very first Super Test of the 2016 season. Around 3 000 Moroccan came to watch the stars of the EnduroGP and despite a end of test "in the night", they had a lot to cheer for!
Before the night fall and gave trouble to a big part of the EnduroGP riders, Davide GUARNERI (I – Honda), Rookie this season, impressed everybody with an impressive time of 1'43''45! Before him, Taylor ROBERT (USA – KTM) has also shine (1'47''69). He was followed by Nathan WATSON (GB – KTM), 1'48''55, and the fourth rookie of the season, Pascal RAUCHENECKER (AUT – Husqvarna), 1'49''15. We can say that the four newcomers didn't miss their first meeting with the World Championship!
Unfortunately, after GUARNERI finished the test, the light was getting darker and the times of the stars, which preferred to be quite, weren't the one expected.
In the Junior class where the light was great, it's the big favorite of the category Giacomo REDONDI (I – Honda) who sets the best time in 1'49''03 ahead of Swede's Oliver NELSON (TM) and Diogo VENTURA (P – Gas Gas). In the FIM Youth Cup 125cc, Frenchies Valerian DEBAUD (Yamaha) and Jean-Baptiste NICOLOT (Yamaha) made impressive debuts right in front of Italian prospect Mirko SPANDRE (KTM).
Despite the light problems, this Super Test of the GP of Agadir will remain as one of the most beautiful of the season with an awesome environment and some nice duels… After FIM decision, this Super Test has been canceled for the EnduroGPclass but it counts for the Juniors and the Youth Cup. We are waiting for you tomorrow morning in Al-Amal place in Agadirto really launch this first Grand Prix of the 2016 season!