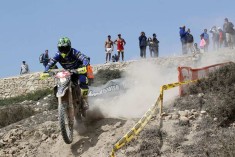 Turning the tables on his EnduroGP rival Mathias BELLINO (Husqvarna), Tasmanian Matt PHILLIPS (Sherco) delivered the goods on day two of the GP of Agadir to claim the outright EnduroGP class win. The fast starting former Enduro 3 World Champion won the day's opening two special tests before remaining at the head of the EnduroGP class, going on to earn his first win of the 2016 season.
As expected day two of the GP of Agadir proved to be extremely demanding with the long, rock strewn enduro test once again proving to be the toughest test of the event.
"I started really well on day one, but I knew what I needed to do to improve on day two," commented PHILLIPS at the end of a long and demanding day two. "I kept things smooth throughout day two and it worked great, I'm so pleased to give Sherco this first EnduroGP win. The tests got pretty brutal, but you just had to keep plugging away. My bike was awesome all weekend, we can carry some well earned confidence into next weekend's GP of Portugal." Second to PHILLIPS was day one EnduroGP class winner Mathias BELLINO. With little to separate the two riders at the mid-way point of the race, a crash from BELLINO on the final Enduro test ended his chances of battling for the win. BELLINO ended the day 15 seconds behind PHILLIPS. Third went to Eero REMES (TM). The 250f-mounted Finn enjoyed a strong day-long performance to earn his debut EnduroGP podium result. British youngster Steve HOLCOMBE (Beta) once again showed impressive speed in Agadir. Placing just seven seconds behind REMES, HOLCOMBE's Beta team-mate Alex SALVINI finished fifth but crashed heavily on the day's second enduro test. Losing significant time SALVINI dropped from third. Italian Gianluca MARTINI (Kawasaki) claimed a career best sixth.
In the Enduro 1 class Eero REMES claimed a healthy margin of victory, placing 25 seconds ahead of MARTINI. Earning his first ever podium result Italian Gianluca narrowly edged out EnduroGP rookie Nathan WATSON, who eventually placed third. After close to one-hour of racing just 30 seconds separated the top three Enduro 1 class riders. MCCANNEY brotherJamie and Danny placed fourth and fifth respectively with Italian Rudy MORONI sixth."I'm happy with my GP," commented REMES. "I rode better on day two but it was difficult to really push hard. The track was so rough that it was impossible not to make mistakes."
As the EnduroGP class winner Matt PHILLIPS also put his name at the top of the Enduro 2 class, finishing ahead ofMathias BELLINO and Alex SALVINI. Yamaha mounted team mates Loic LARRIEU and Cristobal GUERRERO placed fourth and fifth, separated by just four seconds. The USA's Taylor ROBERT placed a close sixth.
Steve HOLCOMBE enjoyed an eventual 25-second margin of victory in the Enduro 3 class, earning his first ever senior class victory following a fast and consistent day's riding. Winning three of the days special tests HOLCOMBE placed ahead of France's Antoine BASSET (KTM) who in turn finished ahead of day one Enduro 3 class winner Johnny AUBERT (Beta).BASSET and AUBERT were separated by just 0.94 of a second. "I'm thrilled with the way the first GP of the year's gone for me," enthused HOLCOMBE from the podium "I couldn't get to grips with the Motocross test like I wanted but the Enduro and Extreme tests were good to me today, which was really important."
Giacomo REDONDI (Honda) backed up his day one Enduro Junior class win with victory on day two, placing 10 seconds ahead of Spaniard Josep GARCIA (Husqvarna). Rounding out the podium was Portuguese rider Diego VENTURA (Gas Gas).
Jean-Baptiste NICOLOT (Yamaha) claimed the top position in the Enduro Youth class, finishing ahead of an injured day one winner Jack EDMONDSON (KTM). Third went to Valerian DEBAUD (Yamaha) ahead of Mirko SPANDRE (KTM).
The 2016 EnduroGP championship now moves onto Portugal.