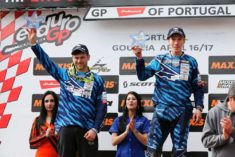 From Agadir (Morocco) to Gouveia (Portugal), these two first EnduroGP rounds weren't easy. From the heat and the hard and rocky soil to heavy rain and mud holes, the series had just to cross the strait of Gibraltar…
Youth power
With MEO and RENET going to the Rallyes and the retirement of SEISTOLA and LEOK, a lot of people were skeptical on the future level of the World Championship. But these doubts have been quickly swept… Not by the "veterans" Christophe NAMBOTIN (F – KTM), injured in the very first test in Agadir, or by Ivan CERVANTES (E – KTM), in difficulties, but by the young generation! Indeed, the three first position of the EnduroGP are occupied by Matthew PHILLIPS (AUS – 23 years old), Mathias BELLINO (F – Husqvarna), 25 y.o, and Steve HOLCOMBE (GB – Beta), 22 in just a month! If we also add to this the KTM Factory riders Taylor ROBERT (USA – 26 y.o) and Nathan WATSON (GB – 22 y.o) and the Outsiders Yamaha rider Loïc LARRIEU (F – 25 y.o), it's a rejuvenating experience that's good for the EnduroGP. It proves that the discipline has already succeeded in its mutation and has still a great future in ahead! Note that the average age of the Top 10 is 24.6 years old while it was 29 y.o in 2008.
Future in progress
Talking about young guns… The riders of the FIM Youth Cup 125cc offered us some nice fights all along the two Grand Prix! If we saw a huge domination of the duo Mikael PERSSON (S – Yamaha) – Josep GARCIA (E – Husqvarna) last season, this year, five riders have the talent to look for the crown! We are thinking about Jack EDMONDSON (GB – KTM), unfortunately injured in Portugal but he will be ready for Greece. There are also his fellow Lee SEALEY (Yamaha), pretty good in a muddy Portugal, or also the nice Swedish surprise Erik APPELQVIST (Yamaha) who, in just two race days, gets already his first victory at 18 years old. We also can't forget Frenchies Valerian DEBAUD (Yamaha), winner on Saturday in Gouveia, and of course Jean-Baptiste NICOLOT (Yamaha) who's leading the class and still has his entire joker not likeEDMONDSON, APPELQVIST and SEALEY (We remind you that the Youth Cup has the X-4 rule that cancel the four worst result of each riders)! The future is coming and we can underline that the KTM of Paul EDMONDSON son looks really alone in the middle of all those Yamaha!
Governmental visit
During the first race day in Morocco, the EnduroGP received the honor to welcome "Madame le Wali" of Gharb-Chrarda-Beni Hssen region (governor)! She was really complementary about the quality of the Championship and said she was really honored to see the interest of motorbike sports for Morocco. She confessed to Jean-Guillaume MEILLER (CEN Director)and Alain BLANCHARD (ABC Communication) that she hopes to see the EnduroGP back in Agadir! A great tribute to our discipline on the African territory!
Successful bet
Organizer of the Enduro of Agadir for 15 years old, the Norton Sport Club of Geneva (represented by Joel UDRY and helped by Daniel ABBE and around 100 people coming from Switzerland) and its Moroccan counterpart the Club Régional Motocycliste d'Agadir chaired by Zineb HAMMOUD have succeed: they bring the Maxxis FIM EnduroGP World Championship for the very first time in the African continent. And they did it in a very good way! If riders were sure to face an "easy" Grand Prix, they quickly saw that Morocco can create some real tough Enduros in the spirit of the World Series… "Special tests were really toughs, technical and exhausting but at the end, it wasn't the worst… The worst was the transfers, it was even more difficult!" confessed Danny MCCANNEY (GB – Husqvarna) and Taylor ROBERT on Sunday night. A good first in Morocco that will maybe open for more in the future!
Opposite
Never in Enduro history, we faced opposite weather in a same tour! From the heat of Agadir, riders then had heavy rain and win in Portugal. And it has confused a lot of them… In just a week, the stars of the discipline met a tough, sandy and rocky terrain in Morocco and then the mud and ruts in Gouveia! So much diversity in just two weekends of racing never seen before and it forced the riders to give everything to finish the four days.
Customs troubles
If the Grand Prix of Agadir was a success in term of sport, it's been a real expedition for teams and the promoter. Indeed, most of the factory teams were blocked at least 12 hours in the customs in Tangier. With a record for some Italian teams that were blocked 24 hours in the port… Some big troubles that was partially reduced on the way back but that will be improved in the future… We hope so!
Husqvarna smiles… and cries!
Coming out from a brilliant Grand Prix of Agadir where Husqvarna clinched the EnduroGP leader plate thanks to Mathias BELLINO (F) and also a good second rank in Junior with Josep GARCIA (E), everything seems to go well for Andreas HÖLZL and his team. But then, it was different in Portugal. As a precursor, the heavy rain during the night of Friday to Saturday broke a part of their awning. And then the weekend was a mix of good and deceiving results for Husky riders: Mathias BELLINO, brilliant second on Saturday, never found the pace on Sunday (9th)… Josep GARCIA who clinched a nice third position on Day 1 finished Day 2 with a DNF due to mechanical problems. Pascal RAUCHENECKER (AUT), despite his first points scored in EnduroGP class on Sunday (14th) had also to give up with mechanical problems on Saturday. It's finally Danny MCCANNEY who was the most consistent. Despite just a 13th position in EnduroGP, 2014 Junior World Champion scores precious points in E1 (6/4) while waiting to completely recover from his knee surgery.
ROBERT is making history!
Winning E2 category on Sunday in Gouveia, Taylor ROBERT made the history of the discipline, becoming the very first US rider to win an Enduro Grand Prix. In the past, the very late Kurt CASELLI wasn't that far to win with several podiums in Czech Republic (Most – 2005) and Greece-Romania (2013) but he never made it. ROBERT, who told us before the start of the season "looking to follow the step of Kurt", achieve this goal on his second Grand Prix. A result that will call for more for the Arizonan!
Surprises
This starts of the season has also permit to experienced riders of the Championship to show their skills or two some young guns in doubt during the past to create the surprise. Indeed, who could say during the off-season that Antoine BASSET (F – KTM), "rejected" by official teams, would be in 7th position of the EnduroGP and on the podium of the E3 Class during the four race days (2nd E3 overall)? Thanks to his family (his brother is his mechanic) and his will, the French was impressive in Morocco and Portugal. It's the same thing for Gianluca MARTINI (I – Kawasaki). After a difficult season with Yamaha Miglio in 2015, has perfectly rebounded with Kawasaki Lunigiana during this start of season: 14th in EnduroGP and 4th in E1 Class with a nice podium on Sunday in Agadir! Some of the Factory teams should be already wondering why they let some talent like this alone…
National Class: a success!
It was a test in Requista, and finally the National class has been inducted in the World Series for 2016. Organizers have now the possibility to have another category to the best riders of the EnduroGP if they want it. During the two first Grand Prix, this new category was a real success with around 40 entries in Morocco and 78 in Portugal. A good way to help organizers, attract more riders and to make a big motorbike celebration around the Grand Prix!
ROBERT and WATSON already good!
After MEO went to rallyes and Matthew PHILLIPS going to Fabrizio AZZALIN team, KTM Factory team was confident with NAMBOTIN, CERVANTES and the newcomers ROBERT and WATSON. If the two last were projects for the future, they are finally the ones shining during this start of season. NAMBOTIN injured and CERVANTES facing family troubles, the two "rookies" stepped up. Results: four podiums in E1 for WATSON and a nice 3rd position in EnduroGP in Gouveia (8th overall) and a podium plus a win in E2 Class for the US guy who's also 6th in EnduroGP, just 2 points behind Alex SALVINI (I – Beta) in the fight for the Top 5…