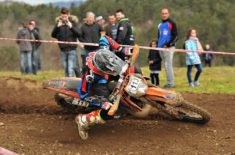 After a vigorous start in March, it took a few month till the Enduro European-Championship (EEC) arrived to the second round: On 30thand 31st of July 2016 the next competition starts in Ogre /Latvia. Already the European round has been there in 2012 the first time, with a very well organized race.
This time there is prepared a 62 km long stage, to be run three times. The riders have to complete two enduro-tests and one modern extrem-test, which will offer a lot of action.
There are expected more than 150 riders from 180 countrys, fighting in 8 different classes and the overall!
The second half of the season has to show, whether the juniors, Brad Freeman from England and Nicolas Pellegrinelli from Italy, can still bear the former champions Tom Sagar from England and Maurizio Micheluz from Italy. Perhaps, could it be that a changing of generations is coming to the successful enduro riders? we will find out, which rider will win in the end the official no1 helmet of this championship, sponsored by "Airo"
We will see from Saturday, 20th of July 2016, when the start is at 9:00 am. Start, paddock an parc ferme will be at the Ogre Technical school (GPS N56 49`36.588 E24 36`3.852), only 35 km from airport in capital city of Riga.
Prelude to the sporting weekend will be already on Friday at 6:00 p.m. with the presentation of the riders and the opening ceremony.
More information and schedules, results, the livetiming and links, there are always up to date and right on the official website:
http://european-enduro.com/