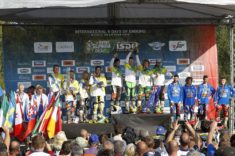 The ninety-first edition of the FIM International Six Days Enduro (ISDE) is set to take place in Navarra from 11th to 16th October when the event returns to Spain for the first time since 2000. Held then in Granada where Italy and Spain won the World Trophy and Junior World Trophy categories respectively, this time around twenty-two World Trophy teams, twenty Junior Trophy teams, seven Women's Trophy teams and more than three hundred and eighty Club team riders will take to the start of this iconic event being held in the north east of the country.
Dominating the 2016 edition of the event in Slovakia last year Australia return looking to continue their winning ways. Topping the World Trophy, Junior World Trophy and Women's Trophy classes in Košice, Australia will be hoping for more of the same in Navarra, but face tough competition in their bid to successfully repeat their amazing winning performance in all three classes.
With the 2015 ISDE delivering a number of memorable firsts – Australia claimed their first ever World Trophy team victory while USA's Ryan Sipes became the first American to top the overall individual results, it is expected that Australia and the USA will be the two leading nations in the battle for World Trophy team victory this year. Whatever team does win will be the first to do so under the new four-rider World Trophy team rules.
Fielding what is arguably one of their strongest World Trophy squads of recent years, Daniel Milner – Yamaha, and Daniel Sanders – KTM will compete together with Josh Strang – Husqvarna, and Lachlan Stanford – Husqvarna, for Australia. Bringing together a team filled with experience, youthfulness and determination the Australian quartet will likely see their biggest threat come from the USA.
Despite losing Ryan Sipes – Husqvarna to injury at the eleventh hour, Team USA are unquestionably looking to capture the World Trophy team win. Kailub Russell – KTM, Taylor Robert – KTM and Thad Duvall – Husqvarna form a formidable trio who together with an as yet unnamed fourth member of the team will certainly give Australia a run for their money. The question everyone is asking is will Team USA finally secure the ISDE's biggest prize?
Spain will be lead by Ivan Cervantes – KTM, as the former five-time FIM World title winner teams up with Victor Guerrero – KTM, Jaume Betriu – KTM, and Jonathan Barragan – Gas Gas in their bid for a World Trophy podium result.
In the Junior World Trophy category Australia start as defending champions with their three-rider team of Tom McCormack – Yamaha, Jack Simpson – KTM, and Nic Tomlinson – KTM. However with numerous nations putting forward teams capable of fighting for the Junior World Trophy win the likes of the USA, Sweden, Great Britain, Finland and Italy are all ready to challenge for the podium.
Without question it is Australia's Women's World Trophy team who start as favourites for class victory as Jessica Gardiner – Yamaha, Tayla Jones – Yamaha, and Jemma Wilson – Yamaha, aim for yet more ISDE success and a fourth consecutive win. The most dominant team in ISDE competition in recent years, the experienced trio will again likely set a pace few others can match having finished close to one-hour ahead of their closest challengers in last year's event. Leading the battle to challenge Australia, are Sweden, USA, Slovakia, Canada, Germany and Spain who are all hopeful of a trouble free run through the ninety-first edition of the International Six Days Enduro.
The 2016 ISDE takes place in Navarra, Spain from 11th to 16th October.
2016 ISDE – Key Facts
91st Edition of ISDE – Navarra, Spain
Australia ready to defend World / Junior / Women's titles
22 x World Trophy Teams
20 x Junior Trophy Teams
7 x Women's Trophy Teams
+380 x Club Riders