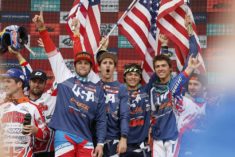 The final day of competition at the 2016 FIM International Six Days Enduro (ISDE) in Navarra, Spain saw the USA World Trophy team make history as Taylor Robert – KTM, Kailub Russell – KTM, Thad Duvall – Husqvarna and eleventh hour replacement rider Layne Michael – Husqvarna claimed their nation's first ever class win. Sweden and Australia were the day's other big winners as Mikael Persson – Yamaha, Albin Elowson – Husqvarna and Jesper Borjesson – Husqvarna secured the Junior World Trophy win for Sweden while Jessica Gardiner – Yamaha, Tayla Jones – Yamaha and Jemma Wilson – Yamaha claimed a fourth consecutive Women's World Trophy team win for Australia.
The final day motocross races saw close action in all classes, with all of the category leaders making it to the end of the event without any problems. Led by Taylor Robert – KTM the USA World Trophy team put the finishing touches to their impressive week-long performance to secure a well-deserved World Trophy team win. With the likes of Australia and Italy failing to get all four of their team riders to the finish Great Britain claimed the final runner-up result with the Czech Republic claiming third and with it the Watling Trophy for the most improved nation. Sweden ended up fourth with Estonia fifth.
"I've been so stressed the last few days, this is a huge deal for me and for the USA," commented a delighted Taylor Robert – KTM "I kept trying to tell myself that everything would work out, but I know anything can happen during the final motos. This is my sixth ISDE and it feels so good to have won with team USA and also to have got the overall individual result. My final moto went well, I got a good start and quickly worked my way into the lead. Then half an hour after my race was over was the worst because I was waiting for a phone call to tell me how Daniel Sanders got on, to find out if I'd got the overall. The team's been great, we've been getting closer and closer to this year-on-year. This one's for Kurt Caselli."
With just twenty-two seconds separating the USA from Junior World Trophy class leaders Sweden at the start of day six everything was to play for. But with each of their three team riders performing well in their respective final motocross races Sweden extended their lead to forty-five seconds and with it claimed the 2016 Junior World Trophy team win. With the USA in second Italy placed third with Finland fourth and France fifth.
Not expected to do anything other than win, Australia's women showed exactly why they are the nation to beat in the Women's World trophy class as each of their three riders safely reached the end of their motocross races to claim a fourth class win in as many years. Host nation Spain held on to the runner-up result with Germany third.
Italy won the Club team category ahead of Trail jesters (USA) and Eric Cleveland Memorial (USA) with Team Scotland fourth and Missouri Mudders (USA) fifth. KTM 1 topped the manufacturers award with Nathan Watson, Kailub Russell and Taylor Robert, ahead of Husqvarna 1 and Beta Boano 1.
The fastest rider in the E1 class on day six was Great Britain's World Trophy team rider Nathan Watson – KTM. Claiming a start to finish win the former MXGP racer placed ahead of Australia's Jack Simpson – KTM with Josep Garcia – Husqvarna battling his way to an eventual third place result. Although unable to end his impressive week-long performance with a motocross win Garcia nevertheless secured a well-deserved Enduro 1 class overall win, placing three minutes ahead of Watson. Third went to Spain's World Trophy team rider Victory Guerrero – KTM.
Taylor Robert – KTM rounded out a near perfect week with a controlled win in his motocross race, finishing ahead of Jaromir Romanick – KTM with Denny Philippaerts – Beta third. Comfortably topping the Enduro 2 class overall result Robert placed ahead of countryman Kailub Russell – KTM with Jamie McCanney – Yamaha rounding out the top three.
Spain's Jonathan Barragan – Gas Gas brought his ISDE participation to a close in the best possible way by winning his Enduro 3 class final motocross race. Second off the start Barragan caught and passed Danny McCanney – Husqvarna for a convincing win. McCanney held on to the runner-up result with Jaume Betriu – KTM third. For the Enduro 3 class overall result Australia's Daniel Sanders – KTM held on for the win, finishing close to one-minute ahead of Giacomo Redondi – Honda. Third went to Portugal's World Trophy team rider Luis Correia – Beta.
The first ever FIM Vintage Trophy was won by America's Fred Hoess – Husqvarna.
ISDE Day 6 – Key Facts
USA seal first ever World Trophy class win
Sweden are crowned World Junior Trophy champions
Australia make it four Women's World Trophy victories in a row
USA's Taylor Robert is overall individual winner
USA's Fred Hoess wins first ever FIM Vintage Trophy
France will host 2017 ISDE – 92nd Edition of the event