ROCKSTAR ENERGY HUSQVARNA'S JUNIOR DELIVERS STAND OUT FE 250 POWERED SIX DAYS PERFORMANCE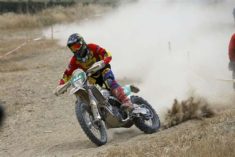 Producing one of the most impressive individual performances of the 91st running of the FIM International Six Days Enduro in Navarra, Spain, Rockstar Energy Husqvarna Factory Racing's Josep Garcia has claimed the biggest win of his young career, ending the prestigious near week-long event as the fastest overall Enduro 1 class rider as well as finishing third outright.
With Spain's hopes of a strong Junior World Trophy team result ended on day three when one of their riders was forced to retire, Garcia turned his attentions on the Enduro 1 class. Already the fastest E1 class rider on the opening day of the event, on day two he performed even better by finishing as the outright fastest rider.
Continuing in his winning ways Josep again topped the Enduro 1 class on days three and four before claiming the outright win on day five. Entering his final day Enduro 1 class motocross race with a sizeable lead over his closest rival, in placing third he won the Enduro 1 class finishing three minutes ahead of runner-up Nathan Watson.
Racing for Great Britain's World Trophy team Danny McCanney switched from his regular FE 250 machinery to the Enduro 3 class aboard Husqvarna's TE 300. Needing little time to gel with his new bike, Danny ended the opening day of competition fifth in class, improving to fourth on day two and then third on day three – the wettest day of the event. Continuing to ride well on days four and five Danny was placed fifth going into the final day motocross races. In placing a strong second to former GP motocross racer Jonathan Barragan he secured fourth in the Enduro 3 class.
Competing in his first ever ISDE, Pascal Rauchenecker claimed an eventual fourth place result in the Enduro 1 class. Fifth on each of the opening two days of competition he then finished sixth, eighth and sixth on days three, four and five before finishing fourth in his final day's motocross race. Pascal placed 14th outright.
USA team riders Thad Duvall and Layne Michael finished as members of America's World Trophy team with Thad seventh in the Enduro 3 class and Layne sixth in Enduro 1.
Josep Garcia: "This has been the third and by far the best ISDE of my career. I felt very good on my bike as soon as the race started and I decided to push for the win. The dry conditions during the first two days suited my style so I managed to get the overall victory on day two. When the rain came on day three, it made things a bit more complicated for everybody. But I'm really happy I got away with a second outright victory on day five. That was the best day for me as I could battle for the top in each and every special test. I really couldn't think of a better way to end this season."
Danny McCanney: "The start of the event was a bit of a struggle for me. I was starting from the back of the pack in each test, so I was forced to make lots of passes in the dust of other riders. Once I got the two first days out of the way I started pushing more to get up front. From day three I put myself in a good position and kept pushing harder and harder. I really liked the enduro tests and I think it was my strongest point during the week. I had a few crashes in the motocross tests, which messed up my results a little. Other than that it felt really good being back on a 2-stroke."
Pascal Rauchenecker: "The ISDE has been a big learning experience for me. It was my first six-day enduro event so I knew remaining focused for the whole duration of the race would be crucial. With so many riders out there, it was impressive how each special test would change after each lap. Team Austria lost one rider quite early so after that I just focused on getting a good result for myself. I tried to push every day and improve my times. We had some ups and downs but I guess everybody did. It's a bit of a bummer I didn't make it to the E1 podium as I know I could have, but it's been cool being a part of such a special race."
Results – FIM International Six Days Enduro 2016
World Trophy Team
1. USA – 13:46:40.93
Kailub Russell (KTM), Taylor Robert (KTM), Layne Michael (Husqvarna), Thad Duvall (Husqvarna)
2. Great Britain – 13:50:19.59
Jamie McCanney (Yamaha), Daniel McCanney (Husqvarna), Jamie Lewis (Yamaha), Nathan Watson (KTM)
3. Czech Republic – 14:16:23.27
Ondrej Helmich (KTM), Patrik Markvart (KTM), Jaromir Romancik (KTM), Jiri Hadek (KTM)
Junior World Trophy
1. Sweden – 10:30:55.71
Mikael Persson (Yamaha), Albin Elowson (Husqvarna), Jesper Borjesson (Husqvarna)
2. USA – 10:31:40.94
Trevor Bollinger (Honda), Steward Baylor (KTM), Grant Baylor (Yamaha)
3. Italy – 10:35:17.21
Davide Soreca (Honda), Matteo Pavoni (KTM), Matteo Cavallo (Beta)
Women's World Trophy
1. Australia – 07:57:39.29
Tayla Jones (Yamaha), Jemma Wilson (Yamaha), Jessica Gardiner (Yamaha)
2. Spain – 08:01:27.96
Laia Sanz (KTM), Mireia Badia (Husqvarna), Sandra Gomez (Husqvarna)
3. Germany – 08:15:47.75
Maria Franke (KTM), Vanessa Danz (KTM), Heike Petrick (KTM)
Manufacture's Team Award
1. Beta Boano (Deny Philippaerts, Matteo Cavallo, Luis Correia); 2. KTM 1 (Nathan Watson, Kailub Russell, Taylor Robert); 3. Husqvarna 1 (Pascal Rauchenecker, Josep Garcia, Daniel McCanney); 4. Husqvarna 4 (Lachlan Stanford, Albin Elowson, Jesper Borjesson)
Enduro 1
1. Josep Garcia (Husqvarna), 3:23:32.89; 2. Nathan Watson (KTM) 3:26:37.27; 3. Victor Guerrero (KTM) 3:27:14.71; 4. Pascal Rauchenecker (Husqvarna) 3:28:12.57; 5. Davide Soreca (Honda) 3:28:26.09; 6. Layne Michael (Husqvarna) 3:30:01.36… 12. Lachlan Stanford (Husqvarna) 3:32:29.14… 23. Michael Feichtinger (Husqvarna) 3:43:51.61… 30. Biene Priit (Husqvarna) 3:51:17.06… 39. Juan Jose Puga (Husqvarna) 4:10:35.80… 42. Ioannis Konstantinoudis (Husqvarna) 4:46:24.43; 43. Felipe Vaca (Husqvarna) 4:48:07.96; 44. Martin Valenduc (Husqvarna) 5:27:56.93… 47. Alvaro Gallegos (Husqvarna) 9:10:22.43
Enduro 2
1. Taylor Robert (KTM) 3:22:46.65; 2. Kailub Russell (KTM) 3:25:22.51; 3. Jamie McCanney (Yamaha) 3:26:13.98; 4. Albin Elowson (Husqvarna) 3:28:13.99; 5. Jaromir Romancik (KTM) 3:28:36.25… 17. Eemil Pohjola (Husqvarna) 3:34:07.41… 22. Jordi Quer Molgo (Husqvarna) 3:36:50.81… 29. Christophe Robert (Husqvarna) 3:42:34.59… 33. Alexander Nyberg (Husqvarna) 3:45:57.82… 36. Florian Reichinger (Husqvarna) 3:47:38.00… 40. Alexandre Vaudan (Husqvarna) 4:00:06.46… 43. Juan Felipe Bustamante (Husqvarna) 4:07:43.65; 44. Juan David Olaya (Husqvarna) 4:08:06.09; 45. Matteo Jaramillo (Husqvarna) 4:12:34.52… 47. Juan Rostan (Husqvarna) 4:13:07.20…
Enduro 3
1. Daniel Sanders (KTM) 3:23:04.55; 2. Giacomo Redondi (Honda) 3:24:00.70; 3. Luis Correia (Beta) 3:24:15.35; 4. Daniel McCanney (Husqvarna) 3:25:07.10; 5. Jonathan Barragan (Gas Gas) 3:26:50.97… 7. Thad Duvall (Husqvarna) 3:28:30.41… 18. Lukas Streichsbier (Husqvarna) 3:49:25.94… 24. Francisco Alvarez (Husqvarna) 3:59:23.14… 26. Martin Bustamante (Husqvarna) 4:05:39.54; 27. Jorge Diez (Husqvarna) 4:11:39.58… 30. Mauricio Castillo (Husqvarna) 5:09:21.33