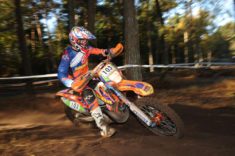 Brad Freeman, only 20 years old, won the overall title at the final of the Enduro European Championship at Harfsen, in the Netherlands, with two clear victories. Because of an injured shoulder the Brit could not take part at the round in Latvia, and probably this is why he missed the title on the Junior E2/E3 class, where he finished second behind the new champion Nicolas Pellegrinelli from Italy.
For another Italian rider, Guido Conforti, the third place was enough to clinch the title in the senior E1 class in front of Jonathan Rosse from Switzerland. A real thriller happened in the E2 class, where the defending champion Tom Sagar quitted the race at the first day. On the morning of the Day2 the bike of the new leader Jaromir Romancik did not start in time – and the Czech had to start with 10 seconds penalty. Having not fully recovered after his crash of Day 1, he finished only 4th in the class and missed the title, which went already yesterday to German Marco Neubert – in Day2 beaten only by local hero Wesley Pittens.
With two wins in the junior E1 class Patrik Markvart won the title. The Czech had to ask for his old bike from home, after his new bike was stolen two nights before the start of the competition. The title for him was the reward for his effort.
In the 125 under 20 class, with two wins Matteo Pavoni won the title in front of his fellow countrymen Andrea Verona and Lorenzo Macoritto. Even in the team championship Italians were at the top: the winning team was the "SA Racing" in front of "Husqvarna Osellini Team". Podium for German "Heikos Bad Boys" team.
All other classes had already been decided the day before. In addition to the individual European Championship, the Nation Championship was held this weekend. The winning team was Great Britain in front of the Czech and hosting Netherlands. Among Juniors Italy won the title ahead of Sweden and Great Britain. Among Veterans Netherlands managed to win in front of Sweden and Finland. More information and schedules, results and live-timing on the official website: http://european-enduro.com/