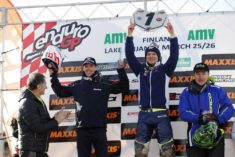 Eero Remes (TM) has put the finishing touches to a perfect AMV GP of Finland by wrapping up his home round of the EnduroGP series with a dominant Enduro 2 class win. Ending the second day's competition as the outright fastest rider, just as he did on day one, the Finn was joined by countrymen Antti Hellsten (Husqvarna) who topped the EnduroGP class, Eemil Pohjola (Husqvarna) who dominated the Enduro Junior class, and Hermanni Haljala (Husqvarna) who topped the result sheets in the Enduro Youth category.
Faced with a shorter day, that featured 11 special tests and took riders south towards the event's finish on the outskirts of Helsinki, it was again Remes who set the pace others tried to match. Topping the first nine tests in the Enduro 2 class to open up a sizeable lead, Remes eased his pace a little as the day neared its close but nevertheless still placed close to three minutes ahead of class runner-up Josep Garcia (KTM). "It was another good day for me," commented Remes. "With the first day going so well I knew that if I rode the same way I would be able to be fast again. I felt good and everything worked out. It's a great start to my championship and it's been a great event. Winning in Finland is always special."
Despite being off a bike for one month following a car accident prior to the GP of Finland, Josep Garcia (KTM) brought his first ever senior class outing to a very positive close with a strong second place result behind the flying Remes. Despite his relative lack of fitness following his enforced layoff Garcia put in an impressive performance, splitting class winner Remes and Henric Stigell (Husqvarna). "I'm very pleased with this result," admitted Garcia at the finish. "With my time off a bike, with this being my first senior class race, with the conditions being so tough, it's a great start to the series for me. I was a little unsure of how I would do, but now I will work hard to be even stronger for my home GP in Spain."
Improving on his day one result Jamie McCanney (Yamaha) finished 26 seconds behind Stigell for fourth with Roni Nikander (KTM) and Daniel Sanders (KTM) rounding out the top six. Competing in his first ever EnduroGP race, Australian Sanders battled his way to the end of a challenging event.
Just as Eero Remes did in the Enduro 2 class, Antti Hellsten (Husqvarna) completed a perfect weekend with EnduroGP class victory on day two. Despite winning only four of the day's 11 special tests the Finn did all that he needed to do in order to stay ahead of second place finisher Steve Holcombe (Beta). With Steve upping his pace and pushing Hellsten much harder than he did on day one, the difference between the two riders was just 38 seconds at the end of close to two-and-a-half hours of special test racing.
"I've really enjoyed competing in an important Finnish race, that's also a world championship event," explained Hellsten. "Today was good again, Steve was faster than on day one but I found a good rhythm and kept pushing. As much as I'd love to compete in more world championship races I think this is where I step away from the series, but I've enjoyed competing against Holcombe, Phillips and the world championship regulars."
Keeping Hellsten honest throughout the opening day Holcombe managed to turn the tables on Matt Phillips (Sherco) who finished ahead of him on day one. Topping two tests Holcombe placed 21 seconds ahead of Phillips. Damaging his rear brake early in the day, Phillips nevertheless pushed hard to secure third overall.
Fourth in EnduroGP on day two, Nathan Watson was arguably more relieved than most riders to have finished both days. Crashing heavily while training at home in England, Nathan struggled during the opening day. But with his confidence improving throughout the second day he finished just 17 seconds behind Phillips. Marko Tarkkala (Husqvarna) finished fifth and as the second-best Finn behind Hellsten. Giacomo Redondi (Honda) improved on his day one result to finish sixth with Aleksi Jukola (KTM), Loic Larrieu (Yamaha), Christophe Charlier (Husqvarna) and Alex Salvini (Beta) rounding out the top 10.
Just as he was on day one Eemil Pohjola (Husqvarna) was in a class of his own in the Enduro Junior class. Placing close to five minutes ahead of runner-up Davide Soreca (Honda) he also finished an impressive sixth overall. Soreca's runner-up result matched his day one finish while Henry Olenius (Honda) rounding out the top three.
With Scandinavian riders filling the top five places in the 125cc Enduro Youth class it was Finn Hermanni Haljala (Husqvarna) who topped the results, comfortably placing ahead of Emil Jonsson (KTM) from Sweden with Finn Antti Ahtila (KTM) third.
The 2017 EnduroGP World Championship next heads to Spain for the AMV GP of Spain.