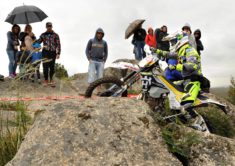 Sometimes rain helps
After heavy rain the conditions of the first Round of the European Enduro-Championship in Gouveia / Portugal changes over night. But the track switched into a good shape on Sunday, April 30th.
Without the dust and without the juniors advantage to find a smooth, not used track in the first lap, the Italian Oscar Balletti from the senior E3-class took the overall win in front of the reigning champion of the senior E3 class, his countryman Maurizio Micheluz.
On the third place in the overall ranking was a rider, who was still a junior at least last year. On the first day, Swede Oliver Nelson had big disadvantages through the dust. "I had to start behind, because I have had no success upto now in this class. That's why I quickly ran into the slower riders before me, but I could not overtake in the dust. "But at the next competition, on the 8th / 9th of July in Estonia, he can start from third position.
The Swede Andreas Linusson, who has had switched from the 300 2-stroke to the 250 4-stroke KTM, won the senior E1 class. He also took the lead in the championship, ahead of the Frenchman Luc Breban and the reigning champion of the class, the Italian Guido Conforti, who took second place on this second day.
With his fantastic performance in the overall ranking, Oliver Nelson also won his senior E2 class. First day winner Nicolas Pellegrinelli was fighting with several technical problems and came home only fourth place, behind the British Jamie Lewis and reigning champion Marco Neubert.
Once again won the German Arne Domeyer the veterans-class with more than a minute ahead. He took the lead in the championship ahead of the reigning champion Sebastian Krywult from Poland. Krywolt took the second place in front of the Finnish Mika Paavola.
Another clear victori was for Jessica Gardiner in the women-class. There was no chance for the Swede Hanna Berzelius and the Finnina Marita Nyqvist.
Theophile Espinasse, who won the overall at the first day took a double victory in his junior E2 / E3 class. There he is in front of hie French countrymen Hugo Blanjoue and Jean-Baptist Nicolot.
In the junior-E1-class Matteo Pavoni won in front of Kristof Kouble. The joung Czech rider switched right now from motocross to enduro an became the best Czech result this weekend.
KTM-rider Calle Johansson took the victory in front of the 17 years old Daniel Mundell from England. But Mundel won the first day and took the lead in the championship in front of the Suede Johansson.
The second of the four competitions for the Enduro European Championship takes place on the 8th / July in Paikuse / Estonia
More information and schedules, results and links, there are always up to date and right on the official website:
http://european-enduro.com/
2017:
29th /30th of April                       Gouveia / Portugal  –  www.wecportugal.com
8th/ 9th of July                           Paikuse / Estonia  –  www.paikuse-enduro.eu
5th/6th of August                        Burg / Germany  –  www.enduro-burg.de
13th to 15th of October               Gelnica / Slovakia  –  www.enduro-gelnica.sk