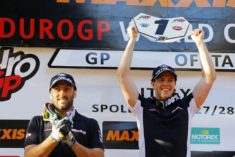 Claiming his first EnduroGP class win of 2017 to move to the top of the provisional EnduroGP World Championship standings, Steve Holcombe was the big winner on day one of the GP of Italy. Battling with Beta team-mate Alex Salvini throughout the day, the British rider eventually placed 11 seconds ahead following a costly mistake by Salvini during the day's final enduro test. Rounding out the EnduroGP podium was Yamaha rider Loic Larrieu. EnduroGP championship leader coming into the Italian event, Matt Phillips failed to finish the day due to a technical issue. In the Enduro 2 category KTM mounted Josep Garcia came out on top of a close fought battle with Yamaha's Jamie McCanney to claim victory.
Agonisingly close to topping the EnduroGP class at the GP of Spain, Steve Holcombe battled for the top step of the podium throughout day one in Italy before finally edging ahead of his Beta team-mate Alex Salvini. "This first win of 2017 feels great," admitted a relieved Holcombe at the end of the day. "But I feel for Matt Phillips, I never like to see any rival run into technical troubles. As far as my day went it was pretty much all good. Although the enduro test was really long it was hard to get any kind of advantage anywhere, it was really close at the top of the EnduroGP class. The only mistake I made was on the final enduro test, but I still topped the test, so it's been a very positive day for me and for Beta."
With Salvini placing as runner-up, despite his crash in the final enduro test, the Beta duo were joined on the podium by Yamaha's Loic Larrieu. Crashing on the opening extreme test the Frenchman pushed hard to take back the lost time, placing just 20 seconds behind winner Holcombe. "I felt like I rode well today, but my mistake early in the day cost me," admitted Larrieu. "It's great to be on the podium but without my mistake maybe I could have been fighting for the win."
Showing impressive speed, Giacomo Redondi (Honda) joined Alex Salvini as the second Italian rider inside the top four in the EnduroGP class. Just under four seconds behind Larrieu, Redondi finished comfortably ahead of Christophe Nambotin (KTM) in fifth with privateer Yamaha rider Cristobal Guerrero sixth. Christophe Charlier (Husqvarna), Jaume Batriu (KTM), Nathan Watson (KTM) and Denny Philippaerts (Beta) rounded out the top 10.
Although only topping two of the day's special tests in the Enduro 2 class, Josep Garcia (KTM) claimed his second day win of the series despite feeling less than 100% when arriving in Italy. "I really didn't think I would be winning here this weekend," explained Garcia. "I got sick after the last Spanish championship race and had to delay my flight to Italy to try and recover. I wasn't able to prepare for the race like I wanted, but thankfully I didn't feel too bad during the race. It was a very close battle with Jamie McCanney, but I'm really pleased to have won and also to have taken a lot of points in the E2 championship." Just over five seconds behind Garcia, Jamie McCanney (Yamaha) secured the runner-up spot in Enduro 2 having topped three of the day's special tests. Showing just how close things were at the top of the E2 class, Pascal Rauchenecker (Husqvarna) rounded out the podium in third – less than 10 seconds behind winner Garcia. Husqvarna mounted Italian Thomas Oldrati claimed his best result of the season so far in fourth while Manuel Monni (TM) also secured a strong result on day one of his home GP with fifth. Due to illness, Eero Remes (TM) struggled throughout day one in Italy. Although managing to maintain his lead in the E2 championship standings he could only manage an eighth place result.
In the Enduro Junior class Davide Soreca (Honda) enjoyed the largest winning margin of all classes, finishing comfortably ahead of Swede Albin Elowson (Husqvarna) after a consistent day's racing. Some 13 seconds adrift in third was Mikael Persson (Yamaha).
Andrea Verona (TM) was the winner in the 125cc Enduro Youth class, finishing ahead of Ruy Barbosa (Husqvarna) and Alex Iscala (KTM).