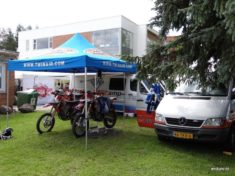 At the 8th and 9th of July 2017 the second round of the European-Enduro-Championship will take place in Paikuse / Estonia.
It will not only be the second round of this season, it will also be the second time in Paikuse ever. The organizer "MTÜ Paikuse Motoklubi" still have a lot of experience from the year 2012  and more than 35 years in organizing enduro-competition at all.
Like the last time, the headquaters are located central at the mainroad "Paide Mantee 19" in 86602 Paikuse.
In the flat costal region of Estonia will be total different conditions to the first race in Portugal: The riders have to pass deep sand, extended roots and viscid mud on the 60 km long loop, which will be used three times a day, whith three special-tests each round.
Even if the region is known as place for holidays, because of the beautiful location at the Baltic sea, it will certainly not relaxing for the competitors, but strenous.
With this conditions, the cards of the championship will be redistribute: specially fort he leader, Oscar Balletti. Usually the italians do not have a lot of sand to ride in their home.
Perheps the second, Theophile Espinasse from France, can profit from his early start as a Junior, because the sandy track will not be smashed this early.
With Dennis Schröter we will welcome a special guest: The three-times overall-champion from Germany ist well known as a specialist for sand and takes the competition to prepare for the very next round: The European-Enduro-Championship in Germany will also be a round oft he German championship.
All in all singned 159 riders from 17 different nations for the round in Estonia in July.
Find the livetiming this weekend at: http://www.casomeric.cz/enduroonline/
More information and schedules, results and links, there are always up to date and right on the official website: http://european-enduro.com/