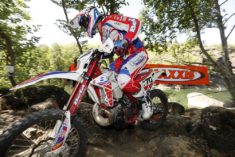 Securing his first EnduroGP class win of 2017, Nathan Watson (KTM) was the big winner on day two of the Maxxis FIM EnduroGP of Greece where the British rider finished 23 seconds ahead of championship leader Steve Holcombe (Beta) at the end of a second hot and demanding day of racing in Grevena. Runner-up to Holcombe on day one, Watson topped five of the second day's nine special tests to earn a well-deserved first win of the season. In the Enduro 2 class Jamie McCanney (Yamaha) topped the result as he did on day two of the GP of Hungary, having come out on top of a two-rider battle for the win with Enduro 2 championship leader Josep Garcia (KTM). In the Enduro Junior class Sweden's Mikael Persson (Yamaha) claimed the win.
Just as on day one in Grevena, day two of the EnduroGP of Greece saw riders battle against scorching temperatures. But for Nathan Watson (KTM) the day couldn't have gone any better. Fighting for the win on day one, on day two he delivered his best performance of the year to claim victory and his first podium topping result of the year.
"Winning on day two here in Greece is a great way to end the back-to-back GPs we've had in Hungary and Greece," enthused Nathan at the finish. "Hungary was a turning point for me – before that it seemed like I'd had nothing but bad luck. But I carried a lot of confidence into this weekend and made a good start to the first day. I felt really good all weekend, really comfortable on my bike, and I've got my confidence back. Day two went well. I still wasn't overly comfortable on the extreme test, but I managed to stay ahead during the day and get my first EnduroGP class win of the year."
Unable to match the pace of winner Watson, Steve Holcombe (Beta) nevertheless further extended his EnduroGP championship lead with a runner-up result. Fast around the technical extreme test, Steve placed six-seconds ahead of Loic Larrieu (Yamaha), who worked his way back from seventh following a mistake on the second motocross test. Continuing to ride well Alex Salvini (Beta) placed just over two seconds behind Larrieu, with Spaniard Jaume Betriu (KTM) only a further three seconds behind in fifth. With Mathias Bellino (Husqvarna) sixth, Matt Phillips (Sherco) placed seventh ahead of Cristobal Guerrero (Yamaha) eighth and Christophe Nambotin (KTM) ninth following a big crash on the opening enduro test. Giacomo Redondi (Honda) rounded out the top ten.
Just like at the EnduroGP of Hungary where he claimed the win on day two after finishing as runner-up on day one, Jamie McCanney (Yamaha) again bounced back from a second-place result to win in Greece on day two. Locked in a close battle with Josep Garcia, less than two seconds separated the two riders entering the final special test with Jamie securing an eventual win of nine seconds. "I had a few small issues on day one and made a few small mistakes, which knocked my confidence a little on the extreme test but I'm more than happy with how things have ended up on day two," commented Jamie. "Just like in Hungary last weekend there was only a few seconds between myself and Josep Garcia going into the final test of the day, and I managed to get the win. The enduro test was long, around 10 minutes, and I was able to push hard all the way to the finish. There's a lot of racing still to do this year but I'm really looking forward to continuing to fight for the top of the podium."
Second to McCanney having won on day one, Josep Garcia (KTM) continues to lead the Enduro 2 championship, once again showing impressive speed but crashing on more than one occasion. Davide Guarneri (Honda) showed that his day one result was certainly no fluke by again finishing third, and just 14 seconds behind Garcia. Putting in winning rides on both the motocross and enduro tests, had he been faster on the extreme test the Italian might have been able to challenge for the class win. Eero Remes (TM) finished fourth, 36 seconds behind winner McCanney. Dropping one position from his day one result, Pascal Rauchenecker (Husqvarna) placed fifth. Jonathan Barragan (Gas Gas) missed out on a top five result by less than three seconds as the Spaniard delivered the best two-stroke Enduro 2 class result. Danny McCanney (Husqvarna), Daniel Sanders (KTM) and Manuel Monni (Yamaha) rounded out the top 10.
In the Enduro Junior class Swede Mikael Persson (Yamaha) earned his first ever class victory after coming out on top of a two-rider battle with day one winner Brad Freeman (Beta). "I'm so, so happy to get the class win on day two. I've been fighting for this result even since the second round of the series in Spain," explained the former 125cc Youth champion. "What makes it more rewarding is that I had a really big fight with Brad Freeman, who won on day one. We were both pushing to the limit throughout the day." Second and just 10 seconds behind Persson, Brad Freeman (Beta) was the only other rider to challenge for the win as he finished more than one-minute ahead of third placed Davide Soreca (Honda). Albin Elowson (Husqvarna), Matteo Cavallo (Beta) and Kirian Mirabet (Sherco) rounded out the top six.
In the 125cc Youth class Andrea Verona (TM) claimed yet another class win, ahead of Leo Le Quere (TM) and Chilean Ruy Barbosa (Husqvarna).
The 2017 Maxxis FIM EnduroGP World Championship moves on to Portugal in three weeks time, to Castelo Branco on July 21-23.