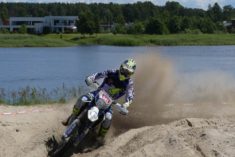 Today the local rider Rannar Uusna (class Senior E3) won the opening day of the Enduro European Championship Round 2 in Paikuse, Estonia.
"I made one small mistake in the Enduro Test but otherwise I had a smooth day", said Uusna who after the first round of the Championship was holding the fifth position. Before the race Uusna set out to win in the familiar sandy conditions of his home country and he kept his promise.
"I had no problems today with my bike and I rode as well as I could." Uusna's time today was 42:25.97 and he was 3 seconds faster than the second in overall classification – Matteo Pavoni from Italy who also won the Junior E1 class. The third in overall classification and the winner of the Junior Under 20 class was Joakim Grelsson from Sweden – he was 9 seconds slower than Pavoni.
The conditions in Paikuse today were close to perfect – the weather was dry and not too hot, about 20°C. It rained a little at night but for the morning the track had dried and the result only depended on the technical abilites of the riders. "The day was good, I had no problems on the track or with the bike," said Oscar Baletti who was satisfied with the result. He was Uusna's biggest competitor in the Senior E3 class and took the fourth place in the overall classification.
Not everybody was happy with the track in Paikuse. "Sand is not my thing at all. I had several crashes," the Swede Daniel Mundellwas critical about himself – he was holding the lead after the first EC round in the Junior Under 20 class. "I'll try to do
much better tomorrow", he promised.
In the first day in Paikuse Mundell was 25th in the overall and in his own class third after Jan Allers.
154 riders started this morning for the European Championship round in Paikuse from 17 different countries. For the tomorrow's race 151 bikes are ready in Parc Ferme.
The second day will start at 9 AM local time (CET +2). The length of the track in Paikuse is 62 km and it has two Cross Tests, one Enduro Test and 2 Time Checks.
The homepage of the event: paikuseenduro.eu
The results: http://www.casomeric.cz/home.php