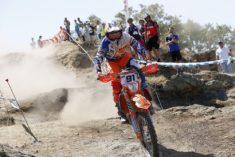 Day one of the Maxxis FIM EnduroGP of Portugal saw Nathan Watson (KTM) deliver one of the championship's most dominant winning performances as the Brit secured the top step of the EnduroGP class podium by finishing one-minute and 23 seconds ahead of second placed Matthew Phillips. A day dominated by extreme dust on the motocross and enduro tests, and featuring numerous technical trails, in the Enduro 2 class Jamie McCanney (Yamaha) was the rider to beat as he topped all but one of the day's special tests to place 23 seconds ahead of championship rival Josep Garcia (KTM).
With few riders making it through the opening day of competition at the Polisport GP of Portugal without mistakes, in the EnduroGP class Nathan Watson made light work of the dry and extremely dusty conditions to dominate the EnduroGP class. Beaten on only two of the day's special tests, Watson set an unmatchable pace on both the high-speed motocross and enduro tests. "I had a really excellent day today," explained Nathan. "As soon as I saw the tests I knew they would be good for me. Fast, wide and open enduro and motocross tests really suit my riding. I had a solid first lap and managed to put some time between myself and Loic. From then on, I just rode steady and kept chipping away. The dust was pretty bad today. Other than a small slip on the going the day was flawless. I'm really looking forward to tomorrow now and hope to bag another win."
Day one in Portugal saw a return to form for Matt Phillips (Sherco). Although one of many riders unable to match Watson's pace, the Tasmanian managed to come out on top of a day-long battle with EnduroGP championship leader Steve Holcombe (Beta). Enduring numerous mistakes during the day, in finishing third and ahead of Loic Larrieu (Yamaha), Holcombe extended his championship lead by two points. With Larrieu fourth, fifth went to Christophe Charlier (Husqvarna) who returned to the championship following a hand injury picked up at the GP of Hungary. Spain's Jaume Betriu (KTM) placed sixth, one position ahead of Mathias Bellino (Husqvarna) with local favourite Diogo Ventura (Honda) eighth, Giacomo Redondi (Honda) ninth and Christophe Nambotin (KTM) rounding out the top 10.
Claiming a winning Enduro 2 class result on day one for the first time in 2017, Jamie McCanney (Yamaha) showed his class rivals the way home, winning all but one of the day's special tests. Starting the day unsure if the super-dry conditions would suit him, in winning all three tests on the opening lap he established himself at the top of the E2 class and remained there to the finish. "Setting off this morning, I wasn't sure how these fast, dry tests would suit me," admitted the Manxman. "Us British riders aren't so used to riding in these conditions. I tried to ride mistake-free and just take things lap by lap, ticking off the tests as the day went on. The dust wasn't too bad for me, it just depended on where you hit it. I was unlucky to get caught in a cloud of dust on the cross test and ended up overshooting a corner. It cost me a few seconds getting back on track. Hopefully I can keep this form going into tomorrow and have another good day."
Second to Jamie, Josep Garcia (KTM) fell on both the opening extreme test as well as the second enduro test. Placing an eventual 23 seconds behind McCanney, Josep nevertheless finished a sizeable 30 seconds ahead of third placed Davide Guarneri (Honda). Continuing his impressive run of form, in finishing on the final step of the podium Guarneri secured his third consecutive third place E2 result. Finn Eero Remes (TM) eventually placed fourth, but more than one-minute behind winner Jamie McCanney. Pascal Rauchenecker (Husqvarna) finished one-minute behind Remes in fifth but ahead of Italian Manuel Monni (TM) who placed sixth despite getting things very wrong on the second run through the rock-littered extreme test. Danny McCanney (Husqvarna), Henric Stigell (Husqvarna), Rudy Moroni (KTM) and Thomas Oldrati (Husqvarna) rounded out the top 10.
Earning his first day win of the series, Albin Elowson (Husqvarna) got the job done in style on day one. Holding off a hard-charging Mikael Persson (Yamaha) to win the Enduro Junior class by close to seven seconds, Albin topped four of the day's tests. Consistently fast throughout the day, were it not for an off-the-pace enduro test at the end of lap one Persson might have taken his second win of the series. While a good day for the Swedes, third placed Davide Soreca (Honda) was unable to match the pace of the riders ahead of him placing 38 seconds adrift of Persson. Making too many mistake to challenge for the podium, Brad Freeman (Beta) finished fourth with Anthony Geslin (Beta) fifth. Freeman's Boano Beta team-mate Matteo Cavallo crashed heavily on the final enduro test and was forced to retire just meters from the end of the day.
Extending his win streak to nine days, Italian TM rider Andrea Verona finished two minutes ahead of Leo Le Quere (TM) to top the 125cc Youth class. Le Quere in turn placed close to two minutes ahead of third placed Gerard Gomez (KTM) from Spain.
With temperatures expected to be even hotter on Sunday, day two of the Polisport GP of Portugal looks set to be even tougher than the first.