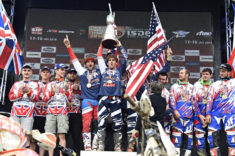 On 28 August the FIM's longest running off road motorcycle competition will begin in Brive, France. For the first time in the ninety-two year history of the event the USA will be defending the FIM World Trophy team title, hoping to put the names of Taylor Robert – KTM, Thad Duvall – Husqvarna, Kailub Russell – KTM and Ryan Sipes – Husqvarna at the top of the prestigious event's final standings.
As defending champions Team USA are the Trophy squad to beat. But despite being well-prepared, experienced and highly-motivated to win, they are also conscious that competition will be stiff and that beating France on home soil certainly won't be easy.
"I think the USA vs France is going to be one of the most talked about topics, certainly leading into this year's event," commented USA team manager Antti Kallonen. "France will want to win, no question of that, and the fact that they're returning to the competition this year, they aren't going to be giving anything less than 100%. The new format of four-rider World Trophy teams means many other countries are competitive now – Australia, Italy, Spain and more are going to be in the mix. But like the USA, France will certainly be out to win"
Now in his sixth year as team manager of the USA ISDE World Trophy team, Kallonen has seen the performances and results of his riders improve year-on-year. He has also seen the four-rider team rule introduced last year and how it has made things much more competitive at the sharp end of the World Trophy team competition.
"The fact that every rider's performance counts, the fact that every special test time counts, it's tough but it's how it should be. When it was a six-rider team the USA always had four or five good riders. Now we have four great riders, and a team that can compete to win. Speed is obviously important but so is getting to the finish, we saw that last year in Spain when Australia lost riders. If that happens you're finished. Getting all riders to the end of each day is equally as important as the speed of those riders."
While France have seen injuries force changes to their 2017 World Trophy squad, the USA have strengthened their victorious 2016 team as Ryan Sipes – Husqvarna returns following a year away from the event due to injury. The overall fastest rider in Slovakia in 2015, Sipes will compete in the Enduro1 category.
"It's great to have Ryan back in the team, he rode a great event two years ago and knows what's what at the ISDE. He rides a 250f really well, so he was an obvious choice for the E1 class. Thad Duvall – Husqvarna and Kailub Russell – KTM together in Enduro2 and both on 350cc bikes, which they've raced all year in the States. Taylor Robert – KTM will switch to the Enduro 3 class. He'll ride a 500cc four-stroke and has raced in the E3 class before at the Six Days."
"The goal has been to keep riders on bikes they're familiar with, as much as possible. As a team we're well prepared and looking forward to what we're sure will be a great event. Defending our World Trophy win while competing against France on their home soil is going to make for an exciting week's racing."
The 2017 ISDE takes place in Brive, France from 28 August to 2 September.