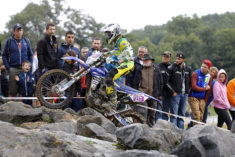 Despite team leader Christophe Nambotin – KTM picking up a hand injury during the second half of day four of the ninety-second running of the FIM International Six Days Enduro (ISDE), France continue to lead the FIM World Trophy team competition with a seven-minute lead over Australia.
In the FIM Junior World Trophy class competition remains close at the top with France continuing to lead but are just forty-four seconds ahead of Italy. Australia continue to dominate the FIM Women's World Trophy category ahead of the USA and France.
With another new course and yet another long day of riding, France's World Trophy team riders Christophe Nambotin – KTM, Christophe Charlier – Husqvarna, Jeremy Tarroux – Sherco and Loic Larrieu – Yamaha were again the team to beat. Finishing more than six minutes ahead of day four runners-up Finland, with just one full day of competition remaining France hold what looks to be a winning advantage. But with Nambotin picking up a serious hand injury, the final day of competition might prove decisive in the battle for the World Trophy class win.
France were not the only nation to see one of their World Trophy riders pick up and injury as Australia's Daniel Sanders – KTM also crashed, injuring his right shoulder. Finishing the day but unable to change tyres ahead of the fifth day of competition, Australia's hopes of challenging for a podium result may have been ended. For the first time in the event Finland claimed the runner-up result in the World Trophy class, with all four of their team riders making it to the finish without problems or injury.
At the head of the FIM Junior World Trophy category just 0.07 of a second separated France from second placed Italy with team USA only five seconds behind in third. Setting up a thrilling end to the 92nd ISDE, France's forty-four second advantage over Italy means that there is no room for error during the final full day of competition. With the USA just under two-minutes behind leaders France there is also still everything to play for ahead of the final day motocross races.
Australia are holding firm at the top of the FIM Women's World Championship competition, topping the class on day four to hold a seven-minute and fifteen second advantage over the USA in the overall results. Providing the fifth day of competition does not deliver anything in the way of unwanted surprises, Australia look to be headed for yet another Women's World Trophy victory. Despite their lack of experience – all three team members Kacy Martinez – KTM, Rebecca Sheets – KTM and Brandy Richards – KTM are competing in their first ever ISDE – team USA hold a sizeable lead over third placed France.
In the Enduro 1 class Josep Garcia – KTM had by far his best day of the event, winning by more than thirteen seconds and also finishing as the day's fastest overall rider. Finland's Eero Remes – TM placed second with Jeremy Tarroux – Sherco third with Davide Guarneri – Honda fourth. In the overall Enduro 1 results Garcia sits twenty-five seconds clear of Tarroux with Guarneri third.
"I felt really good today, really good on my bike, this is why I was able to win today," explained Spaniard Garcia. "It's been a hard event, but today I had a good day with no real mistakes. The first test was really grippy, despite the rain we had. Being one of the first riders onto the grass tests is something I am getting used to. Now I hope I can have a good final two days of the event. I would love to win the Enduro 1 class, so I will push hard for that."
Loic Larrieu – Yamaha again topped the Enduro 2 class, finishing ahead of Nathan Watson – KTM with Daniel Milner – KTM third. Moving back ahead of Milner in the overall Enduro 2 class results, Larrieu sits just six seconds ahead of the Australian with Sweden's Albin Elowson – Husqvarna third.
Struggling during the day's final two special tests following his crash, Christophe Nambotin could place no higher than ninth in the Enduro 3 class as Taylor Robert – KTM topped the results ahead of Jaume Betriu – KTM with Matthew Phillips – Sherco third. From just under fourteen seconds behind Nambotin, Taylor Robert – KTM now sits more than one-minute ahead in the overall E3 class results.
In the Manufacturer's award KTM 1 team riders Nathan Watson, Josep Garcia and Christophe Nambotin continue to lead, holding a slender twelve-second lead over KTM 2 with TM Racing's Andrea Verona, Benjamin Herrera and Eero Remes in third.
Day four of the ISDE saw the start of the Vintage Trophy event with one hundred and thirty six competitors successfully finishing the opening seven-hour day. Completing two special tests, France's Simon Romieu – SWM took the win ahead of Australia's Geoff Ballard – Maico with France's Jean-Luc Rojat – Honda third.
Day five will see a repeat of today's course and tests.