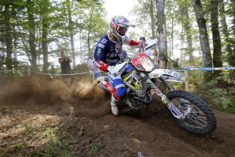 CHARLIER WINS WORLD TROPHY COMPETITION WITH FRANCE WHILE USA'S RYAN SIPES EARNS RUNNER-UP SPOT IN ENDURO 1
Following a solid, week-long outing at the 92nd edition of the International Six Days Enduro in Brive, France, Rockstar Energy Husqvarna Factory Racing team riders Christophe Charlier and Ryan Sipes spearheaded Husqvarna Motorcycles' efforts at the prestigious annual event. With Charlier playing a vital role for Team France, helping them become Word Trophy team champions, FE 250 mounted Sipes wrapped up the event by claiming second in the highly-competitive Enduro 1 category.
In what proved to be a long and challenging week of racing in Brive, Husqvarna mounted riders were among the top performers in all major classes. Enjoying a milestone moment in his rookie season as an enduro racer, Christophe Charlier claimed fifth in the Enduro 2 class and played a key role in Team France topping the World Trophy team standings.
Returning to the ISDE looking to repeat his 2015 overall winning performance, Rockstar Energy Husqvarna Factory Racing's Ryan Sipes had a strong week of racing on his FE 250. Getting a solid fifth place result in the event's overall standings, the American also secured the runner-up spot in the Enduro 1 category.
One of the revelations of this year's ISDE, Sweden's Albin Elowson posted top five times on more than one occasions during the week in France. Claiming a 10th place result in the overall individual classification, the FE 350 powered rider was also fourth in the Enduro 2 category and the highest placed Junior World trophy rider.
Racing his FE 250 machine in Enduro 1, Jeremy Miroir played a key role in helping France's Junior Trophy team claim victory. Posting competitive times during the week, Jeremy capped off the ISDE with eighth in the 250cc class.
In the Women's classification, Tayla Jones put her FE 250 on the podium by securing a strong runner-up result in the class. Along with Jessica Gardiner and Jemma Wilson, the trio of Aussie ladies won the Women's World Trophy competition for an impressive fifth consecutive time.
Christophe Charlier: "It's been a tough week and I'm happy we won the World Trophy competition with Team France. The Six Days is a big physical and mental challenge. Every day you have to look after yourself and the bike. You need to ride fast but safe, and it's difficult to get used to. I started the week feeling quite strong but then as the days went by I felt some fatigue. It was my first time racing the ISDE and it has been a memorable one. Thanks to my teammates' efforts we managed to bring France back on top."
Ryan Sipes: "It's been a long dusty week, it's been fun though. The transfers have been pretty good, but some of the tests were a bit unpredictable and beat-up. Overall, I have had a good time. It's been really good riding the FE 250, I normally ride a 350 back home so it's been a fun challenge to compete on a different bike and try to go fast. As far as the team goes it was unfortunate to lose Thad so early on. The French guys were on it this week, they would have been tough to beat, even if we were healthy as a team. Team USA will be back next year to try again though, I know we can do it, we just need to stay out of trouble and have a good week."
Results – FIM International Six Days Enduro 2017
World Trophy Team
1. France – 12:59:38.23
Christophe Charlier (Husqvarna), Loïc Larrieu (Yamaha), Christophe Nambotin (KTM), Jeremy Tarroux (Sherco)
2. Australia – 13:05:52.26
Matthew Phillips (Sherco), Daniel Sanders (KTM), Daniel Milner (KTM), Josh Green (Yamaha)
3. Finland – 13:08:50.34
Antti Hellsten (Husqvarna), Henric Stigell (Husqvarna), Eero Remes (TM), Matti Seistola (KTM)
Junior World Trophy
1. France – 9:55:04.10
Jeremy Miroir (Husqvarna), Hugo Blanjoue (Yamaha), Anthony Geslin (Beta)
2. Italy – 9:55:19.63
Davide Soreca (Honda), Andrea Verona (TM), Matteo Cavallo (Beta)
3. USA – 9:57:07.00
Michael Layne (Husqvarna), Grant Baylor (Husqvarna), Josh Toth (Yamaha)
Women's World Trophy
1. Australia – 7:08:04.01
Tayla Jones (Husqvarna), Jessica Gardiner (Yamaha), Jemma Wilson (Yamaha)
2. USA – 7:14:50.63
Kacy Martinez (KTM), Rebecca Sheets (KTM), Brandy Richards (KTM)
3. France – 7:34:40.74
Audrey Rossat (Husqvarna), Juliette Berrez (Yamaha), Samantha Tichet (Yamaha)
Enduro 1
1. Josep Garcia (KTM), 3:12:23.99; 2. Ryan Sipes (Husqvarna) 3:13:27.64; 3. Davide Guarneri (Honda) 3:13:35.82; 4. Jeremy Tarroux (Sherco) 3:14:11.28; 5. Eero Remes (TM) 3:14:11.49… 8. Jeremy Mirroir (Husqvarna) 3:18:18.65; 9. Henric Stigell (Husqvarna) 3:18:19.97; 10. Michael Layne (Husqvarna) 3:18:30.37… 21. Antti Hanninen (Husqvarna) 3:25:16.27… 23. Jordi Quer (Husqvarna) 3:27:04.36… 27. Jerome Martiny (Husqvarna) 3:28:11.61; 28. Bas Klein Haneveld (Husqvarna) 3:28:24.99… 34. Alexandre Vaudan (Husqvarna) 3:36:30.02… 42. Barnabas Toth (Husqvarna) 4:43:49.91
Enduro 2
1. Loïc Larrieu (Yamaha) 3:11:45.68; 2. Daniel Milner (KTM) 3:13:17.54; 3. Alex Salvini (Beta) 3:14:40.39; 4. Albin Elowson (Husqvarna) 3:14:51.84; 5. Christophe Charlier (Husqvarna) 3:15:11.64… 9. Joe Wooton (Husqvarna) 3:18:26.46… 12. Antti Hellsten (Husqvarna) 3:18:51.08; 13. Grant Baylor (Husqvarna) 3:18:51.53… 15. Tosha Schareina (Husqvarna) 3:19:24.80… 17. Eemil Pohjola (Husqvarna) 3:20:33.59… 21. Thierry Pittens (Husqvarna) 3:24:10.45
Enduro 3
1. Taylor Robert (KTM) 3:13:05.64; 2. Jaume Betriu (KTM) 3:14:52.78; 3. Daniel Sanders (KTM) 3:17:15.55; 4. Matti Seistola (KTM) 3:17:27.80; 5. Matthew Phillips (Sherco) 3:17:41.94; 6. Ruy Barbosa (Husqvarna) 3:18:10.21… 11. Ramon Quer Molgo (Husqvarna) 3:19:29.38; 12. Robert Friberg (Husqvarna) 3:24:08.10… 19. Juan-Pablo Jara (Husqvarna) 3:30:47.92… 26. Bertrand Bailleux (Husqvarna) 4:01:06.49
Enduro Women
1. Laia Sanz (KTM) 3:28:52.18; 2. Tayla Jones (Husqvarna) 3:30:26.50; 3. Brandy Richards (KTM) 3:35:21.68; 4. Jessica Gardiner (Yamaha) 3:37:37.51; 5. Kacy Martinez (KTM) 3:41:49.13… 9. Audrey Rossat (Husqvarna) 3:48:33.57; 10. Hanna Berzelius (Husqvarna) 3:50:55.28… 13. Amanda Elvin (Husqvarna) 3:56:05.68; 14. Paola Riverditi (Husqvarna) 4:02:39.92; 15. Anna Sappino (Husqvarna) 4:03:23.45… 17. Katarina Jurickova (Husqvarna) 4:20:26.06… 21. Karin Hostinska (Husqvarna) 5:03:07.26