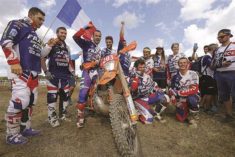 The 92nd International Six Days Enduro in Brive, France last week saw KTM enjoy strong results across all classes as KTM Enduro Factory Racing's Josep Garcia claimed a second consecutive Enduro 1 class victory, while Taylor Robert took a hard-fought Enduro 3 class win. Christophe Nambotin contributed to France's overall World Team Trophy victory and Laia Sanz won the Enduro Women's class.
One of the fastest riders in the event, Josep Garcia ended the first day sixth in Enduro 1 and 11th overall before moving to the top of the E1 classification as well as challenging for the overall individual win. Second in E1 on day two, the Spaniard then topped the fourth and fifth days before putting in one of the most impressive final moto performances of any rider and ending his event as the best performing Enduro 1 class rider.
Josep Garcia: "That was a lot of fun, I'm so happy to have won my final motocross race. Doing so well in the ISDE last year in Spain I really wanted to do well again here in France – winning the Enduro 1 class was my goal. To have done that is amazing. As always, it's been a long and difficult week, but generally things went well for me. The dust during the first few days wasn't too nice, but with the new tests during the third and fourth days I was able to really get a good feeling with the grass special tests. It was disappointing that one of the Spanish trophy team had to retire from the event, after that I really pushed to try and win the overall as well as Enduro 1."
Great Britain's Nathan Watson recovered from a tough start in the E2 class where he was 15th after day one, to take sixth position after a positive second half of the ISDE event including a final day win. Daniel Milner took a podium second in E2 aboard KTM machinery in this category, while Kailub Russell was seventh.
Following an outstanding start to the ISDE and winning the opening three days in the Enduro 3 category Christophe Nambotin looked set for the overall victory in Brive. However, a crash on day four left the Frenchman with broken bones in his right hand. With true grit to ride through the pain, 'Nambo' completed the ISDE in seventh in E3 and contributed to Team France's win in the World Trophy Team Competition.
Christophe Nambotin: "This is such a great feeling. To win the World Trophy team competition here in France is amazing, especially after the final few days I've had. I knew I wouldn't be able to do anything more than just ride around today because of my injured hand, but thankfully the rest of the team rode amazingly and we did what we set out to do. The start of the race was good for me, but with my hand injury it was just a matter of finishing."
Also in E3 was USA's Taylor Robert, who began the week strongly with second in E3 and second outright, followed by runner-up positions on days two and three before winning on days four and five. He completed his ISDE with a second in his final day motocross race, which secured him the Enduro 3 class win and third in the overall individual standings. An all-KTM podium saw Jaume Betriu take second place, while Australia's Daniel Sanders concluded the event in third place in E3 with Matti Seistola in fourth.
Taylor Robert: "I'm really pleased with the way this year's ISDE has panned out for me – to win the Enduro 3 class and get third overall is really cool. Of course I'd hoped to win the overall like I did last year, but, hey, it wasn't to be this year. I had a couple of days that weren't great, but generally things went really well. There's still only ever been a handful of American's who have won their class at the ISDE, so I'm really proud to be one of them. It was tough to see Thad go out on day one, but the ISDE is a crazy race sometimes. Today I got a terrible start for the final moto. I didn't get a good jump from the start, then I wheelied, but I managed to weave my way through the first few turns pretty good and managed to get close to the front. I was a little crazy during those opening laps, but I kept charging. I passed about four guys in the final lap, which allowed me to get second."
KTM riders filled four of the top six places in the Enduro Women's class, with Spain's Laia Sanz topping the results by more than one-and-a-half minutes. The USA all-KTM Women's World Trophy team of Brandy Richards, Kacy Martinez and Rebecca Sheets placed second in class.
Results FIM International Six Days Enduro 2017
World Trophy Team
1. France (Christophe Nambotin (KTM), Christophe Charlier (Husqvarna), Loïc Larrieu (Yamaha), Jeremy Tarroux (Sherco)), 12:59:38.23
2. Australia (Daniel Sanders (KTM), Daniel Milner (KTM), Matthew Phillips (Sherco), Josh Green (Yamaha)), 13:05:52.26
3. Finland (Matti Seistola (KTM), Antti Hellsten (Husqvarna), Eero Remes (TM), Henric Stigell (Husqvarna)), 13:08:50.34
Junior World Trophy
1. France (Jeremy Miroir (Husqvarna), Hugo Blanjoue (Yamaha), Anthony Geslin (Beta)), 9:55:04.10
2. Italy (Davide Soreca (Honda), Andrea Verona (TM), Matteo Cavallo (Beta)), 9:55:19.63
3. USA (Michael Layne (Husqvarna), Grant Baylor (Husqvarna), Josh Toth (Yamaha)), 9:57:07.00
Women's World Trophy
1. Australia (Tayla Jones (Husqvarna), Jessica Gardiner (Yamaha), Jemma Wilson (Yamaha)), 7:08:04.01
2. USA (Kacy Martinez (KTM), Rebecca Sheets (KTM), Brandy Richards (KTM)), 7:14:50.63
3. France (Audrey Rossat (Husqvarna), Juliette Berrez (Yamaha), Samantha Tichet (Yamaha)), 7:34:40.74
Enduro 1
1. Josep Garcia (KTM), 3:12:23.99
2. Ryan Sipes (Husqvarna), 3:13:27.64
3. Davide Guarneri (Honda), 3:13:35.82
4. Jeremy Tarroux (Sherco), 3:14:11.28
5. Eero Remes (TM), 3:14:11.49
Other KTM
11. Enric Francisco (KTM), 3:19:26.14
13. Dan Mundell (KTM), 3:19:27.52
16. Joakim Grelsson (KTM), 3:21:12.28
18. Joao Vivas (KTM), 3:22:38.72
20. Pontus Skog (KTM), 3:24:40.84
22. Bruno Crivilin (KTM), 3:25:19.36
24. Didier Goirand (KTM), 3:27:15.56
26. Yanik Spachmuller (KTM), 3:27:32.06
29. Robert Friedrich (KTM), 3:30:53.83
32. Hakon Nohr (KTM), 3:32:35.52
33. Nayib Chavolla (KTM), 3:35:00.31
35. Tomas Clemente (KTM), 3:37:36.27
37. Manuel Teixeira (KTM), 3:40:00.49
38. Daniel Brunner (KTM), 3:43:29.50
39. Takahiro Maehashi (KTM), 3:51:40.72
40. Antonio Sahagun (KTM), 3:53:19.33
41. Jan Allers (KTM), 4:10:59.07
Enduro 2
1. Loïc Larrieu (Yamaha), 3:11:45.68
2. Daniel Milner (KTM), 3:13:17.54
3. Alex Salvini (Beta), 3:14:40.39
4. Albin Elowson (Husqvarna), 3:14:51.84
5. Christophe Charlier (Husqvarna), 3:15:11.64
Other KTM
6. Nathan Watson (KTM), 3:15:15.76
7. Kailub Russell (KTM), 3:16:57.23
16. Eric Yorba (KTM), 3:19:28.14
18. Oliver Nelson (KTM), 3:22:37.00
20. Frazer Flockhart (KTM), 3:23:17.83
23. Jakub Sefr (KTM), 3:25:39.31
24. Robin Nijkamp (KTM), 3:26:35.23
25. Milan Engel (KTM), 3:26:43.09
26. Adolf Zivny (KTM), 3:27:59.37
27. Robert Riedel (KTM), 3:28:30.32
28. Andrew Leloup (KTM), 3:29:42.84
30. Sandro Allemann (KTM), 3:35:25.00
32. Diego Colett (KTM), 3:39:46.73
35. Jarne De Schaepmeester (KTM), 3:49:34.06
37. Kevin Burud (KTM), 3:52:07.13
Enduro 3
1. Taylor Robert (KTM), 3:13:05.64 
2. Jaume Betriu (KTM), 3:14:52.78 
3. Daniel Sanders (KTM), 3:17:15.55 
4. Matti Seistola (KTM), 3:17:27.80
5. Matthew Phillips (Sherco), 3:17:41.94
Other KTM
7. Christophe Nambotin (KTM), 3:18:29.63
10. Lyndon Snodgrass (KTM), 3:19:29.29
13. Jiri Haked (KTM), 3:24:35.89
15. Reis Goncalo (KTM), 3:24:59.16
16. Romulo Bottrel (KTM), 3:26:42.48
17. Patric Liska (KTM), 3:26:51.90
20. Gustavo Pellin (KTM), 3:30:49.07
21. Kellen Michaud (KTM), 3:33:16.02
22. Pals Anders Ullevalseter (KTM), 3:37:08.88
23. Gabriel Guardado (KTM), 3:42:22.11
24. Peter Katai (KTM), 3:44:23.94
27. Vincent Steinmann (KTM), 4:01:58.59
Enduro Women
1. Laia Sanz (KTM), 3:28:52.18
2. Tayla Jones (Husqvarna), 3:30:26.50
3. Brandy Richards (KTM), 3:35:21.68
4. Jessica Gardiner (Yamaha), 3:37:37.51
5. Kacy Martinez (KTM), 3:41:49.13
Other KTM
6. Shelby Turner (KTM), 3:44:48.40
11. Martina Reimander (KTM), 3:55:06.01
12. Cristina Marrocco (KTM), 3:55:16.06
18. Bruna Antunes (KTM), 4:28:20.70
20. Flavia Rolo (KTM), 5:00:00.35
22. Rebecca Sheets (KTM), 5:55:01.33
23. Gabriela Cipkova (KTM), 6:49:24.54