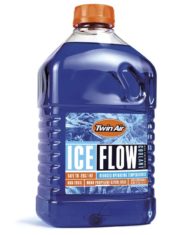 Twin Air heeft een innovatieve, high performance, biologisch afbreekbare Coolant aan haar al bestaande product lijn van on en off road onderdelen toegevoegd.
IceFlow is een "ready to use" Coolant ontwikkelt voor een langdurige bescherming van alle metalen in de huidige koelsystemen, zonder de keerringen aan te tasten.
Het doel was het ontwikkelen van de beste Coolant in extreme off road condities alsmede voor het gebruik van on road motoren in alle weersomstandigheden, milieu vriendelijk en het hele jaar door.
De nieuwe IceFlow Coolant biedt een toegevoegde waarde met een antivries tot -26°C / 14,8°F.
Ice Flow Coolant is ontwikkeld op Mono Propylene Glycol basis, silicaat vrij en geformuleerd met gedemineraliseerd water en nanotech technologie. De Coolant is Biologisch afbreekbaar.
De IceFlow Coolant is beschikbaar vanaf Oktober 2017 bij uw lokale Twin air dealer.
Voor meer informatie over Twin Air producten bezoek www.twinair.com. "The Choice of Champions".