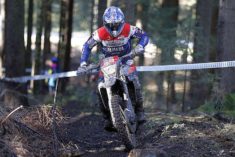 The eighth and final round of the 2017 Enduro World Championship took place this weekend in Zschopau, Germany. It was the final race meeting for the stars of international enduro competition and one that attracted a big number of spectators. Giving their best while battling for the coveted EnduroGP and Enduro 2 World Championship titles, Outsiders Yamaha Official Enduro Team riders Loïc Larrieu and Jamie McCanney enjoyed a strong weekend of racing in Germany.
The weekend started with Larrieu topping the outright standings during the short opening SuperTest on Friday evening. Approaching the main part of the event with added enthusiasm Loïc and Jamie finished both days inside the top three in their respective classes.
Claiming third in EnduroGP on day one, Larrieu was determined to come back even stronger on the second day of racing on German soil. Despite heavy overnight rain making tracks more demanding on Sunday, Loïc put in fastest times in five out of nine special tests to claim a strong runner-up EnduroGP class result.
Showing impressive speed aboard his WR250F machine Jamiewrapped up the season with a third place result on Saturday and an impressive Enduro 2 class victory on the second day of racing in Zschopau. It was the perfect way for the Manxman to end the season.
The end of the 2017 Enduro World Championship sees both Loïc Larrieu and Jamie McCanney finish as runner-ups in the EnduroGP and Enduro 2 World Championships respectively. All the members of the Outsiders Yamaha Official Enduro Team would like to congratulate them for professionalism and their stellar seasons aboard Yamaha machinery. We would all like to wish them an even stronger season in 2018.
Marc Bourgeois – Outsiders Yamaha Official Enduro Team manager
"It was an exceptional GP in every aspect. First and foremost I feel the need to thank the organizing moto club and the people of ABC Communications. This event had all the ingredients we think are right for the Enduro World Championship, including the transfer sections and the special tests. I am really happy both Loïc and Jamie were able to demonstrate such great performances in this last round of the season. Struggling to get in terms with the demanding conditions during the previous GP in the UK, they both needed a good moral booster. During the weekend in Germany both our riders showed they are able to battle for the titles in their classes. Jamie has improved massively during the season and I think he has so much more to give. As for Loïc, I really think he has all what it takes to be a World Champion. I would really like to thank all our partners and sponsors who supported us throughout another season."
Loïc Larrieu – Outsiders Yamaha Official Enduro Team rider
"The GP of Germany has been quite a challenge. It was more like a traditional enduro event and it was good to wrap up the season with such a race. When I saw the spectators at the SuperTest I told myself that it would be great to get a win there. I did my best and the victory gave me such a great feeling. Then we were on to two great days of racing. Together with Steve [Holcombe] and Christophe [Nambotin] we gave our best in every lap and every test during the weekend. I got third on Saturday and then improved to second on Sunday and this felt like a victory for me. The heavy overnight rain changed things on Sunday and it was hard to get some good speed. I did my best against two riders with great experience in these conditions. My goal for the season might have been to battle for the title, but I am really satisfied with securing the runner-up spot in the EnduroGP World Championship. A big thanks to all the people who supported me during the season."
Jamie McCanney – Outsiders Yamaha Official Enduro Team rider
"It is always great to finish the season with a victory. To be honest, I would prefer to have won the title, but a victory is always good. Josep [Garcia] has had a strong season and I would like to congratulate him for securing the title. I learned a lot this season and I believe that it helped me take my riding to a whole new level. Since the middle of the season I could push really hard for some great results. That's what I also did during the weekend in Germany and it paid off. For the coming season, I feel I can start pushing since the very first GPs. We know what to improve now and we are all going to work hard to get even better during the off-season. I would like to thank all the members of the team, my sponsors and my friends for this amazing season."
The Outsiders Yamaha Official Enduro Team would like to congratulate Loïc Larrieu and Jamie McCanney for a stellar 2017 season of enduro racing. We would also like to thank all our partners. Nothing would be possible without their support.
Detailed results and standings from the World Enduro Chamionship can be found here: www.endurogp.org
The Outsiders Yamaha Racing Team