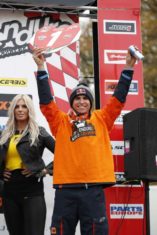 KTM Enduro Factory Racing's Josep Garcia has won the 2017 FIM Enduro2 World Championship. Battling his way through a challenging final round of the series in Zschopau, Germany, a second-place finish on day one and a fifth-place result on day two was more than enough for the talented Spaniard to secure the coveted E2 title adding to a long line of Enduro World Championship wins for the Austrian manufacturer.
Josep Garcia put in a worthy championship winning performance during the eighth and final round of the FIM Enduro World Championship to secure the title in only his first season in the senior ranks. The KTM 250 EXC-F mounted rider carried a healthy, 13-point championship advantage into the event, which he further extended before wrapping up the E2 title. A crash on Friday night's Super Test put Garcia on the back foot, but the young Spaniard held his composure and claimed the runner-up position at the end of day one.
With a 15-point lead going into the second and final day, all Garcia needed to do was secure a handful of points and not make any mistakes. He did exactly that and in placing a solid fifth claimed his first ever world championship title with six wins throughout the season. The 20-year-old has enjoyed an outstanding year, as he also captured a second consecutive E1 class overall win at the International Six Days Enduro that was held in France in early September. Last year's runner up in E2, Nathan Watson, suffered a tough final round of the EWC series, but was able to secure an impressive third position in the EnduroGP championship aboard his KTM 350 EXC-F.
Josep Garcia: "I can't describe how this feels right now. I want to thank all my team for believing in me this year. It has been my first year in the senior class of the world championship and the racing has been so close all year. To get to the end of the season and win the title is unbelievable. This weekend has gone very well. The conditions have been tough, especially on day two, but I have enjoyed the event and I did what I had to do. It feels amazing to be world champion. Thanks again to everyone that has supported me. Now I just want to take it all in and enjoy the moment."
Fabio Farioli (KTM Enduro Factory Racing Team Manager): "It's a really great feeling to see Josep achieve this championship. First of all, from my side he is still young and I was pushing quite a lot to get him into the senior class, as he was not convinced he was ready, but it was definitely the right decision that we made together. He is a really talented rider and he was always pushing, but even when the races were not so good he was reacting well. He has a strong character with a good mindset and this is important to achieve success in Enduro. If he crashed early in a weekend he would slowly take back the time and he's a real fighter, which has really paid off for this final result. He has a great following, and a positive attitude, which is incredibly important as part of our team – he really is a new era of rider and there is something special with him. His father told me he wanted to be a world champion on a motorcycle since being around five years old and he has finally achieved his dream; it will be fantastic to see how he can grow in the future. Enduro is such a core part of KTM – since the beginning of KTM's involvement with racing we've enjoyed a lot of success thanks to our strong team, talented riders, and of course everyone involved from Research and Development, to Motorsport who work hard with us to achieve these goals."
Results FIM EnduroGP World Championship 2017 – Round 8 of 8
Day 1
EnduroGP
1. Steve Holcombe (GBR), Beta, 53:42.03 min
2. Christophe Nambotin (FRA), KTM, +20.39 sec
3. Loic Larrieu (FRA), Yamaha, +28.55
4. Matthew Phillips (AUS), Sherco, +37.00
5. Giacomo Redondi (ITA), Honda, +1:30.55
Other KTM
6. Jaume Betriu (ESP), KTM, +1:53.96
9. Nathan Watson (GBR), KTM, +3:00.72
10. Marco Neubert (GER), KTM, +3:32.41
Enduro2
1. Daniel McCanney (GBR), Husqvarna, 54:03.71 min
2. Josep Garcia (ESP), KTM, +11.66 sec
3. Jamie McCanney (GBR), Yamaha, +13.10
4. Davide Guarneri (ITA), Honda, +22.28
5. Pascal Rauchenecker (AUT), Husqvarna, +1:16.97
Other KTM
7. Daniel Sanders (AUS), KTM, +2:20.05
Enduro Women 
1. Maria Franke (GER), KTM, 40:33.98 min 
2. Laia Sanz (ESP), KTM, +0.17 sec
3. Jane Daniels (GBR), Husqvarna, +5:24.85
4. Juliette Berrez (FRA), Yamaha, +13:05.98
Day 2 
EnduroGP
1. Steve Holcombe (GBR), Beta, 58:27.64 min
2. Loic Larrieu (FRA), Yamaha, +30.34 sec
3. Christophe Nambotin (FRA), KTM, +44.74
4. Matthew Phillips (AUS), Sherco, +2:35.94
5. Giacomo Redondi (ITA), Honda, +2:37.87
Other KTM
6. Jaume Betriu (ESP), KTM, +3:07.71
8. Marco Neubert (GER), KTM, +5:00.03
9. Christian Brockel (GER), KTM, +5:43.97
Enduro2
1. Jamie McCanney (GBR), Yamaha, 59:38.66 min
2. Daniel McCanney (GBR), Husqvarna, +4.03 sec
3. Eero Remes (FIN), TM, +1:02.64
4. Davide Guarneri (ITA), Honda, +1:04.12
5. Josep Garcia (ESP), KTM, +1:04.30 
Other KTM
11. Daniel Sanders (AUS), KTM, +3:38.34
Enduro Women 
1. Maria Franke (GER), KTM, 44:10.58 min
2. Jane Daniels (GBR), Husqvarna, +2:05.14 min
Final Championship Standings
EnduroGP
1. Steve Holcombe (GBR), Beta, 350 points
2. Loic Larrieu (FRA), Yamaha, 302
3. Nathan Watson (GBR), KTM, 259
4. Matthew Phillips (AUS), Sherco, 252
5. Christophe Nambotin (FRA), KTM, 222 
Other KTM
7. Jaume Betriu (ESP), KTM, 203
Enduro2 
1. Josep Garcia (ESP), KTM, 350 points (2017 Enduro2 World Champion)
2. Jamie McCanney (GBR), Yamaha, 344
3. Eero Remes (FIN), TM, 309
4. Pascal Rauchenecker (AUT), Husqvarna, 274
5. Danny McCanney (GBR), Husqvarna, 254
Other KTM
8. Daniel Sanders (AUS), KTM, 187
Enduro Women 
1. Maria Franke (GER), KTM, 141 points
2. Jane Daniels (GBR), Husqvarna, 122
3. Laia Sanz (ESP), KTM, 119
4. Jessica Gardiner (AUS), Yamaha, 69
5. Mireia Badia (ESP), Husqvarna, 48
Other KTM
7. Sanna Karkkainen (FIN), KTM, 34