The 1st GP of Spain 2018 in Malaga will remain etched in the minds of all who witnessed it!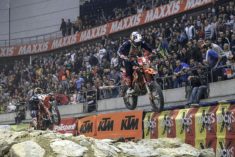 A lively atmosphere tonight for this 3rd round of the 2018 SuperEnduro in Malaga, Spain! The evening began with a promising Supe Pole powered by Akrapovic, bringing together the 7 best riders from timed practice. It allowed title challenger Cody WEBB (USA – KTM) to get a good start for the first race, but also gave Jonny WALKER (GB – KTM) the opportunity to place himself strategically – a nice move!
The races were intense – bodies and motorbikes suffered!
Placed favourably for the 1st race, Jonny WALKER kept out of trouble and rode smoothly while his competitors Billy BOLT (GB – Husqvarna) and Colton HAAKER (USA – Husqvarna) made mistakes. He was happy to win the first race in front of Cody WEBB and Taddy BLAZUSIAK (PL – KTM).
As the night of racing went on the pressure and nervous energy were more and more palpable, and this meant for a fast start to the second race of the night…
A huge crash for Taddy BLAZUSIAK took everyone's attention, but it was not the only dramatic moment and many other falls and errors were witnessed! Cody WEBB took the lead, with Colton HAAKER following him closely.
Suffice to say that the third and final race of the night was extremely tense, all the riders wanted to take the points to close the gap to the top, and Taddy, despite pain, returned to the start gate more determined than ever! In the first corner WEBB and HAAKER collided, and Billy BOLT and Taddy BLAZUSIAK were able to take immediate advantage of this hectic moment. Finally, Taddy BLAZUSIAK won the 3rd race, followed by Spain's Alfredo GOMEZ (E – Husqvarna) who was cheered on by his home crowd!
The Maxxis FIM SuperEnduro World Championship provided 3 breathtaking and unpredictable races with a constant mixture of risk taking, falls and errors, battles, and unexpected results!
Against all odds, and despite his nasty crash at the start of the third race, Cody WEBB still managed to win this Spanish GP – just 2 points in front of the improving Jonny WALKER. While young rookie Billy BOLT was not far off in 3rd!
Junior Class
Kevin GALLAS (D – Husqvarna) made the challenging track in Malaga seem simple, winning all 3 races despite the difficult conditions and the constant push from Emil JUSZCZAK (PL – KTM). He cements his position at the top of the championship standings, pulling a gap of more than 35 points over his nearest competitor, Kyle FLANAGAN (RSA – Yamaha). Nothing can be guaranteed in SuperEnduro but Kévin GALLAS has been consistent and strong in his performances so far.
With two rounds remaining this season, the next being Bilbao in 15 days' time, the end of this year's championship promises to be wild and hard-fought!
Be ready on March 3rd at the BIZKAIA ARENA in Bilbao.
What they said:
Kévin GALLAS: "The races in Europe are all so different, the cold in Poland, and then here it is 25 degrees! This country is so welcoming! All events are special, but this one is the best I've done so far, it was great!"
Taddy BLAZUSIAK: "It was a great race, unfortunately I lost out because of my fall, otherwise I could have won this GP. But it's okay, everything worked out fine and luckily I'm fine too!"
Jonny WALKER: "It was my best race of the year, I performed well despite the difficulties, I fought hard! I'll keep doing my best and keep working hard to come back and hopefully get more race wins, and maybe take an event win too!"
Cody WEBB: "I am surprised and happy with this latest victory. After the first race, I did not really see myself winning! It was not easy, there were a lot of difficulties and the crash, but I didn't give up and I'm really proud to have won tonight! "
Provisional Standing :
Prestige
Super Pole powerd by Akrapovic : 1. Cody WEBB ; 2. Jonny WALKER ; 3. Colton HAAKER
Heat 1: 1. Jonny WALKER; 2. Cody WEBB; 3. Taddy BLAZUSIAK; 4. Manuel LETTENBICHLER; 5. Billy BOLT; 6. Alfredo GOMEZ; 7. Billy BOLT; 8. Blake GUTZEIT; 9. Benjamin HERRERA; 10. Joan Pau SEGURA…
Heat 2: 1. Cody WEBB; 2. Colton HAAKER; 3. Billy BOLT; 4. Jonny WALKER; 5. Alfredo GOMEZ; 6. Manuel LETTENBICHLER; 7. Blake GUTZEIT; 8. Diogo VIEIRA; 9. Cristobal GUERRERO; 10. Joan Pau SEGURA…
Heat 3: 1. Taddy BLAZUSIAK; 2. Alfredo GOMEZ; 3. Billy BOLT; 4. Manuel LETTENBICHLER; 5. Colton HAAKER; 6. Jonny WALKER; 7. Cristobal GUERRERO; 8. Benjamin HERRERA; 9. Cody WEBB; 10. Diogo VIEIRA…
Standing: 1. Cody WEBB 155pts; 2. Taddy BLAZUSIAK 131pts; 3. Billy BOLT 124pts; 4. Colton HAAKER 114pts; 5. Jonny WALKER 105pts; 6. Alfredo GOMEZ 105pts; 7. Manuel LETTENBICHLER 99pts; 8. Cristobal GUERRERO 50pts; 9. Blake GUTZEIT 50pts; 10. Danny MCCANNEY 41pts…
Junior
Heat 1: 1. Kevin GALLAS; 2. Emil JUSZCAK; 3. William HOARE. 4. Kyle FLANAGAN; 5. Ignacio FERNANDEZ; 6. Paul BURY; 7. Leon HENTSCHEL; 8. Diego HERRERA; 9. Teodor KABAKCHIEV; 10. David CYPRIAN…
Heat 2: 1. Kevin GALLAS; 2. Emil JUSZCZAK; 3. David CYPRIAN; 4. Norbert Levente JOSZA; 5. Diego HERRERA ; 6. Kyle FLANAGAN ; 7. William HOARE. 8. Paul BURY ; 9. Teodor KABAKCHIEV ; 10. Leon HENTSCHEL…
Heat 3: 1. Kevin GALLAS; 2. Emil JUSZAK; 3. William HOARE. 4. Kyle FLANAGAN; 5. David CYPRIAN; 6. Ignacio FERNANDEZ; 7. Diego HERRERA; 8. Norbert Levente JOSZA; 9. Leon HENTSCHEL; 10. Teodor KABAKCHIEV…
Standing: 1. Kevin GALLAS 156pts; 2. Kyle FLANAGAN 119pts; 3. Emil JUSZCZAK 115pts; 4. William HOARE 97pts; 5. Diego HERRERA 93pts; 6. Ignacio FERNANDEZ 91pts; 7. Leon HENTSCHEL 73pts; 8. Oskar KACZMARCZYK 59pts; 9. Teodor KABAKCHIEV 55pts; 10. Norbert Levente JOSZA 50pts…