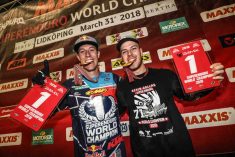 The crowd in the Sparbanken Arena were treated to an incredibly dramatic evening of racing for the season finale of the 2018 Maxxis FIM SuperEnduro World Championship!
Since the beginning of the season in December, the world's best SuperEnduro riders have banged bars and fought hard on technical and perilous tracks from Poland, Germany, Spain and the Basque Country, to Sweden. Tonight's final battle in Lidköping played out on a track that was very, very fast!
Taddy BLAZUSIAK (PL – KTM) won the Akrapovic Super Pole on the night in front of Jonny WALKER (GB – KTM) and Cody WEBB (USA – KTM), closely followed by Colton HAAKER (USA – Husqvarna) and Billy BOLT (GB – Husqvarna). The Polish rider was determined to take as many points as possible.
Prestige Class – A Mind-Blowing GP!
In the very first race of the night, series leader Cody Webb lost half of his advantage to the speed and determination of BLAZUSIAK, and the aggressiveness of BOLT – who was afraid of nothing! This first race held in front of thrilled fans contained many mistakes, crashes, and bar-banging, and put the pressure on for the proceeding races!
The second race, even more incredible than the first, undoubtedly changed the course of history. We had a race between Billy, Taddy and WEBB, all trying to catch Manuel LETTENBICHLER (D – KTM) who had taken the lead with a very good start. While Cody faltered and fell several times, the unthinkable occurred to Taddy BLAZUSIAK; the persistent Pole was forced to stop as his rear suspension broke. This DNF cost him dearly, he needed 4 more points to keep the fight with his American rival and go for gold in the 3rd race. While it was terrible misfortune for Taddy, it was happiness for Cody, who became World Champion after this unexpected abandonment of his rival! A title as precarious as unpredictable, and a real turn up for the books for SuperEnduro fans the world over…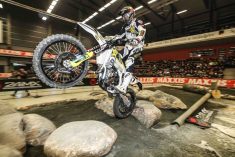 The 3rd race was where Billy BOLT finally put it to his older rivals! The rookie flew through the last race of the night, skilfully crossing the many obstacles and easily beating much more experienced riders. Even though, for many people, the focus was on the winner of the World Championship, the Brit fought to the end. Billy provided us with a spectacular final race of the season, rocketing himself to an overall victory and snatching second in the championship from BLAZUSIAK. He can now dream of the title for the 2019 season!
Junior Class
Kevin GALLAS (D – Husqvarna) won the 2018 Junior World Championship title in the first race of this Swedish GP, which confirms his dominance over the category, with more than 40 points advantage over his rivals! An exceptional result, acquired this season by his consistency and calm consideration. Despite getting the job done in the first race, he kept his focus to win the other 2 races with relative ease, and score a 'hat-trick'. A special mention goes to the only Frenchman in SuperEnduro; Paul BURY (F-Sherco) who put together a superb Swedish GP and and was on the podium for the first time, as was the very young Romanian star Norbert Levente JOSZA (KTM).
European Cup
Another promising young German, Tim APOLLE (D-Husqvarna), also confirmed his strength in Sweden by winning the title of European Champion.
This SuperEnduro grande finale at the Sparbanken Arena in Lidköping, was full of surprises and gave the Swedish spectators in the stadium, and the fans watching LIVE online throughout the world, an exceptional show! This thrilling end to the 2018 season promises an even more exciting 2019 season with the arrival of Billy BOLT, the 'revenge' of BLAZUSIAK, and the debut of Kévin GALLAS, there will be a whole host of riders aiming to dethrone Cody WEBB!
Find the complete results of the evening on the live results website.
What They Said:
Kevin GALLAS : "Thankfully the pressure stopped after the first race on this very difficult track. Having won all the races overall is really important for me to give me confidence for next year where I will ride in the Prestige."
Taddy BLAZUSIAK : "I am very disappointed. My suspension normally does 50 hours but this one just did 1 hour and it broke. It's not bad luck I guess, it is just racing and life!"
Cody WEBB: "I'm not very happy with my performance in this final round and it's a shame for Taddy, but I'm obviously very happy to get the world champion's title!"
Billy BOLT: "I fought with the top riders and I'm really thrilled to have won this GP and become vice world champion, it's amazing!"
Provisional Standing :
Prestige
Super Pole powered by Akrapovic :1. Taddy BLAZUSIAK ; 2. Jonny WALKER ; 3. Cody WEBB
Heat 1: ; 1. Taddy BLAZUSIAK; 2. Billy BOLT ; 3. Colton HAAKER ; 4.Cody WEBB ; 5 . Jonny WALKER ; 6. Manuel LETTENBICHLER; 7. Blake GUTZEIT; 8. Cristobal GUERRERO ;9. Benjamin HERRERA ; 10. Diogo VIEIRA…
Heat 2: 1. Billy BOLT; 2. Manuel LETTENBICHLER ; 3. Cody WEBB; 4.Jonny WALKER ; 5.Colton HAAKER ; 6.Blake GUTZEIT ; 7.Benjamin HERRERA ; 8.Thor MAGNUS;9. Diogo VIEIRA; 10. Cristobal GUERRERO.
Heat 3: 1. Billy BOLT; 2. Taddy BLAZUSIAK ; 3. Jonny WALKER ; 4. Manuel LETTENBICHLER; 5. Blake GUTZEIT; 6.Cody WEBB; 7. Colton HAAKER ; 8. Benjamin HERRERA; 9. Cristobal GUERRERO; 10. Benjamin HERRERA; 10. Diogo VIEIRA
Standing: 1. Cody WEBB 240 pts ; 2. Billy BOLT 226 pts ; 3.Taddy BLAZUSIAK 225 pts; 4. Jonny WALKER 194 pts; 5. Colton HAAKER 180 pts; 6. Manuel LETTENBICHLER 171 pts; 7. Alfredo GOMEZ 105pts; 8. Blake GUTZEIT 102 pts; 9. Cristobal GUERRERO 77 pts ; 10. Benjamin HERRERA 68 pts…
Junior
Heat 1: 1. Kevin GALLAS; 2. Norbert Levente JOSZA ;3. Paul BURY;4. Leon HENTSCHEL; 5.Grzegorz KARGUL; 6. Emil JUSZCAK; 7. Diego HERRERA; 8. Ignacio FERNANDEZ; 9.Mathias MARTINSEN; 10. Norbert ZSIGOVITS.
Heat 2: 1. Kevin GALLAS; 2. Emil JUSZCZAK; 3.Paul BURY; 4. Norbert Levente JOSZA; 5. Leon HENTSCHEL; 6. Diego HERRERA; 7.Ignacio FERNANDEZ; 8. Grzegorz KARGUL; 9. Norbert ZSIGOVITS; 10. Mathias MARTINSEN
Heat 3: 1. Kevin GALLAS; 2. Leon HENTSCHEL, 3. Norbert Levente JOSZA ; 4. Paul BURY; 5.Emil JUSZCZAK; 6. Diego HERRERA; 7. Ignacio FERNANDEZ; 8. Mathias MARTINSEN; 9. Norbert Levente JOSZA; 10. Grzegorz KARGUL
Standing: 1. Kevin GALLAS 271 pts; 2. Emil JUSZCZAK 192 pts ; 3 . Diego HERRERA 141pt. 4. Kyle FLANAGAN 144 pts; 5. Leon HENTSCHEL 142 pts; 6. Ignacio FERNANDEZ 137 pts; 7. William HOARE 126 pts; 8. Norbert Levente JOSZA 110 pts; 9.Paul BURY 103 pts ; 10. Teodor KABAKCHIEV 85 pts …