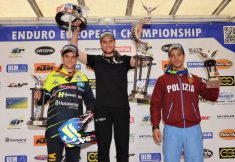 Double for Battig
At the second day oft he first round of the FIM European Enduro-Championship in Fabriano / Italy the local hero Alessandro Battig took the overal-victory as he did the first day. Again his countryman Maurizio Micheluz was a little time the fastest, but then, this Husqvarna-rider made himself some mistakes in the following enduro-test and finished only fourth behind his team-member Matteo Pavoni, the reinging overal-champion, in the end of the day.
Second behind the winner Battig became a new young gun: Lorenzo Macoritto, starting in the juniors-class "E2/E3" with the big Husqvarna 2-stroke-bike.
Best "non-italian" was the french Hugo Blanjoue on fifth position. The Junior was on second position in his class behind Macoritto.
In the seniors-class the polish rider Sebastian Krywult on the KTM won both days and is now leading in the championship.
In the women-class the former champion Sanna Kärkkainen from Finland is back. She won the second day too, while the Dutch Nina Klink got used to her 4-stroke-bike and became second. All the years Klink was racing with 2-stroke-bikes and this was her first competition with her new 350cc 4-stroke-KTM.
At the youngest Juniors the only 18 year old Claudio Spanu took the win both days: As Macoritto he is supportet from the italian federatione FMI.
More information and schedules, results and links, there are always up to date and right on the official website: http://european-enduro.com/