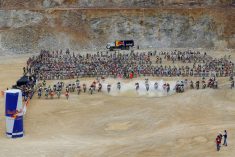 Wels, Austria – May 25, 2018 — Hot on the heels of an exciting opening round in Portugal, the World Enduro Super Series now heads to Austria for the Erzbergrodeo Red Bull Hare Scramble on May 31 – June 3.
Long regarded as the world's toughest single day Enduro, the Erzbergrodeo Red Bull Hare Scramble has grown during the last 24 years to become one of dirt bikes most important and fun-filled off-road festivals.
Attracting an entry of up to 1,500 competitors from over 40 nations, Europe's largest open cast iron ore mine in Eisenerz – affectionally known as the Iron Giant – ceases production for the first weekend of June to welcome thousands of passionate Enduro fans. A true spectacle of the sport, it's only fitting that in 2018 the Erzbergrodeo Red Bull Hare Scramble forms part of the search to find this year's ULTIMATE ENDURO CHAMPION.
Now staged over four days, the action opens with Thursday's Rocket Ride. A hill climb like no other, competitors go head-to-head as they bid to conquer one of the Iron Giant's steepest quarry climbs. Friday and Saturday are all about the Iron Road Prologue as riders aim to qualify for Sunday's main event. Against the clock, competitors compete in a time trial as they blast their way up the maze of gravel-based quarry roads, hoping to become one of the fastest 500 riders who will start the iconic Erzbergrodeo Red Bull Hare Scramble.
Sunday is time for the serious business of racing. Faced with the world's toughest Enduro course, the 500 qualified competitors have four hours to complete over 20 checkpoints strategically placed around the Iron Giant. Battling their way up and down near-vertical climbs and descents, crossing boulder gardens and treacherous forestry, it's a race where only the strongest survive. A place where the greats of Enduro have etched their name onto the Winner's List.
South Africa's Alfie Cox was the first rider to write his name on that elusive list when he won the inaugural running of the event back in 1995. Claiming a double win in 1996 and 1997, Germany's Chris Pfeiffer put himself on the Enduro map and with two more victories coming in 2000 and 2004 he went on to become the second most successful rider ever to compete in the Erzbergrodeo Red Bull Hare Scramble. Multi-time world champions and Dakar Rally winners have also conquered the Iron Giant over the years. Five-time world Enduro champion Giovanni Sala (Italy) has a winner's trophy in his home, while five-time Dakar Rally winner Cyril Despres (France) stood atop the podium in 2002 and 2003. Enduro's most decorated world champion Juha Salminen (Finland) was victorious in 2001, while sporting legend David Knight (GB) was the rider to beat in 2005 and 2006.
However, it's Poland's Taddy Blazusiak (KTM) – one of the contenders battling to become this year's ULTIMATE ENDURO CHAMPION – who is synonymous with the Iron Giant. Claiming a breathtaking five consecutive Erzbergrodeo Red Bull Hare Scramble victories from 2007 until 2011, Blazusiak is the most successful rider to compete in the Austrian race. Winning at the first time of asking in 2007, that memorable victory catapulted the KTM rider onto the world stage and led him to become a household name, thanks to an illustrious career.
For the 24th edition of the Erzbergrodeo Red Bull Hare Scramble, and round two of WESS, competition for victory will be fierce. With defending champion Alfredo Gomez (Husqvarna – Spain) unable to start due to injury, the door to the top step of the podium is wide open. Past winners Blazusiak, Graham Jarvis (Husqvarna – GB), Jonny Walker (KTM – GB) will all look to make their mark, but with WESS round one winner Billy Bolt (Husqvarna – GB) riding at his absolute best, we might just witness history re-written and a new name etched onto that elusive Winner's List on Sunday June 3, 2018.
Round two of the World Enduro Super Series continues with the Erzbergrodeo Red Bull Hare Scramble on May 31-June 3.
Watch the Erzbergrodeo Red Bull Hare Scramble live exclusively on Red Bull TV and Servus TV Sunday June 3 from 14.00CEST.
Erzbergrodeo Red Bull Hare Scramble Schedule
May 31: Mitas Rocket Ride
June 1: Blakläder Iron Road Prologue — from 08.00hrs
June 2: Blakläder Iron Road Prologue — from 08.00hrs
June 3: Erzbergrodeo Red Bull Hare Scramble — 14.30-18.30hrs
2017 Erzbergrodeo Red Bull Hare Scramble Podium
1. Alfredo Gomez (KTM) 2. Graham Jarvis (Husqvarna) 3. Cody Webb (KTM)
Erzbergrodeo Red Bull Hare Scramble Past Winners
2017: Alfredo Gomez (KTM)
2016: Graham Jarvis (Husqvarna)
2015: Jonny Walker (KTM), Graham Jarvis (Husqvarna), Andreas Lettenbichler (KTM), Alfredo Gomez (KTM)
2014: Jonny Walker (KTM)
2013: Graham Jarvis (Husaberg)
2012: Jonny Walker (KTM)
2011: Taddy Blazusiak (KTM)
2010: Taddy Blazusiak (KTM)
2009: Taddy Blazusiak (KTM)
2008: Taddy Blazusiak (KTM)
2007: Taddy Blazusiak (KTM)
2005: David Knight (KTM)
2006: David Knight (KTM)
2004: Chris Pfeiffer (Gas Gas)
2003: Cyril Despres (KTM)
2002: Cyril Despres (KTM)
2001: Juha Salminen (KTM)
2000: Chris Pfeiffer (Gas Gas)
1999: Stefano Passeri (KTM)
1998: Giovanni Sala (KTM)
1997: Chris Pfeiffer (Gas Gas)
1996: Chris Pfeiffer (Gas Gas)
1995: Alfie Cox (KTM)