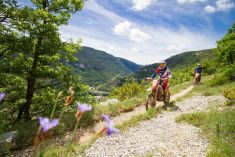 Wels, Austria, June 6, 2018 — Jonny Walker leads the way as the World Enduro Super Series heads to France and the 32nd edition of the Trèfle Lozérien AMV. With no time to wait after last weekend's Erzbergrodeo Red Bull Hare Scramble in Austria, WESS competitors switch disciplines from Hard Enduro to Classic Enduro in the race to become this year's ULTIMATE ENDURO CHAMPION.
As the new WESS points leader, it's Red Bull KTM Factory Racing's Jonny Walker (GB) who holds advantage entering France, but with 550 riders entered, including many of the world's best Classic Enduro specialists, he faces a challenging weekend of racing to keep that championship lead intact.
Staged over three days in Mende, the Trèfle Lozérien AMV is France's most prestigious Enduro. Following the traditional format of Classic Enduro, it requires a unique and different set of skills to those needed to succeed at rounds one and two. Speed is of the essence with each of the 200-kilometre long days broken down into a series of liaison and timed special stages. A predetermined time is set for riders to complete each of the liaison stages and where a rider arrives early or late to the end of each liaison a penalty is added. Special stages — featuring a mixture of open grass fields and forestry tracks — are all about speed and racing as fast as possible. The winner is the rider with the fastest times when the special stages and liaison penalties are tallied up. In total, competitors will complete a demanding 600 kilometres of Enduro riding and 15 unique special tests during the three-days of racing.
Of those looking to add their name to the illustrious Winner's List, the quality and depth of entries in this year's 32nd edition of the race is arguably as strong as it's ever been. Factoring in the main WESS contenders, France's top Enduro riders and additional world-class talent ensures the fight for victory will go right down to the wire.
Aiming to keep his points lead intact, Walker will look for a strong outing in France and is keen to show he boasts both the speed and skills necessary to battle for the win. Joint second in this year's championship chase, Rockstar Energy Husqvarna Factory Racing's Graham Jarvis and Billy Bolt — already WESS winners in 2018 — will look to keep their run of form alive, as will this year's sensation Manuel Lettenbichler (KTM – GER) who finished third at rounds one and two.
Following two impressive top 15 rides in the opening Hard Enduro races, the Trèfle Lozérien is an event Spain's Josep Garcia (KTM) has patiently waited for. As reigning Enduro 2 World Champion, Garcia is one of the sport's fastest Classic Enduro specialists and will want to make that clear to all in France where only thoughts of victory are on his mind. A win this weekend would bring him right into the championship fight, but also create history as the first non-French winner of the race.
Teammate to Garcia, Nathan Watson (GB) is another rider eager to capitalise on his Classic Enduro skills. Feeling more at home on the fast rolling grassy special tests on offer in France, Watson looks to put his name at the sharp end of the results sheet. Making a one-off ride in WESS, Jamie McCanney (Yamaha – GB) was the event's runner-up in 2017. A year wiser and more experienced, McCanney will know what it takes to win this time around.
French riders will not want to play second fiddle to their international competitors. With only 'home' riders having ever graced the Winner's List of the Trèfle Lozérien AMV, it's an honour they will want to continue in 2018. Eager to add to Yamaha's tally of 19 race victories, Loic Larrieu (FRA) hopes to take a first-time Trèfle Lozérien win, as will former world champion Mathias Bellino (Honda). Other French riders to watch for include Johnny Aubert (Gas Gas), young talent Theo Espinasse (Sherco), Marc Bourgeois (Yamaha), Julien Gauthier (Yamaha) and Jeremy Miroir (Husqvarna). Previously a winner in 2007, Albepart Emmanuel (Yamaha) placed third overall in 2017.
The Trèfle Lozérien AMV, WESS round three, takes place in Mende, France on June 8-10.
Trèfle Lozérien Facts 
600: Distance in kilometres competitors will ride during the three-day race
32: 2018 will mark the 32nd edition of the French Classic Enduro
19: Yamaha are the most successful manufacturer with 19 victories
15: Number of unique special tests in the Trèfle Lozérien
9: Stephane Peterhansel holds the most race wins
6: Consecutive times David Frétigné won between 1999 and 2004
4: Time in minutes in which this year's 550 entries were snapped up
0: Number of non-French winners of the Trèfle Lozérien AMV
Trèfle Lozérien AMV 2018 Schedule
•    Friday, June 8: Gorges du Tarn circuit
•    Saturday, June 9: Gévaudan Aubrac circuit
•    Sunday, June 10: Margeride circuit
Paddock located in the heart of Mende at the Place du Foirail.
2018 Trèfle Lozérien AMV Podium
1. Jeremy Tarroux (Sherco) 2. Jamie McCanney (Yamaha) 3. Emmanuel Albepart (Beta)
Trèfle Lozérien AMV Past Winners
2017: Jeremy Tarroux (Sherco)
2016: Johnny Aubert (Beta)
2015: Antoine Meo (KTM)
2014: Pela Renet (Husqvarna)
2013: Pela Renet (Husqvarna)
2012: Christophe Nambotin (KTM)
2011: Pela Renet (Husaberg)
2010: Marc Germain (Yamaha)
2009: Marc Germain (Yamaha)
2008: Marc Germain (Yamaha)
2007: Emmanuel Albepart (Honda)
2006: Marc Germain (Yamaha)
2005: Marc Germain (Yamaha)
2004: David Frétigné (Yamaha)
2003: David Frétigné (Yamaha)
2002: David Frétigné (Yamaha)
2001: David Frétigné (Yamaha)
2000: David Frétigné (Yamaha)
1999: David Frétigné (Yamaha)
1998: Eric Bernard (KTM)
1997: Stephane Peterhansel (Yamaha)
1996: Race Not Held
1995: Stephane Peterhansel (Yamaha)
1994: Stephane Peterhansel (Yamaha)
1993: Stephane Peterhansel (Yamaha)
1992: Laurent Charbonnel
1991: Stephane Peterhansel (Yamaha)
1990: Stephane Peterhansel (Yamaha)
1989: Stephane Peterhansel (Yamaha)
1988: Stephane Peterhansel (Yamaha)
1987: Stephane Peterhansel (Husqvarna)
1986: Gilles Lalay (Honda)
Trèfle Lozérien AMV Event Information
Website: www.trefle-lozerien-amv.com
Facebook: TrefleLozerienAMV
Instagram: @treflelozerienamv
Twitter: @Trefle_Lozerien