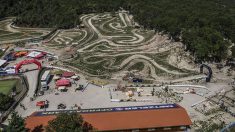 EnduroGP at the foot of The Wall!
Four weeks after the Maxxis Grand Prix in Estonia, the stars of EnduroGP will meet in Pietramurata (Italy) on June 29th and 30th, before a well-deserved two month summer break…
For this occasion, SALVINI, REMES, FREEMAN and many more will tackle the very first Hard Enduro race in the history of the FIM Maxxis Enduro World Championship: "The Wall"!

A Perfect Playground!
"The Wall" was created in 2015 under the initiative of Umberto TRENTINI and his daughter – multiple Italian Trial Champion, Sara TRENTINI. While Extreme racing riders Jonny WALKER (GB) and Alfredo GOMEZ (E) won the first two editions, this event also attracted EnduroGP riders such as Alex SALVINI (I – Husqvarna), Ivan CERVANTES (E), Thomas OLDRATI (I – Honda RedMoto) and Davide GUARNERI (I – Honda RedMoto) who all figured very well.
Organiser of a Trial GP race for the next two years, the Off-Road Park is very active in the field of all-terrain and was immediately attracted by the idea to see "The Wall" be part of the 2018 EnduroGP calendar, in addition to organising a new Trial GP next September.
This GP of Trentino will be very different from a traditional Enduro. Indeed, there will be only one main race day, on Saturday, without forgetting of course the Akrapovic Super Test on Friday night. And everything will take place on the site of Off-Road Park Pietramurata. The riders will start the day with three cross-type races on the Trentino MXGP playground. After a short break at noon, they will then take on four runs of a very stony X-Rocks Enduro Test on the mountainside. Then there will be time for the fans to see their idols while the riders prepare their motorcycles between 17.30 and 20.00. At night it will be time for the Extreme special which "The Wall" takes its name from! With the start order taken from the cumulative times of the day, the riders will start this Xtreme one by one and ride it four times. To add a little more difficulty, this special will get tougher with each passage.
Pietramurata is located in the region of Trentino–Alto Adige, a few kilometers from the world-famous Lake Garda, and is very popular with tourists wishing to discover northern Italy. But this small village is best known for its Off-Road Park, which hosts each year a round of MXGP, one of Trial GP, and now its very first EnduroGP.
A packed schedule and an exceptional day awaits the stars of the FIM Maxxis Enduro World Championship this coming Saturday in Pietramurata!
Who Can Stop SALVINI At Home?
"It's confirmed, we have found the Alex SALVINI of 2013! There seems to be some magic when he and Franco MAYR work together."
These were the words of the much respected journalist, Dario AGRATI.
And he is not mistaken … "SALVO" is back and his rivals have been made very aware of it during the first part of the season! 4 wins out of 8 in EnduroGP and 5 in E2, the JET Racing rider will arrive at his home GP with the gold 24MX Leader Plate and he intends to increase his lead on a playground which he knows particularly well! But who will be able to stop him in his march towards the title E2?
We think Eero REMES (SF – TM), impressive in Estonia until this unfortunate engine break on Sunday, will be his strongest competitor, although he is now 26 points behind SALVINI, the factory TM rider has proved already this season that he has the speed to catch his rival …
Keep an eye also on Loïc LARRIEU (F – Yamaha), the most consistent rider behind the two 'headliners', who seems to be getting stronger with each GP. As does Thomas OLDRATI who was on form in Tallinn and has already proven himself at "The Wall".
Watch out too for Christophe Charlier (F – Beta) who achieved his first podium with Beta in Estonia, and Matthew PHILLIPS (AUS – Sherco), who we hope will be back after his recent ill health. Deny PHILIPPAERTS (I – Beta Boano) could also be a contender.
This Trentino GP will see the return of Mathias BELLINO (F – Honda), after a notable Portuguese GP (podium on Saturday) the Frenchman will want to go for the win!
We are also pleased to see the return of home-favourites Giacomo REDONDI (I – Honda RedMoto) and Alessandro BATTIG (I – Kawasaki).
In Enduro 1, the big question is whether Jamie MCCANNEY (GB – Yamaha) will be recovered from the wrist injury he picked up in Estonia?
If so, the battle with his fellow countryman Brad FREEMAN (GB – Beta Boano) in Pietramurata should be epic! The two Brits are equal on points and the Beta Boano rider seems to be very confident.
Behind these two 'untouchables', Antoine BASSET (F – Gas Gas) will be keen to consolidate his third place in the standings, and to be on the podium once again. But he will have to face the local riders Manuel MONNI (I – Suzuki) and Gianluca MARTINI (I – Beta).
Eemil POHJOLA (SF – Gas Gas) is also becoming a credible candidate for the podium. Indeed, the Finn has made great progress in the last three GPs and could steal the spotlight from his Gas Gas Factory team-mate.
In the biggest bike capacity class, E3, the weekend will have a double challenge for Steve HOLCOMBE (GB – Beta). The 2017 EnduroGP World Champion will look to get closer to SALVINI in the EnduroGP standings while pulling away from his main competitors in E3; Christophe NAMBOTIN (F – Gas Gas) and Daniel MCCANNEY (GB – Gas Gas).
But the Gas Gas boys have it in them to demote the Beta Factory rider, as they have already proved during the season. MCCANNEYand NAMBOT' are not ready to settle.
But they will also have to look out for Anthony GESLIN (F – Beta), who has been in great form since the beginning of the season with two podiums already…
Can ESPINASSE Confirm?
In the Juniors, the dominance of Matteo CAVALLO (I – Beta Boano) is such that everybody is starting to wonder who can prevent him from winning the Junior 2 and the scratch Junior titles!
In this J2 category, Davide SORECA (I – TM) still lacks consistency to truly take the fight to his compatriot, as do Jack EDMONDSON (GB – Sherco), Joe WOOTTON (UK – Husqvarna), David ABGRALL (F – Sherco) and Enric FRANCISCO (KTM).
Junior 1 category leader, Andrea VERONA (I – TM) has set his sights on CAVALLO in the scratch. Although the Factory TM rider could not resist an attack by French hopeful Theo ESPINASSE (Sherco) in Estonia. Very spectacular in the tests, the young protégé of Jeremy TARROUX, seems to be getting stronger despite some poor results, and might well come to worry VERONA …
VERONA will also have to look out for Kirian MIRABET (E – Honda), second in the J1 standings. While Antoine MAGAIN (B – KTM) will have to be more consistent, and Scandinavian riders Antti HANNINEN (SF – Husqvarna) and Erik APPELQVIST (S – Yamaha)will want to confirm their positive results from Estonia…
Finally, in Youth 125cc, while Ruy BARBOSA (CL – Husqvarna) took over the lead of the category, five other riders could also have a claim to the World crown. Indeed, Matthew VAN OEVELEN (B – Sherco), Hamish MACDONALD (NZ – Sherco), Finns Roni KYTÖNEN (Husqvarna) and Hugo SVÄRD (Husqvarna), as well as the Brit Dan MUNDELL (Sherco) are not far behind and have the talent to catch the Chilean. The New Zealander, MACDONALD, will have an advantage this weekend as he has participated in "Hard Enduro" races such as Romaniacs and Erzberg in the past. This under-21 category promises to be one of the most exciting of the year!
This very first "Hard Enduro" type Grand Prix promises to be a must-see event in the 2018 season, and a lot of people will be out to support the riders at the finish line on Saturday night See you on the 29th and 30th of June at Off-Road Park in Pietramurata!
Practical Info:
– Pietramurata (Trento-Alto Adige Region);
– Friday June 29th: Akrapovic Super Test 21:30;
– Saturday June 30th : 09.00 to 23.00;
– Organisation: Moto Club del Garda;
– Website: www.endurogp.org;
– Tickets: www.offroadpark.it
– Aeroport: Milan