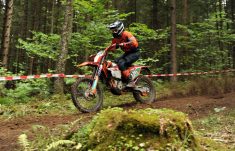 At the end of the second day, the two French riders were back on top of the podium at the third round of the European Enduro Championship in Skövde, Sweden:
Hugo Blanjoue and his KTM colleague Thomas Dubost are not only riding in the same KTM-team, but both are also personally good friends and fight against each other only in the special-tests: this time Blanjoue was 23 seconds ahead after nine special-tests and almost an hour of special stage time.
The only third-placed Alessandro Battig defended his lead in the overall standings, but Blanjoue is already close to four points… "This weekend didn't go so well for me, I didn't feel so good on the loose ground and on the grass-tests. And on Sunday I also fell twice," admits the Kawasaki rider from Italy afterwards.
All three drivers naturally also won their classes: Blanjoue the junior class E2/E3, Dubost the juniors E1 and Battig the 4-stroke class over 250 ccm.
In the senior class, guest entrant and local hero Anders Eriksson won again: the former Enduro World Champion had spontaneously decided to participate in his home country just three weeks earlier. But for him it was the same procedure as before, he fought every stage and did his best to relegate the leader of the class, the Polish Sebastian Krywult, to second place. But this on can take it easy, because he remains in the lead of the championship.
In the women's singles, Sanna Kärkkäinen from Finland was pressed by guest entrant Emilie Karlsson, but was able to win both days and extend her lead to 29 points ahead of Nina Klink from the Netherlands and Hanna Berzelius from Sweden.
The nocturnal rain had done the track good and bound a lot of dust. Nevertheless, the tracks went deeper and deeper and exposed more and more stones and slippery roots. This made competition more demanding and difficult as the power of the drivers diminished. Those who were not really physically fit fell further and further back during the long day.
In addition to the major motorcycle brands of KTM, Husqvarna, Yamaha and Honda, there are increasingly also the small manufacturers in the European Championship: Sherco competed nine times, TM and Beta four times each and GasGas and Kawasaki with one engine each.
The final will take place from 14 to 16 September in Kielce, Poland, and will end with a classic launch motocross.
More information and schedules, results and links, there are always up to date and right on the official website: http://european-enduro.com/