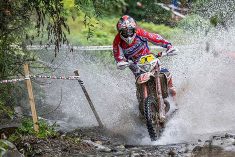 HOLCOMBE Confirms, SALVINI Recovers!
Once again, the survivors of the first day where not spared the rain and this morning they started again for four new laps of a very demanding course set up by the Moto Club Sebino. Despite the bad weather, the tifosi (fans) once again responded by turning out in droves and cheering their favourites such as SALVINI (I – Husqvarna), REDONDI (I – Honda RedMoto) and OLDRATI (I – Honda RedMoto) all day long…
Despite the encouragement from the fans, Alex SALVINI, eager to catch up after yesterday's mechanical difficulties, started the day in only 6th position in EnduroGP. But his strength of character allowed him to push all the way until the test and snatch an important third place overall. With this he was able to limit the damage done by new EnduroGP class leader, Steve HOLCOMBE (GB – Beta)…
The factory Beta rider laid down the law once again and took his first double win of the season in the scratch category! He is therefore 16 points ahead of SALVINI before the Grand Prix of France. Behind HOLCOMBE, we find the smiling Brad FREEMAN (GB – Beta Boano). The Beta Boano rider this time stood up to his compatriot during 7 specials but could not cope with the fury of HOLCOMBE at the end of the day. Thomas OLDRATI, Christophe NAMBOTIN (F – Gas Gas) and Giacomo REDONDI, all three fighting for the last step of the podium all day long, could not overhaul SALVINI and they had to settle for 4th, 5th and 6th places respectively. Note also the strong performance of Anthony GESLIN (F – Beta) who placed Top 10 overall.
E2: Totally Italian Podium!
In Enduro 1, it was Brad FREEMAN who was uncatchable once again and he increased the gap on his rival and countryman, Jamie MCCANNEY (GB – Yamaha). Although he finished second, the Outsiders Yamaha rider was not able to keep pace with the 2018 Junior World Champion and finished almost 3 minutes behind him. FREEMAN now has 24 point lead after these two days of racing. Behind the British duo, it was again the factory Gas Gas rider, Antoine BASSET (F), who climbed onto the 3rd step of the podium. He left no chance for Davide GUARNERI (I – Honda RedMoto) who, for his part, struggled for a long time with Diego NICOLETTI (I – Husqvarna) to secure the 14 points of 4th position.
It was a 100% Italian podium in the medium-sized Enduro 2 class. Unhappy yesterday, SALVINI raised the bar by winning the day even if he had to give everything to counter the pace of his compatriots OLDRATI and REDONDI. For a long time, OLDRATI thought he could take his first victory with Honda RedMoto but SALVINI, as in Castelo Branco (Portugal), put in an electrifying last lap. Less frenetic than the day before, Eero REMES (SF – TM ) had to make do with 4th place, while Loïc LARRIEU (F – Yamaha), in great difficulty all day with his chain coming off twice, closed out the Top 5. This allowed SALVINI to widen the gap a little more and to arrive in France with a 20 point lead ahead of the Finn, and 21 over the Frenchman.
The domination of Steve HOLCOMBE has not let up in Enduro 3. The double World Champion flew with ease to his seventh win of the season in the category, since he took out more than 2 minutes 40s seconds on his rival of the day, Christophe NAMBOTIN. Behind them there was another interesting duel between Danny MCCANNEY (GB – Gas Gas) and Anthony GESLIN (F – Beta) for the last step of the podium. And as the day before, it was the young Frenchman who won and signed off the first "double podium" of his career! Behind MCCANNEY it was Nicolo MORI (I – Beta) who snatched 5th position, to the detriment of Romain DUMONTIER (F – Yamaha)…
Doubles for CAVALLO & MACDONALD!
In Junior, there was an air of HOLCOMBE about Matteo CAVALLO (I – Beta Boano)… The Italian felt at ease with the competition and won today by almost 3 minutes! It seems that only mechanical issues could prevent a dominant CAVALLO from being crowned this season. Struggling early in the day (9th at the end of the first lap), Andrea VERONA (I – TM) fought back to take another second position. While Joe WOOTTON (GB – Husqvarna), after his unfortunutate DNF yesterday, finished in an excellent third place, ahead of Théo ESPINASSE (F – Sherco) and David ABGRALL (F – Sherco). Less successful than yesterday, Jack EDMONDSON (GB – Sherco) had to be content with 6th place…
With this new victory in Junior, CAVALLO also won J2 ahead of Joe WOOTTON and David ABGRALL, while VERONA won J1 in front of Théo ESPINASSE and Leo LE QUERE (F – TM XCentric).
Finally in Youth 125cc, the Kiwi sensation Hamish MACDONALD (Sherco) continued to trouble Ruy BARBOSA (CL – Husqvarna), who could only manage 5th this Sunday. Flawless and confident in Edolo, MACDONALD is now only 6 points behind the Chilean (and in Youth Cup the three worst results of each rider are cancelled at the end of the season). After a 3rd place yesterday, Dan MUNDELL (GB – Sherco) gritted his teeth for second today, demoting Belgium's Matthew VAN OEVELEN (B – Sherco) to 3rd, making a Sherco triple in the smallest class. For his part, Roni KYTONEN (SF – Husqvarna) raised the bar, 4th today, after a less successful Saturday…
This Acerbis Grand Prix of Italy kept all its promises with a demanding course and beautiful special tests. The rain this weekend failed to put a dampener on the competition and this GP has been a turning point in the season. See you at the next round in Méthamis on September 22nd and 23rd for a Grand Prix of France that is sure to be thrilling!
What They Said:
Steve HOLCOMBE : "Finally I took a double win! After experiencing a lot of difficulties early in the season, I decided not to take a vacation this summer and instead prepare for the last three rounds. So I'm happy to see my work pay off and to leave Edolo with the EnduroGP leader's plate. Now I want to continue in this way to be even closer in 3 weeks' time in France!"
Brad FREEMAN : "I'm very happy with these two victories! I've increased the gap in the standings in E1, and I must admit that I was annoyed to finish so far from Steve yesterday… So I'm pretty happy to have stood up to him today."
Alex SALVINI : "After the inexplicable fuel problem yesterday, I was keen to catch up today. I quickly realised that I could not get Steve, but I'm still happy with this podium in EnduroGP, and I limited the damage. Nobody is immune to a mechanical problem and there are still four days (two rounds) left to race, so I remain confident in my title chances in EnduroGP… "
Giacomo REDONDI : "Very happy with this podium. I owe it to all the public who have not stopped pushing me all weekend, it makes a big difference! Now I have to leave EnduroGP to focus on my end of the season in the USA, but I'm thinking about a possible return next year."
Hamish MACDONALD : "I am very proud to be the first New Zealander to win a round of EnduroGP, and in addition to that I've now done the double! I have not called my parents yet, but I'm sure I'll wake them up and tell them! Everything is still to play for with the title and especially now that I have tasted victory…"