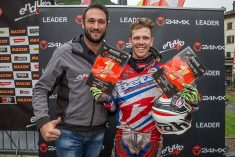 The Acerbis Grand Prix of Italy kept everyone on their toes. Three special tests perfectly laid out by the Moto Club Sebino, combined with rainy weather from Friday onwards, gave this 6th round of the season a lot of plot twists…and a new leader in EnduroGP.
Indeed, the leader since the GP of Portugal, Alex SALVINI (I – Husqvarna), was forced to retire on Saturday and could only watch on as last year's EnduroGP World Champion Steve HOLCOMBE (GB – Beta) seized the Leader Plate in the class. The Brit is now 16 points ahead of SALVINI. With two strong second places during the weekend, Brad FREEMAN (GB – Beta Boano) slots into third spot in the category, but he will have to work to stop Eero REMES (SF – TM) from taking his place.
A seemingly unflappable Steve HOLCOMBE leaves Edolo with two 24MX Leader Plates since he is also hugely dominant in the Enduro 3 class. Now 30 points ahead of Christophe NAMBOTIN (F – Gas Gas), 2nd, it is hard to see how the title could escape him. Danny MCCANNEY (GB – Gas Gas) despite a weekend off the podium, completes the Top 3 in the standings.
For his part, Alex SALVINI, despite his DNF on Saturday keeps hold of the lead in the Enduro 2 category, 20 points ahead of Eero REMES (SF – TM) and 21 ahead of Loïc LARRIEU (F – Yamaha). In top form at the moment, Thomas OLDRATI (I – Honda RedMoto) could prove to be the spoiler between these three riders at the end of the season.
In Enduro 1, Brad FREEMAN (GB – Beta Boano) increased the gap further with his double in Italy. Back from injury, Jamie MCCANNEY (GB – Yamaha) could not stop the charge of the 2017 Junior World Champion. As has been customary this season, Antoine BASSET (F – Gas Gas) took 3rd place on both days and consolidates this same position in the provisional standings.
In Juniors, no-one can stop Matteo CAVALLO (I – Beta Boano), not even Andrea VERONA (I – TM). The protégé of Jarno BOANO seems to be heading straight for the title. With the injury of Davide SORECA (I – TM), it was Jack EDMONDSON (GB – Sherco) who took advantage and moved into 3rd overall.
Finally in Youth 125cc, Ruy BARBOSA (CL – Husqvarna) was harmed this weekend by the New Zealander Hamish MACDONALD (Sherco), who was confident and comfortable in these conditions. The Chilean is going to have to be careful if he doesn't want to see the title slip through his fingers. Belgium's Matthew VAN OEVELEN (B – Sherco) rounds out the Top 3.
This Grand Prix of Italy brought about change among the 24MX Leaders, especially since Steve HOLCOMBE took over in the premier category. But nothing is done yet and the Grand Prix of France of 22 and 23 September could shake things up further…
Provisional Classification:
EnduroGP : 1. Steve HOLCOMBE 170pts ; 2. Alex SALVINI 154pts ; 3. Brad FREEMAN 142pts ; 4. Eero REMES 135pts ; 5. Jamie MCCANNEY 115pts …
Enduro 1 : 1. Brad FREEMAN 206pts ; 2. Jamie MCCANNEY 182pts ; 3. Antoine BASSET 162pts ; 4. Eemil POHJOLA 109pts ; 5. Manuel MONNI 85pts…
Enduro 2 : 1. Alex SALVINI 192pts ; 2. Eero REMES 172pts ; 3. Loïc LARRIEU 171pts ; 4. Thomas OLDRATI 132pts ; 5. Deny PHILIPPAERTS 110pts…
Enduro 3 : 1. Steve HOLCOMBE 204pts ; 2. Christophe NAMBOTIN 174pts ; 3. Daniel MCCANNEY 166pts ; 4. Anthony GESLIN 130pts ; 5. Aleksi JUKOLA 64pts…
Junior : 1. Matteo CAVALLO 174PTS ; 2. Andrea VERONA 143pts ; 3. Jack EDMONDSON 101pts ; 4. Théo ESPINASSE 94pts ; 5. Davide SORECA 85pts…
Youth 125cc : 1. Ruy BARBOSA 122pts ; 2. Hamish MACDONALD 108pts ; 3. Matthew VAN OEVELEN 96pts ; 4. Dan MUNDELL 90pts ; 5. Roni KYTONEN 87pts…