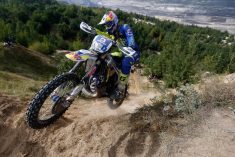 Belchatow, Poland – September 9, 2018 — Sherco Factory Racing's Wade Young has claimed victory at Red Bull 111 Megawatt in Poland, round five of the World Enduro Super Series.
Securing his second consecutive WESS race win, Young claimed a memorable victory over Red Bull KTM Factory Racing's Taddy Blazusiak (POL) and Rockstar Energy Husqvarna Factory Racing's Billy Bolt (GB) in third.
In what was a dramatic turn of events, series leader Jonny Walker (KTM – GB) crashed out of the race on lap two of three, while Germany's Manuel Lettenbichler (KTM) overcame a slow start to place fourth and with it take control of the championship standings with three rounds remaining.
After a busy day of qualification on Saturday, the 500 fastest riders in this year's Red Bull 111 Megawatt took to the start line in Europe's largest coal mine for Sunday's feature race. Faced with a demanding and physical 30-kilometre course that weaved its way around the quarry, the addition of hot weather and dusty tracks ensured a gruelling three-lap race for the world's best Enduro riders.
As pole sitter, Nathan Watson (KTM – GB) was quick to claim the holeshot when competitors blasted off the line at precisely 1.11pm. Leading through the Motocross and Endurocross sections, Watson slipped back one position when Walker found a way past his teammate as they entered the quarry. Spending the opening lap sizing each other and the terrain out, Walker controlled the race lead as Young, Blazusiak, and Bolt all shadowed him.
However, drama quickly struck as they headed into the mine section for lap two when Walker crashed in the dust. Young duly inherited the lead and it was a position he would hold until the chequered flag at the end of lap three, building a winning margin of over two minutes.
Behind him the fight for the remainder of the podium places proved close between Blazusiak, Bolt, Watson and Lettenbichler — who overcame a slow start. Fending off a late attack by Bolt, Blazusiak claimed the runner-up result in his home race. Crossing the finish line just seven seconds behind, Bolt took third, while Lettenbichler ended his race in fourth. After setting the early pace, Watson completed the top five.
Riding steadily throughout, Spain's Josep Garcia (KTM) was sixth, finishing one-minute clear of South Africa's Blake Gutzeit (Yamaha) in seventh. Round two winner, Graham Jarvis (Husqvarna – GB) — despite not favouring the sandy terrain — faired well to claim a top 10 result with eighth, with his teammate Alfredo Gomez (Husqvarna – ESP) ninth. Paul Bolton (KTM – GB) rounded out the top 10.
In total 178 competitors finished this year's Red Bull 111 Megawatt. The World Enduro Super Series continues with round six at Great Britain's Hawkstone Park Cross-Country on September 22/23.
Wade Young (Sherco – RSA): "It was so important to manage this race well. I felt good, and to win here after winning at Red Bull Romaniacs is awesome. I'm so happy right now. I got myself close to the front and then ahead of Jonny when he crashed. I think we would have had a great battle – it's not nice to see a rider crash out. I feel like I almost had a perfect race. At the start I saw the flag drop but I was a little behind, so I kept it flat out around the outside. A few riders fell, which put me about fourth. I had a few little crashes myself but I managed to settle things down and use my speed to good effect. I put it together and felt strong. It's awesome to get the win."
Taddy Blazusiak (KTM – POL): "I'm super happy to be on the podium, especially carrying an injury. I broke a finger at Red Bull Romaniacs, and I have more or less no strength or movement in it. It's been a tough season for me, so I know I just have to tough it out and, well, things worked out great here. I had to take things carefully on the Motocross section because I was struggling to keep my hands on the handlebars where it was so rough. I was second during lap one and the guys ahead of me were really charging. I got arm pump but once that eased I started to push hard again. I had a bit of a mishap coming into the pits on lap two, but the rest of the race went well. I feel like I'm starting to turn things around and to be able to get second here in Poland is awesome."
Billy Bolt (Husqvarna – GB): "I'm really pleased with finishing on the podium. This was the race that I was least pleased with my performance in during 2017, so to turn things around and finish third is great. I had a poor first lap – I crashed three times on the Motocross section. It seemed to me like that section of the track was different to what we rode on during the qualification. I felt good going into the last lap. I knew Nathan Watson and Manuel Lettenbichler were ahead of me but that if I could stay close to Watson coming into the extreme stuff it would be close. I managed to get ahead of both of them and just didn't look back. We've got three tough races left, but this has definitely been good for me as far as the championship is concerned. I'll keep working hard."
Results: Red Bull 111 Megawatt, WESS Round 5
1. Wade Young (Sherco – RSA) 3 laps, 2:10:52.04; 2. Taddy Blazusiak (KTM – POL) 2:13:01.82; 3. Billy Bolt (Husqvarna – GB) 2:13:08.63; 4. Manuel Lettenbichler (KTM – GER) 2:14:15.07; 5. Nathan Watson (KTM – GB) 2:15:34.21; 6. Josep Garcia (KTM – ESP) 2:17:54.59; 7. Blake Gutzeit (Yamaha – RSA) 2:19:07.06; 8. Graham Jarvis (Husqvarna – GB) 2:19.37.07; 9. Alfredo Gomez (Husqvarna – ESP) 2:20:45.11; 10. Paul Bolton (KTM – GB) 2:22:24.86…
World Enduro Super Series Standings (After round 5 of 8)
1. Manuel Lettenbichler (KTM – GER) 3405
2. Billy Bolt (Husqvarna – GB) 3290
3. Wade Young (Sherco – RSA) 3220
4. Jonny Walker (KTM – GB) 2900
5. Josep Garcia (KTM – ESP) 2320
6. Graham Jarvis (Husqvarna – GB) 2308
7. Taddy Blazusiak (KTM – POL) 2295
8. Paul Bolton (KTM – GB) 2262
9. Nathan Watson (KTM – GB) 1928
10. Travis Teasdale (Beta – RSA) 1790
Red Bull 111 Megawatt Event Information
Website: www.redbull.pl/111megawatt
Facebook Event: Red Bull 111 Megawatt
Facebook Group: Megawattocy