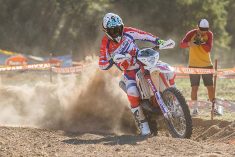 The seventh round of the season gave the EnduroGP stars an X-Rocks Enduro Test that was typical of the South of France with roots, pebbles and dust… But whatever the type of terrain, in the end it is Steve HOLCOMBE (GB – Beta) who wins… and ends all suspense before the final round in Germany!
With a new double win on the X-Rocks Enduro Test this weekend, his 5th consecutive victory and his 7th of the season, the Factory Beta rider will hold the Mika Ahola "Brave One" Trophy belt for a second consecutive year! This is the very first rider, since the creation of this trophy in 2012, who has won the belt twice…
The Brit took advantage of the troubles of the only rider who was still able to thwart his plans, Alex SALVINI (I – Husqvarna), 2nd and 16th.
For his part, Brad FREEMAN (GB – Beta) confirms his place among the three fastest riders on the test in 2018, but he will have to keep an eye on Jamie MCCANNEY (GB – Yamaha), Eero REMES (SF – TM) and Loïc LARRIEU (F – Yamaha) who can all get this third place.
We also witnessed another solid performance from fresh Junior World Champion 2018, Matteo CAVALLO (I – Beta Boano), 7/7, as well as Andrea VERONA (I – TM), 10/9. And another Junior rider shone in this X-Rocks Enduro Test; Joe WOOTTON (GB – Husqvarna), 9/8.
For the first time in the history of the Mika Ahola "Brave One" Trophy, a rider keeps the belt for a second year! Steve HOLCOMBE, with his performances in the Enduro Tests and his domination over two consecutive seasons shows that he is very strong in this aspect of his riding, just like the legend that was Mika AHOLA (SF). But there is still one Grand Prix left, in Germany in three weeks' time, and there is no doubt that the Brit will want to sign off his near perfect second half of the season with two more wins!
Provisional Classification: 1. Steve HOLCOMBE 193pts ; 2. Alex SALVINI 135pts ; 3. Brad FREEMAN 124pts ; 4. Jamie MCCANNEY 114pts; 5. Eero REMES 110pts; 6. Loïc LARRIEU 109pts; 7. Christophe NAMBOTIN 92pts; 8. Matteo CAVALLO 87pts; 9. Danny MCCANNEY 76pts; 10. Thomas OLDRATI 63pts…