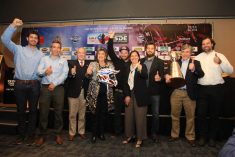 VIÑA DEL MAR, Chile, September 26th, 2018: A total of 30 countries and 600 riders will participate in the 93rd version of FIM International Six Days Enduro (ISDE) between November 12th to 17th in Viña del Mar, city located 120 kilometers away from Santiago, on the Pacific Ocean coast.
The event and competition formats were officially presented on Wednesday, September 26th at the Enjoy Casino in Viña del Mar with the presence of the Chilean Sports Minister, Pauline Kantor; the mayor of Viña del Mar, Virginia Reginato; the ambassador of the Six Days in Chile, Francisco "Chaleco" López, and regional authorities.
The international event will consist of six days of racing, with the first five dedicated to Enduro, on circuits in the Valparaíso Region of approximate 300 kilometers, such as Puchuncaví, Limache, Olmué and the Peñuelas lake, with daily specials. The last day will be a motocross competition near Viña del Mar. Likewise, the Garden City will host the paddock in the Marga-Marga estuary, from where riders will leave and arrive each day.
"The scope and importance that ISDE has taken in the international motorcycling calendar is due to the hard work of all involved, riders, team's staff, organization and volunteers, representing more than 5000 people. This Team race which includes the top Enduro riders' worldwide as well as skilled amateurs racing for their countries will excite all motorcycling fans worldwide" explained Vito Ippolito, FIM President.
The trophies in dispute are the World Trophy: where four pilots compete by team, but only three will score. The Junior Trophy: for teams under 23 years old with three riders in each team. There is also the Women Trophy Cup with three members per country. Likewise, the Manufacturer Prize (motorcycle brands) and the Watling (the country with the most development) are awarded. Finally, there is the Vintage Trophy Cup for old machines.
The countries in competition are: Argentina, Australia, Bolivia, Brazil, Czech Republic, Chile, Colombia, Ecuador, Estonia, Finland, France, Germany, Guatemala, Hungary, Italy, Japan, Mexico, Netherland, Paraguay, Peru, Poland, Portugal, Slovakia, South Africa, Spain, Sweden, Switzerland, United Kingdom, Uruguay, United States, and Venezuela.
2018 FIM ISDE – VIÑA DEL MAR
Event Highlights
– Paddock Opening : Thursday 6th November, midday
– Opening Ceremony / Parade of the Nations : Saturday 10th November, end day
– The 6 Days of race
Monday 12th to Friday 16th November:
Start as from 8am to 11am at the Paddock (Viña del Mar / Estera Marga Marga), End of each day race as from 4pm to 7pm at the Paddock
Saturday 17th November:
Final Motocross / Podium Ceremony of 2018 FIM ISDE, as from 9am till 5pm approx.
SIXDAYS End of Competition celebration, Viña del Mar area, end day
The Six Days is a race that is held once a year in different countries, this being the second time in Chile. The first time in this country was back in 2007 in La Serena Region.