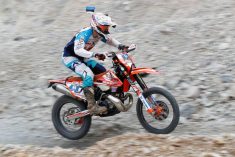 Wels, Austria October 11, 2018 — The World Enduro Super Series is founded on an ethos of amateurs and professionals competing together, side-by-side. Bringing together all levels of abilities, competitors have come out in their hundreds, sometimes thousands, for each round of the series to date. And with up to 3000 competitors expected for round seven in Sweden and a further 1000 entered for the 2018 finale at Red Bull Knockout in the Netherlands that trend looks set to continue.
Intrigued by the multi-discipline nature of the series and keen to show their speed against the championship's leading riders, Estonia's Rannar Uusna (KTM), Great Britain's William Hoare (Husqvarna) and Spanish National Enduro Champion Jaume Betriu (KTM) have all successfully dipped a toe into WESS this year.
Competing in four rounds to date, 19-year-old British rider William Hoare has achieved some notable success, most recently at rounds five and six. Despite being a self-supported privateer, his 15th place finish at Hawkstone Park Cross-Country and 21st at Red Bull Megawatt (without a front brake) is to be commended. Placing 50th in his debut Erzbergrodeo Red Bull Hare Scramble shows real potential and a youngster with a true Enduro spirit.
"I've managed to do four rounds of WESS this year but the last two at Red Bull 111 Megawatt and Hawkstone Park Cross-Country have been my best results yet," tells Hoare. "At Extreme XL Lagares I was ill on race day and wasn't able to finish. It was my first time racing the Erzbergrodeo Red Bull Hare Scramble and I was pleased with 50th, reaching Checkpoint 19.
"I returned for the Red Bull 111 Megawatt and was really happy with how things went considering it was my first time there and I had a mechanical issue. My front brake stopped working on lap one resulting in some scary riding on the big sandy downhills. However, I feel like I showed my potential with 15th at Hawkstone Park Cross-Country."
As a Spanish National Enduro Champion and former world championship campaigner, Jaume Betriu is naturally most at home in Classic Enduro. Squeezing in three rounds around his other commitments, the Spaniard enjoyed a wide spread of WESS racing with Classic Enduro, Cross-Country and Hard Enduro races.
"I was very interested by the mixed discipline format of WESS and decided to come and try it," explains Betriu. "Unfortunately, with other championship commitments I was only able to do three rounds – Trèfle Lozérien AMV, Red Bull 111 Megawatt and finally Hawkstone Park Cross-Country. Trèfle Lozérien and Hawkstone Park were the type of races I know best but Red Bull 111 Megawatt was my first Hard Enduro."
Deciding to try his first Hard Enduro race, the Spaniard signed up for Red Bull 111 Megawatt. Most comfortable in Saturday's Sprint Enduro styled qualification, he finished an impressive 12th to ensure a front row start for Sunday's main event. Easing his way into things, he impressed even himself on lap two by dipping inside the top 10 before a few costly errors shuffled him back to an eventual 14th.
"I honestly wasn't sure what to expect," admits Betriu. "The opening lap of the race was tough but then I found a good rhythm on lap two and gained some places back. But the last lap didn't go to plan, I got tired and crashed a few times and finished 14th. But you have to take the first time as a learning year and now that I know what to expect I want to go back and finish inside the top 10, or better."
Estonia's Rannar Uusna has been a regular fixture in this year's World Enduro Super Series. Attracted by the wide variation in events, and with each round offering something unique, Uusna has taken in all six rounds to date, often driving up to 1,400 kilometres to compete.
"The WESS appealed to me because it's a little bit of everything in Enduro," says Uusna. "You've got hard pack, sand and muddy terrain. One race is Hard Enduro, the next is Classic Enduro or a Cross-Country and I like that mixture because every race is always a different challenge."
While the unpredictability of racing has bitten him on a couple of occasions, his never-say-die attitude has been impressive. After a strong qualification, a fuel issue plagued him throughout the Original Fast Eddy Cross-Country at Hawkstone Park for an eventual 16th. Now with two rounds remaining and both closest to his home, the Estonian is determined to end his 2018 campaign on a high.
"Overall, my season has been steady. I've collected points at every round except Red Bull Romaniacs where I had to stop on the penultimate day. My best result so far was 16th at Hawkstone Park. I enjoyed it even though I had some bike issues along the way, but I feel like my result could have been much better. The next round is Gotland and I'm looking forward to it because it is the closest WESS event to my home in Estonia and conditions will be similar."
The World Enduro Super Series continues with round seven, Sweden's Gotland Grand National, on October 26/27 where up to 3000 riders are expected to compete.
Photo credit: Future7Media
Website: iRideWESS.com
Red Bull TV: redbull.tv/WESS
Instagram: instagram.com/iRideWESS
Facebook: facebook.com/iRideWESS
Twitter: twitter.com/iRideWESS
WORLD ENDURO SUPER SERIES – 2018 SCHEDULE
Rnd 1. Extreme XL Lagares (Portugal) May 11-13
Rnd 2. Erzbergrodeo Red Bull Hare Scramble (Austria) May 31-June 3
Rnd 3. Trèfle Lozérien AMV (France) June 8-10
Rnd 4. Red Bull Romaniacs (Romania) July 24-28
Rnd 5. Red Bull 111 Megawatt (Poland) September 8-9
Rnd 6. Hawkstone Park Cross-Country (England) September 22-23
Rnd 7. Gotland Grand National (Sweden) October 26-27
Rnd 8. Red Bull Knock Out (The Netherlands) November 10