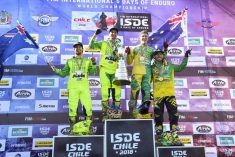 Australia claim victory in this year's FIM International Six Days Enduro (ISDE) in Chile. After six long and physically demanding days of World-class Enduro racing, Australia win the FIM World Trophy team category ahead of the United States and Italy.
Italy are crowned champions in the FIM Junior World Trophy category, while Australia secure a record-breaking sixth consecutive FIM Women's World Trophy victory in Viña del Mar.
Day six saw the ninety-third edition of the FIM ISDE brought to a spectacular close with the traditional Motocross race. Staying close to the host city of Viña del Mar, all professional and amateur riders went head-to-head for the final day of racing on the sandy motocross track.
With a comfortable lead in the classification, Australia entered day six with a virtual grasp on the FIM World Trophy. Putting in a calm, cool and safe ride, they knew winning the Motocross race was not necessary to secure the overall podium. With Italy and the United States fastest, Australia crossed the finish line third overall to claim the coveted prize of FIM World Trophy champions, backing up their earlier victory from Slovakia in 2015.
"This is a huge result for us," told Daniel Milner (KTM). "I had a sleepless night last night worrying about the final Motocross race, but it feels awesome that we won. We've been so strong as a team all week. Unfortunately, Lyndon Snodgrass dropped out on day two and we knew then how easily things could go wrong. But we never gave up fighting all week – the boys have ridden so, so good."
"To get this victory, along with the girls winning their class plus myself taking the individual win, is about as good as it gets for Australia and a result that is going to take a very long time to sink in."
Although knowing that beating Australia would be a tall ask, the United States still put in a determined performance in the hope their rivals would fall at the final hurdle. However, their dream of a second FIM ISDE victory was not to be and they would have to be content with the runner-up result for 2018.
Claiming the final day victory in Chile, Italy complete this year's FIM World Trophy podium in third, while out-going champions France finish fourth, with Spain fifth. Portugal, the Czech Republic and Sweden were sixth, seventh and eighth respectively, while host nation Chile and Germany complete the top ten.
Ending a ten-year winless streak, Italy raced into the FIM record books as the 2018 FIM Junior World Trophy champions. Previously winning the category in Greece in 2008, Italy were overjoyed to return to the top step of the podium once more. In what's been an outstanding week of racing for the Italian trio of Andrea Verona (TM), Matteo Cavallo (Beta) and Davide Soreca (TM) they also secured their fifth day win in this year's race.
"It's just an unbelievable feeling," said Verona. "We knew coming into Chile that we could fight for the win, but we never imagined the entire week would go as well as it has. Last year we were just fifteen seconds behind France at the finish, so to win this year is great. Every day we pushed hard and never settled for position and I think that showed by only losing one day. It's been ten years since Italy last won this class so that's special too."
Finishing just under four minutes behind, the United States capped off a memorable week in Chile to take the runner-up result. In the battle for third, France fended off the challenge from host nation Chile to take third. Despite ending their week fourth, Chile proved that they are becoming an Enduro nation to be reckoned with and will no doubt push to secure a debut FIM ISDE podium in the years to come. Australia and Sweden were fifth and sixth respectively.
Remaining the dominant force in women's Enduro, Australia firmly stamped their authority on this year's FIM Women's World Trophy class. Securing their sixth consecutive day win, they rode into the record books as six-time champions, now unbeaten since Italy in 2013.
"It's incredible to think that this is our sixth FIM Women's Trophy win," told an ecstatic Tayla Jones (Husqvarna). "It's so difficult to win it once, let alone six times. I can't thank all the team enough for their efforts in helping us achieve this result.
Behind them, the United States claimed the runner-up result, becoming the only nation to secure a podium result in all three categories in the 2018 FIM ISDE. Spain joined Australia and the United States on the podium for third. France and Sweden round out the top five.
The FIM Vintage Trophy category was won by Germany. Jens Oestreich (DEU – SWM) topped the '76 class, Jens Bossdorf (DEU – SWM) won the '79 category, while Roth Sven (DEU – Kramer) was best in the '88 class. The Evo 86 class victory went to Swen Schiller (DEU – Kram-It).
At the end of the 2018 FIM ISDE, Motoclub Italy won the Club Team Award from Somerpalu MK, with Team Ostra Enduro Sweden third.
Adding to Australia's success at the ninety-third edition of the FIM ISDE, Daniel Milner (KTM) secured victory in the overall individual category. Placing a safe eighth on day six, Milner did more than enough to seal the deal. The battle for second and third was a tight affair with Taylor Robert (USA – KTM) edging out Daniel Sanders (AUS – Husqvarna) by just eight seconds for the runner-up result following over four hours and thirty-one minutes of timed racing. The day six Motocross win went to Zachary Bell (USA – Husqvarna).
In the Enduro 1 category, top Junior rider Verona cemented an incredible week for himself in Chile by securing the overall win. Davide Guarneri (ITA – Honda) came home second, with Spain's Victor Guerrero (Yamaha) in third.
Despite playing second fiddle to Milner in the overall standings, Robert did claim a commanding win in the Enduro 2 class. Fellow countryman and teammate Steward Baylor followed Robert home for the runner-up result while Italy's Thomas Oldrati (Honda) completed the top three.
As FIM World Trophy champion and the overall winner, Milner also enjoyed the additional bonus of wrapping up the Enduro 3 class title to cap off a standout week for the Australian in Chile. Sanders finished just over two minutes behind for second, while Giacomo Redondi (ITA – Honda) was third.
Tayla Jones (AUS – Husqvarna) took top honours in the Women's category from Brandy Richard (USA – KTM), with Livia Lancelot (FRA – Honda) third.
With the 2018 FIM ISDE now complete, competitors can now begin to look forward to the ninety-fourth edition of the race in Portugal in 2019.