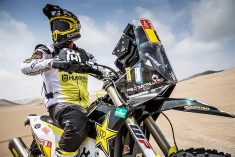 ROCKSTAR ENERGY HUSQVARNA FACTORY RACING RIDER WITHIN STRIKING DISTANCE OF THE TOP OF THE LEADERBOARD AFTER OPENING DAY OF RACING IN PERU
Making a strong start to the 2019 Dakar Rally, Rockstar Energy Husqvarna Factory Racing's Pablo Quintanilla has secured a runner-up result on the opening stage from Lima to Pisco. Demonstrating good speed on his FR 450 Rally machine, Andrew Short got close to the top 10 by finishing 13th on Monday's stage.
Putting in a stellar performance in the dunes of Peru on Monday, Pablo Quintanilla was less than two minutes behind the winner of the opening stage. Kicking off his two-week long adventure in positive fashion, the Chilean rally star is aiming for equally strong performances in the demanding stages that lie ahead.
Making light work of a demanding stage one, Pablo's Rockstar Energy Husqvarna Factory Racing team partner Andrew Short posted the 13th best time in the day's timed special. Andrew is currently less than two minutes behind the top 10 in the provisional overall standings. The 2019 Dakar Rally continues on Tuesday with the second of 10 stages. Featuring a total distance of more than 500km, stage two includes a demanding 342km long timed special.
Pablo Quintanilla: "I felt really good on the bike today. It wasn't an easy stage. There were some sandy dunes, some dusty parts and some tricky navigation. I was pushing from the start and I felt confident all the way through the stage. It's good to start this race with a second place and it gives me extra confidence for the rest of the rally. Today we had many waypoints to cross and many direction changes. It was good to get things started with the first stage. This year I am feeling very confident and I am enjoying the race a lot. The bike is running great and I am looking forward to the coming stages."
Andrew Short: "I'm really happy with my performance today. Compared to last year, I am a lot more confident and I feel more familiar with the terrain and with racing at high speeds. I was a little bit nervous before the start, but it all went well and I could do my own race today. In rally racing you never know when it gets tricky, so it's nice to be prepared for anything that's thrown at you. Overall, I had a good feeling today. There were some dusty parts today in the special test and it got very windy close to the end. Hopefully I can continue to improve my pace as the race goes on and I can get closer to the top 10 in the overall standings."
2019 Dakar Rally – Stage 1 Provisional Classification
1. Joan Barreda (Honda) 00:57:36
2. Pablo Quintanilla (Husqvarna) 00:59:10
3. Ricky Brabec (Honda) 01:00:28
4. Adrien Van Beveren (Yamaha) 01:00:31
5. Sam Sunderland (KTM) 01:00:32
6. Toby Price (KTM) 01:00:44
…
13. Andrew Short (Husqvarna) 01:04:29