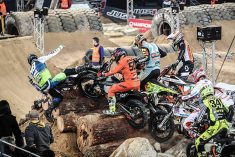 Traditionally, the Spanish Grand Prix have always brought about excitement and drama. The 2019 edition was no different; the races were full of twists and turns to keep the crowd gasping all night long. And at the end of this round of the Maxxis FIM SuperEnduro World Championship, the overall standings are now dominated by the man who failed to clock a win in the first two rounds; Colton HAAKER (USA-HVA)
The evening started well for the American as he took his second Akrapovic Super Pole win in a row. The Husqvarna put together great lap to dominate the clock (with a 19.021 lap). This success early in the night seemed like an indicator of what was to come… but it was far from plain sailing for HAAKER. Cody WEBB (USA-KTM) was chasing him down during Super Pole and Taddy BLAZUSIAK (POL-KTM) slotted into 3rd to show his intent.
Prestige: Colton HAAKER Steps into the Limelight
If we had just one word to describe the three Prestige races it would be: MADNESS! Each heat was filled with high drama and plenty of tension. Tonight's action will go into the SuperEnduro history books!
As the gate dropped on the first race of the night, Colton HAAKER (USA-HVA) made his mark early by snatching the holeshot. The Husqvarna rider was feeling at home on the very technical Spanish track and before long he'd pulled a gap on all his opponents. He rode smoothly and hardly looked back, despite BLAZUSIAK holding 2nd place. HAAKER took the chequered flag 7 seconds over the Pole and signed off his first victory of the 2019 season.
Cody WEBB (USA-KTM) seemed uncomfortable from the start and failed to really find his rhythm. The KTM factory rider, who was leading the championship coming into Madrid, made a few too many errors and had to settle for 3rd.
Taddy BLAZUSIAK (POL-KTM) simply couldn't keep pace with HAAKER. His experience led him to choose the sensible option and take points rather than push to try and catch his flying American rival. Keeping hold of 2nd place kept him in contention and allowed him to add a few more points to his tally.
A few riders put in impressive performances on this unusual and technical Spanish track: Diogo VIEIRA (POR-YAMAHA) continued his rapid improvement, sealing 4th place in races 1 and 2. The Portuguese rider fought for the podium in race 2 and may soon find himself spraying the cava! Blake GUTZEIT (ZAF-HVA) ranked P5, P6 and P4 and proved that he has the potential to fight for the podium more regularly too. Boosted by his home crowd, Xavi LEON (ESP-HVA) took 5th place in race 3.
An Unforgettable Second Race
Far from settling into a formulaic evening, the riders of the Maxxis FIM SuperEnduro World Championship gave us two thrilling races to end the evening…
A huge pile-up early in race two (the reverse grid race) caused carnage when Kevin GALLAS failed to get over an obstacle and several riders collided in a "domino effect". HAAKER and BLAZUSIAK were worst effected as they went down and remounted last. Cody WEBB meanwhile was racing to a very important victory despite starting on the second row. Quick to get to the front, the American never looked back and he took advantage of his rivals' bad luck.
Colton HAAKER, furious at his misfortune, made up ground impressibly quickly. He made his way ever closer to the front and was in the fight for 2nd with impressive Spanish newcomer Pol TARRES. But BLAZUSIAK had also put in a monumental effort to catch up with Colton. The two contenders gained ground on TARRES as the final jump loomed closer. The pair collided in mid-air in one of the most spectacular yet terrifying SuperEnduro crashes ever. And while HAAKER's Husqvarna flew over the finish line without its rider, BLAZUSIAK's KTM fell short of the timing beam, meaning a devastating DNF for the battered and bruised Pole who required medical attention.
Largely unnoticed due to the dramatic turn of events behind him, Pol TARRES took his best ever race finish. The ex-trials rider was rewarded with an excellent 3rd place overall at the end of the night.
Colton HAAKER Takes Over.
Colton HAAKER went on to take another race victory following an electrifying race 3, which also gave him the overall win of the night. He arrived in Spain 8 points down, but leaves Madrid 13 points ahead of Cody WEBB! The Husqvarna rider showed impressive speed and calm riding. His rivals will need to be super strong to overhaul him in Budapest. But as we know, anything can happen in SuperEnduro…
For Taddy BLAZUSIAK, the whole evening was a bit of a nightmare; after his big crash with HAAKER in race 2 he took a very heavy crash in race 3. The Pole, obviously keen to hold onto a title chance, suffered badly and needed trackside medical assistance. But, determined as ever, he rejoined the race to collect a couple of points. The popular Pole is now 31 points down on HAAKER and his championship seems in danger. Be we can count on Taddy to give his all at the Hungarian round.
Uncomfortable from the start, Cody WEBB nearly pulled it all together for success in the CAJA MAGICA of Madrid. But in the highly dramatic final race of the evening the chain came off his KTM and he was forced to pull off the track. Salvaging 2nd overall on the night, WEBB still has a shot at the title and he'll be keen to come back stronger.
Alfredo GOMEZ impressed everyone but returning to action just 3 weeks after his nasty accident in Riesa. The Husqvarna rider took a great 3rd place in the final race of the night, against the odds!
JUNIOR: HOARE Back in Control
William HOARE (GBR-HVA) stood out again in Junior category as he took two outstanding victories. The young Brit made it look easy as he took race 1 in style, 25 seconds ahead of Jozsa NORBERT LEVENTE (ROU-HVA). David CYPRIAN (CZE-KTM) who completed the top three.
In the 2nd race with the reverse grid start, HOARE had to fight hard. Whilst he beat his title rival Tim APOLLE (GER-KTM) he couldn't catch a charging David CYPRIAN (CZE-KTM) who took victory ahead of Leon HENTSCHEL (GER-HVA).
Young Will HOARE was back to his old tricks for race 3, using his smooth and precise riding style to take another dominant victory. This allowed the Brit to take the overall win ahead of an on-form David CYPRIAN and a decidedly consistent Leon HENTSCHEL (GER-HVA). HOARE therefore takes a 43 point lead into Hungary.
They Said:
Colton HAAKER: "The end result is awesome but it was an up and down night for me! It was nice to bring home the first race but in race 2 I came over the tanks and there were four guys in the valley and I had nowhere to go. I followed Cody into it and he made it through cleanly but me and Taddy didn't and we were tangled together. We seem to find each other together all the time… Probably cos were both so aggressive. Over the final jump we raced to it and came together and it was an explosion of bikes and people. It was noones fault cos we both were racing for the flag. It was tough to put that behind me but I tried to be clean in final 3 an dat the start I had someone behind me but then suddenly he wasn't there. It's hard for Cody but chains breaking can happen."
Cody WEBB: "That was a crazy night! It's a freak accident for the chain to make and its tough cos I felt good just before the chain broke. I pushed the bike to the outside and the team brought me a chain and I tried to change it as quick as I could to score a point. I didn't think any of us would open a double digit lead but two crashes for Taddy and my chain means that Colton has an edge. We've all been riding super hard this year in every race but now Colton has a lead and it'll be interesting to see if he starts riding defensive. I've only points to gain."
Alfredo GOMEZ: "I'm very happy to do my comeback with a final podium. Those past few weeks have been really dioffcultr and painful. I'm pleased I took the decision to come back racing here in Madrid. The fans gave me smooch strength. I suffered from my elbow, but I hanged tight to this result. This is a great satisfaction."
Provisional Standings
Prestige Class :
Heat 1 : 1. Colton HAAKER ; 2. Taddy BLAZUSIAK ; 3. Cody WEBB ; 4. Diogo VIEIRA ; 5. Blake GUTZEIT ; 6. Xavi LEON SOLE ; 7. Pol TARRES ; 8. Kevin GALLAS ; 9. Alfredo GOMEZ ; 10. Cristobal GUERRERO…
Heat 2 : 1. Cody WEBB ; 2. Pol TARRES ; 3. Colton HAAKER ; 4. Diogo VIEIRA ; 5. Alfredo GOMEZ ; 6. Blake GUTZEIT ; 7. Xavi LEON SOLE ; 8. Cristobal GUERRERO ; 9. Kevin GALLAS ; 10. Jose Maria JUAN BERNABEU…
Heat 3 : 1. Colton HAAKER ; 2. Alfredo GOMEZ ; 3. David LEONOV ; 4. Blake GUTZEIT ; 5. Xavi LEON SOLE ; 6. Pol TARRES ; 7. Cristobal GUERRERO ; 8. Diogo VIEIRA ; 9. Jose Maria JUAN BERNABEU ; 10. Kevin GALLAS…
Super Pole Akrapovic: 1. Colton HAAKER; 2. Cody WEBB; 3. Taddy BLAZUSIAK…
Provisional Standing : 1. Colton HAAKER 159pts ; 2. Cody WEBB 146pts ; 3. Taddy BLAZUSIAK 128pts ; 4. Pol TARRES 90pts ; 5. Alfredo GOMEZ 80pts. 6. Diogo VIEIRA 76pts ; 7. Kevin GALLAS 76pts ; 8. Blake GUTZEIT 74pts ; 9. Xavi LEON SOLE 59pts ; 10. Cristobal GUERRERO 55pts…
Junior Class :
Heat 1 : 1. William HOARE ; 2. Norbert JOSZA LEVENTE ; 3. David CYPRIAN ; 4. Tim APOLLE ; 5. Dominik OLSZOWY. 6. Teodor KABAKCHIEV. 7. Leon HENTSCHEL ; 8. Enrico RINALDI ; 9. Diego HERRERA ; 10. Andris GRINFELDS…
Heat 2 : 1. David CYPRIAN ; 2. Leon HENTSCHEL ; 3. William HOARE ; 4. Tim APOLLE ; 5. Adrien JACON ; 6. Teodor KABAKCHIEV ; 7. Norbert JOSZA LEVENTE ; 8. Diego HERRERA ; 9. Ivan PUEYO GIL ; 10. Enrico RINALDI…
Heat 3 : 1. William HOARE ; 2. Leon HENTSCHEL ; 3. Teodor KABAKCHIEV ; 4. Tim APOLLE ; 5. David CYPRIAN ; 6. Diego HERRERA ; 7. Enrico RINALDI ; 8. Dominik OLSZOWY ; 9. Ivan PUEYO GIL ; 10. Adrien JACON…
Provisonal Standing : 1. William HOARE 167pts ; 2. Tim APOLLE 124pts ; 3. David CYPRIAN 119pts ; 4. Leon HENTSCHEL 98pts ; 5. Norbert JOSZA LEVENTE 86pts ; 6. Diego HERRERA 86pts ; 7. Dominik OLSZOWY 65pts ; 8. Teodor KABAKCHIEV 65pts ; 9. Ivan PUEYO GIL 45pts ; 10. Enrico RINALDI 41pts…