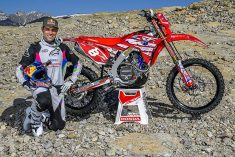 Without doubt, Honda RedMoto have really lit up the transfer market this year! After announcing a stellar line-up with their Factory team, as well as the Lunigiana and Sembenini teams, the 'reds' have decided to up the ante even more by bringing the five-time World Champion: Antoine MEO (F) out of retirement!
Absent from the Maxxis FIM Enduro World Championship paddock since the 2015 season, where he took his final E2 title in Réquista (France), Antoine MEO then turned to rallies where he showed his pace again, finishing the Dakar Rally twice (7th in 2016, 4th in 2018). Unfortunately, 'The Alligator' was hampered by many injuries to his wrists and knees and he reluctantly retired after the 2018 Dakar…
So perhaps no-one was counting on Honda RedMoto and their Team Manager Matteo BOFFELLI to bring the five-times World Enduro Champion back to the discipline where he has so many happy memories and where his spectacular style was so popular with fans.
MEO will make his World Championship return on a Honda 450 CRF X and will therefore be in the Enduro 2 category alongside Christophe CHARLIER (F), Alex SALVINI (I – Honda), Loïc LARRIEU (F – TM) and many more!
Antoine MEO: "Thanks to Matteo BOFFELLI and the Honda RedMoto team for giving me the chance to return to Enduro, a discipline in which I won five World Champion titles. In this team you really feel the passion for this sport. It is a young team, and they are highly motivated, composed of very professional mechanics, and ready for all challenges. I can not wait to start the season now and I am very happy to team up with CHARLIER and OLDRATI. My goal is to achieve a great season"
Matteo BOFFELLI: "2018 was a very important year for the whole team: we have progressed both technically and sportingly. Adding Antoine MEO to our team is a great honour, and at the same time it's something that will force us to do better. We will be able to take advantage of his great experience to improve and reach the objectives we've set ourselves even faster"
With the new season just around the corner Honda RedMoto have given everyone a big surprise, and they are very clearly aiming for Enduro gold this year with their ever stronger line-up. No doubt the crowds will delight in his return, even if his form and fitness are unknown. The main thing is: THE ALLIGATOR IS BACK!