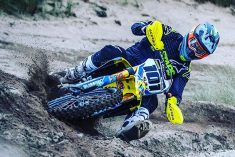 Voorlopig ook aangemeld voor de Open klasse in Dahlen: Rik Vierhuizen, Bas Klein Haneveld, Thijs Bulten, Kaiya Brouwer, Sylven Teunissen, Tom Smit en Leo Moulijn in de Openklasse. Mike Bokslag en Marc Zomer in de Youth 125 cc klasse. Gelukkig rijdt David Knight bij de senioren (zeg maar 40+).
The creation of the new Enduro Open World Cup is proving to be a success already with nearly 60 riders entered into the three categories (2-stroke, 4-stroke and Senior) which make up this brand new Open World Cup…
The most recent rider to announce his participation is a former regular of the Maxxis FIM EnduroGP World Championship… David KNIGHT (GB)! The Triple World Champion will ride a Suzuki 300RMZ in the Senior category. He will likely be the favourite out of large field of riders over 37 years old who are ready to tackle the different challenges of the World Cup.
With three titles in Enduro, one in SuperEnduro and two in GNCC US, KNIGHTER is a true living legend of the discipline and he makes his return to the EnduroGP paddock, 2 years after his last appearance in Hawkstone Park (United Kingdom)…
The giant from the Isle of Man is joined by several other former riders of the World Championship, such as the Scot, Euan MCCONNELL (TM), the Italian Andrea BELOTTI (KTM) and the Austrian Werner MULLER (KTM)…
The large number of entries (around 150) expected at the opening round of the 2019 season on 23rd and 24th March in Dahlen, Germany, shows that the Maxxis FIM Enduro World Championship is due to start with a bang. New teams, new riders, and the return of old favourites such as KNIGHT.