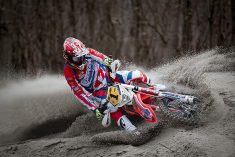 Nearly five months after the crowning of the overall champion, Steve HOLCOMBE (GB – Beta), the 2019 EnduroGP season will start where the previous year finished; in Germany! The 162 entrants will tackle one of the country's oldest races, the "Rund Um Dahlen"!
A Historic Race
The MSC Dahlen eV im ADAC run by Lars SCHOLZ, supported by the DMSB, made it a point of honour to organize an international level race in less than five months. The EnduroGP opener coincide with the 60th edition of the "Rund Um Dahlen", one of the oldest races in Germany. It is therefore a serious and experienced Moto Club that will put on this challenging and spectacular show. MSC Dahlen have created an 85-kilometre long course that the EnduroGP stars will have to tackle three times each day, while the all-new Champion Lubricants Enduro Open World Cup will complete two laps. The paddock will be located in the northern part of Dahlen, while the departure and the Parc Fermé will be at the Dahlener Markt opposite the Town Hall. From there, the riders will head to the Technomousse Xtreme Test near the Dahlen stadium, before taking on the Champion Lubricants Enduro Test 1. They'll then proceed to the Maxxis Cross Test, which will be at the MX track in Dahlen. Finally, the riders will finish their lap with the Champion Lubricants Enduro Test 2.
Friday night's Akrapovic Super Test will also be at the football stadium and will start at 17:15 local time.
So this historical race set in the heartland of German enduro will see the 162 entries start, as usual, with the Super Test and end after two tough days of racing on Saturday and Sunday.
HOLCOMBE Going for a Hat-trick?
Last October, Steve HOLCOMBE won his second EnduroGP title in a row. In 2019, the Beta Factory rider clearly comes in as favourite to retain his crown. But the stakes have been raised with a very competitive field all ready to hunt him down. So the Brit will need to be on top form if he's going to complete a hat-trick this season.
Last year's E1 Champion, who took the title in his first senior season, Brad FREEMAN (GB – Beta Boano) should be among the most serious rivals for HOLCOMBE, as will Eero REMES (SF) who has signed up with Yamaha Johansson MPE. And you can never count out 2018's 'Unluckiest Rider', Alex SALVINI, who returns to his beloved red bike with the Honda RedMoto Sembenini team.
HOLCOMBE will also have to be very wary TM Factory Racing's two new riders; Loïc LARRIEU (F) and Danny MCCANNEY (GB). As well as Honda RedMoto's new signing, Christophe CHARLIER (F).
It will also be necessary to keep an eye on the performances of the 2018 Junior World Champion, Matteo CAVALLO (I – Sherco), and the likes of Thomas OLDRATI (I – Honda), Antoine BASSET (F – Husqvarna), Davide GUARNERI (I – Honda) and Christophe NAMBOTIN (F – Gas Gas)…
HOLCOMBE will also aim for a second title in Enduro 3 but here too, the "Beast of Exmoor" will have a lot of work to do to defend his title since he will once again have to face Danny MCCANNEY and Christophe NAMBOTIN.
For his part, the Best Privateer 2018, Anthony GESLIN (F – Beta) will seek to shake up the hierarchy even more than last year to get into the top three overall. David ABGRALL (F – Beta) will make his Senior debut in E3, as will Tim APOLLE (D – KTM) and Jiri HADEK (CZ – KTM).
In Enduro 1, the toughtest task for Brad FREEMAN, after having achieved his first Senior class crown the first time of asking, will be to defend his title! The Beta Boano rider will have to see off Thomas OLDRATI, Davide GUARNERI, Alex SNOW (GB – Gas Gas) and Matteo CAVALLO…
Special mention also for the return of Rudy MORONI (I – KTM) in EnduroGP, and for the Senior debut of Spain's Kirian MIRABET (Honda).
Old-stager Eero REMES has decided to stay in Enduro 2! This class will be enthralling given the number of strong riders competing against each other. From SALVINI to LARRIEU, CHARLIER or BASSET, there are at least four riders capable of toppling the Finn…
Let alone the many talented outsiders such as Diogo VENTURA (P – Honda), Benjamin HERRERA (CL – Beta), Hugo BLANJOUE (F – KTM), Joe WOOTTON (GB – Husqvarna), Albin ELOWSON (S – Husqvarna) and Christian BROCKEL (D – KTM). The E2 category looks terrific this year!
VERONA, The Big Favourite?
After Matteo CAVALLO's emphatic title last season, the door is left open for the next young rider to step up and take the Overall Junior crown. Andrea VERONA (I – TM) comes in as favourite after he took the J1 crown last season, but you cannot count out the likes of Theo ESPINASSE (F – Sherco), Wil RUPRECHT (AUS – Yamaha), Jack EDMONDSON (UK – Sherco) and Ruy BARBOSA (CL – Husqvarna). All of whom have shown their talents and speed. VERONA will have to use all his skills to hold back his rivals both in J1 and overall, and that's without adding in Thomas DUBOST (F – KTM), Matthew VAN OEVELEN (B – Gas Gas) and Antoine MAGAIN (B – KTM).
In the J2 class it's hard to pick a favourite from the 22 entered riders. EDMONDSON, 125cc Youth Champion 2018 Ruy BARBOSA, Léo LE QUERE (F – Sherco), Thibaut PASSET (F – Sherco), Enric FRANCISCO (E – KTM) or Emanuele FACCHETTI (I – Gas Gas) all stand a good chance of winning races and the J2 title.
In the 125cc Youth Cup, there are no less than 26 riders hoping to lift the trophy in the smallest capacity class, the Sherco boys Dan MUNDELL (GB) and Hamish MACDONALD (NZ) are the two firm favorites. However, they will have to keep their wits about them with the NAVARRO (E – Husqvarna) brothers, Alejandro and Sergio. The French Champion, Nathan BERERD (Husqvarna) and the speedy Italian Matteo PAVONI (I – Beta Boano) all ready to give their all.
This Maxxis German GP is highly anticipated by all EnduroGP fans, but not least by the many German spectators that will undoubtedly be found around the four tests. The MSC Dahlen e.V im ADAC have passionately prepared this 60th "Rund um Dahlen" for a 2019 season opener that's guaranteed to be breathtaking!
Practical Info:
– Dahlen (Saxony Region);
– 181kms North of Berlin;
– Friday 22 March: Akrapovic Super Test, 17:15 CET
– Saturday & Sunday: Start at 09:00 – Finish after 16:30;
– Organisation: MSC Dahlen e.V im ADAC;
– Websites: www.endurogp.org & www.msc-dahlen.de;
– Route: 85kms – 3 laps;
– Free entry;
– Nearest airports: Berlin – Dresden – Leipzig;
– GPS Points:
– Paddock: 51°21'29.4″N 12°59'23.8″E
– Super Test / Xtreme Test: 51°21'51.0″N 13°00'32.1″E
– Cross Test: 51°22'12.5″N 13°00'44.1″E
– Enduro Test 1: 51°23'15.0″N 13°04'54.4″E
– Enduro Test 2: 51°22'20.0″N 12°53'30.9″E
– Creek Crossing: 51°22'44.2″N 13°06'00.6″E
– Mudhole Lampertswalde: 51°21'51.6″N 13°02'12.8″E
– Mudhole Drei Eichen: 51°22'55.5″N 12°59'12.4″E