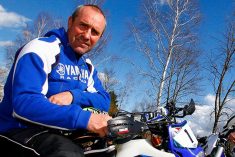 A brand new initiative from ABC Communication sees the creation of an "EnduroGP Ambassadors Group". This will bring together former prestigious champions from different countries who have made their mark on the history of World Enduro with their talent and charisma.
These champions are all strong supporters of traditional Enduro, which has brought them so much during their careers. Throughout this season, we will meet these ambassadors who will represent the sport during the various Grand Prix.
Stéphane PETERHANSEL is the first rider to take up the role of EnduroGP Ambassador – and who better than the star of all-terrain rallies to open the season?
Known as 'Monsieur Dakar', PETERHANSEL has a whopping 13 titles in the legendary rally race (6 on a motorcycle, 7 in cars).
Before his move to rally Stephane PETERHANSEL was also a master of World Enduro with six individual scratch wins at the ISDE and two World Champion titles (1997 and 2001). Throughout his motorcycle career he rode Yamaha.
We met up with the man himself to talk all things EnduroGP…
Hi Stéphane! First off, thank you for becoming the first "EnduroGP Ambassador" of 2019, what interested you in this role?
Stéphane PETERHANSEL: "I've always loved Enduro. I still have a Yamaha 250WRF 4-stroke, which I enjoy riding… but I can't do it as much as I'd like because I have some niggling injuries which still bother me. But, I have a lot of passion and nostalgia for this sport and I'm currently trying to restore my 250WR from 1997, with which I beat Gio SALA and became World Champion."
« Enduro is close to my heart! »
How do you explain your long-lasting passion for Enduro, while many other ex-riders don't possess the same nostalgic feeling?
S.P: "When I was younger I wanted to try everything: Enduro, Cross, Rally, Supercross, Sand, Supermotard, Endurance… But it's Enduro that comes back to me again and again! It's close to my heart. It is a healthy sport, in close contact with nature, a there's always a good and friendly atmosphere. It is also the basis of becoming a great rider because it brings out the strongest qualities of all riders on all types of terrain. Enduro is a noble sport!"
What's your best memory from your World Enduro days?
S.P: "Without doubt it was in 1997 at the GP of France in Puy en Velay. There was a crazy atmosphere with lots of fans, the special test had a climb between the trees and we were riding among the crowd! There has always been a strong Enduro culture in France and that Grand Prix was incredible. I always loved the atmosphere of the World Championship because sometimes in the National Championship it got too samey and we always had the same opponents. In the World Championship, the coming together of riders from all walks of life is very positive and the rivalry is very healthy, I never had a conflict or fight with anyone… "
And your worst memory…
S.P: "I do not really have bad memories from the World Championship… But I remember I suffered a lot in 2001 during the final rounds in Sweden & Finland. I had a seriously injured knee and I really had to grit my teeth to bring the Team Ufo Yamaha 250 to the World title. "
« We have to go back to the basics of Enduro… »
After KTM & Husqvarna's coup at the end of 2017, what advice would you give for the future of EnduroGP?
S.P: "It began with the arrival of the former motocross riders, that coincided with the sport becoming more of a show, but equally, by adding artificial and very difficult obstacles into the discipline it probably scared a lot of the riders. I think we must go back to the basics of Enduro and make it more accessible to fans and also to amateur riders who want to take on the pros. World Enduro must find the right balance between "challenging racing and easy access" to allow riders from all walks of life to be on the same starting line. Because Enduro is also a lot of conviviality like walking the tests in company of the champions or to chat freely together in the paddock. And we must especially avoid the evolution experienced by the Trials Championship which has become too elitist with extremely difficult areas and is now in free fall… "
Do you think a rider who is part of a small team could win a title, like you did?
S.P: "I have not been to a Grand Prix for a long time so I may be wrong … but in my opinion the big teams are good for branding rather than for racing efficiency. Of course, having sports and technical coaches is important. But if you have a small team structure, a good follower and a good assistant, you can do it – even though it will be less "pro"! Some people do not even need a coach. In Enduro, if you put all your efforts in and pull your finger out, you can be a strong privateer rider without being a factory diva."
What's your overall conclusion?
S.P: "I've kept an eye on what's been going on in recent years and I was having trouble seeing the paddock looking empty. But this year it seems to be starting again in a good way; with the creation new categories that should bring fans and riders back. Enduro must return, first and foremost, to the basics that made its success. I hope to be at a GP this year, and even ride if possible. First I need to know Mini's sporting schedule better and then I'll organise myself accordingly. Going to the GP of Italy or the GP of France would be really great!"